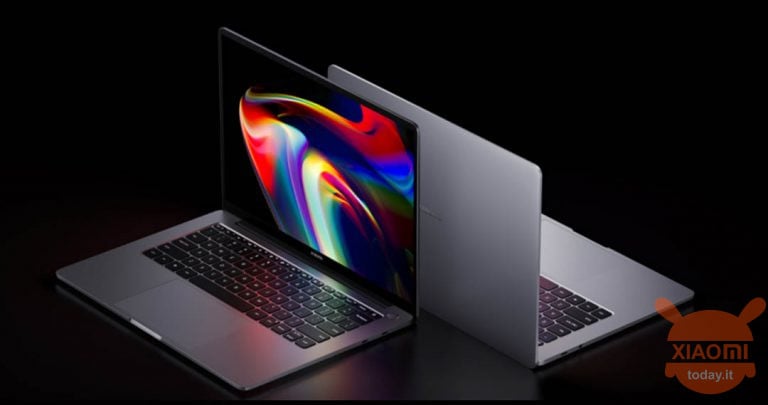 When the end of the year comes, the various manufacturers want to finish their product cycle, proposing many solutions that often go outside their real field of action. This is the case of Xiaomi which for some years has also brought its corporate values ​​to the IT market by offering notebooks that have immediately established themselves for the excellent value for money.
After so many specimens already presented here is that in these hours the Chinese manufacturer, in the motherland, has launched the new Xiaomi Notebook Pro 14, a laptop that stands out for a chassis completely made of aluminum, with ultra premium finishes and features that will make you love it. to all those looking for reliability, power and savings.
Specifically, the Xiaomi Notebook Pro 14 arrives in the Ryzen Edition variant, therefore equipped with AMD Ryzen 5 CPU but also AMD Ryzen 7 which are accompanied by an amazing 2,5K resolution panel. As the name suggests, the screen has a 14-inch diagonal and also uses a 120 Hz refresh rate, ideal for gaming as well as for all those video and photo retouching activities typical of professionals in the sector, all enclosed. in ultra thin bezels and a 16:10 form factor.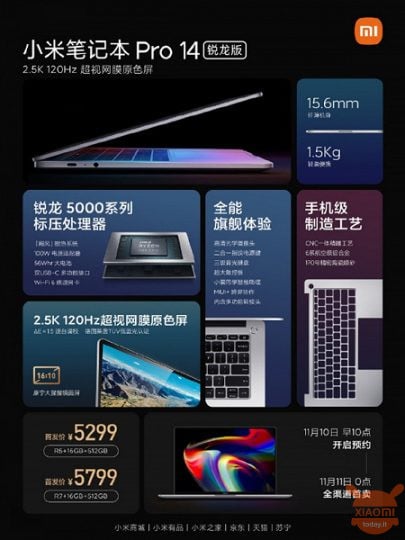 The Xiaomi Notebook Pro 14 arrives on the market with a metal body and AMD Ryzen processor
As already anticipated, to move the computer machine, there are two processors equipped on two distinct variants of the product and specifically an AMD Ryzen 5 5600H CPU, a six-core solution while the other (more expensive) option is equipped with a powerful SoC AMD Ryzen 7 5800H. To act as a good company we also find 16 GB of RAM and 512 GB of SSD memory.
The rest of the specifications of the Xiaomi Notebook Pro 14 consists of a 56Wh battery with 100W fast charging support (charges to 50% in just 37 minutes), a front camera with 720p resolution, WiFi 6 and ultra-portable dimensions equal to only 15,6mm thick for a total weight of just 1,5 kilograms.
We come to the prices of the new Xiaomi Notebook Pro 14 Ryzen Edition, currently available in China at a launch price of 5299 yuan, equal to about 724 euros for the model equipped with the Ryzen 5 while we go up to 5799 yuan, or about 793 euros for the version with AMD Ryzen 7.