Se Xiaomi it is not the first company for smartphones launched every year, then it will undoubtedly be the second. But we lean towards the first hypothesis. We all know how many devices in between Redmi and Mi the behemoth launches in China, India and Europe every year. We also know how much this creates confusion in users' heads especially as regards the names (here an interesting article by Gizchina). But that doesn't stop the company from turning out mobile terminals one after another. A well-known Indian leaker today revealed a plethora of code names that turn out to be those of the company's upcoming devices.
Here is a large list of Xiaomi and Redmi smartphones that will debut in the coming times: let's hope they won't all arrive in the year!
We hope that they will not all arrive in 2021, however we must remember that it is also thanks to Xiaomi that we owe one even more widespread division into device ranges. By this we mean that they no longer exist alone top of the range, mid range and entry level: among these we find a myriad of other bands of terminals belonging to medium-low ranges, medium-medium-low

and so on. Of course, we can't blame everything on the brand since even the processor manufacturers they put theirs into it. But having said that, let's go see the names of the brand's next smartphones.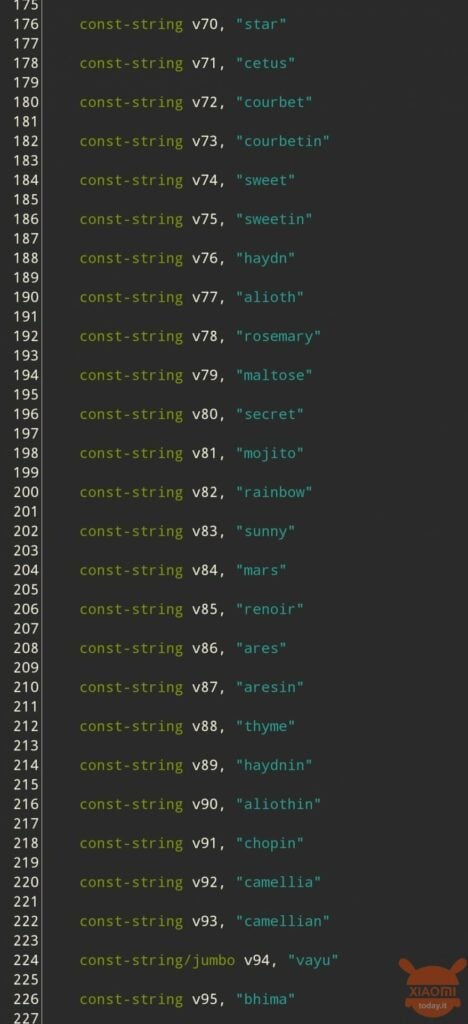 In order:
star

cetus

courbet
courbetin
sweet
swwtin
alioth
rosemary
maltose
secret
mojito
Rainbow
sunny
March
renoir
ares
aresin
Thyme
hadynin
aliothin
chopin
camellia
camellian
vayu
bhima
There are 26 names on this list but don't worry, not all of them will be released in Europe. In fact, if we notice well, there are pairs of names in which one of these has the suffix "-in". This means, as seen at other times, that it is a vsoaring destined for the global market, but that Indian. We are happy to see familiar names such as hadyin e cetus: it means that the leaks of the last few months have turned out to be right.
Buy on Amazon
293,23 €
available
28 new from 288,90 €
3 used from 235,00 €
Are you interested in OFFERS? Follow our TELEGRAM Channel! Many discount codes, offers, some exclusive of the group, on phones, tablet gadgets and technology.