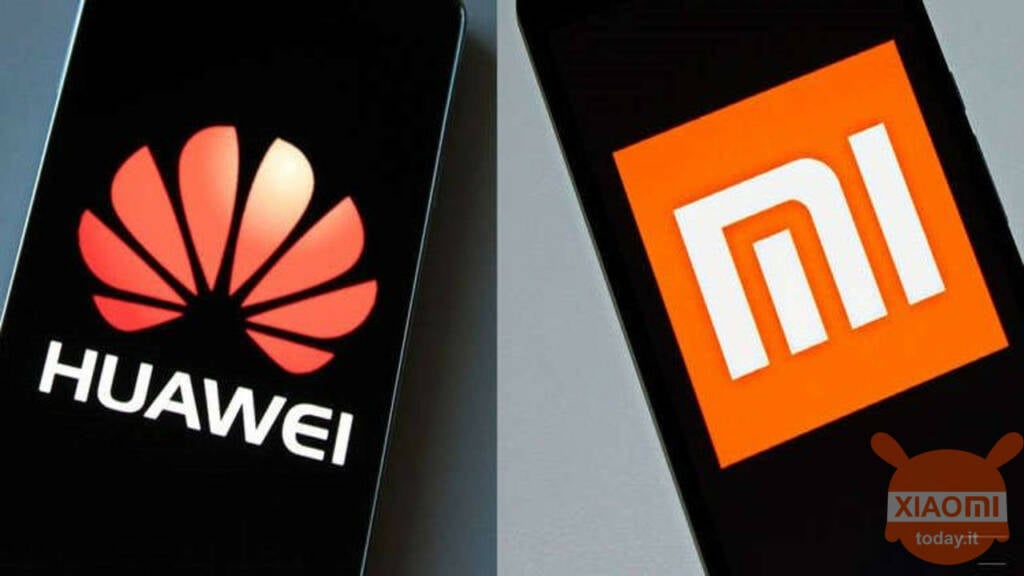 According to several Chinese media, in response to the previous lawsuit of Huawei against Xiaomi for four patent infringements, Xiaomi has also initiated a lawsuit against Huawei.
Xiaomi sues Huawei for patent infringement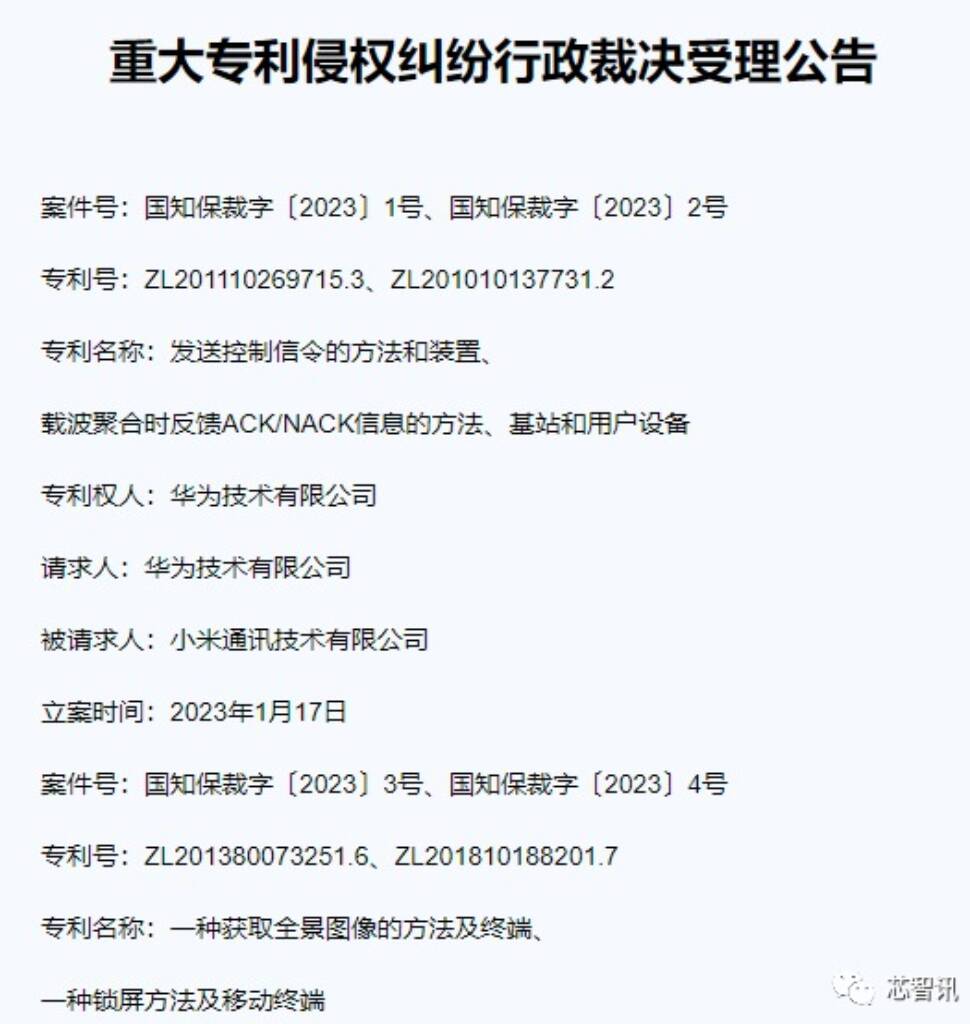 According to the announcement issued by China's state intellectual property office, Xiaomi recently filed an invalidation application for Huawei's patent "ZL201380073251.6", which is titled "A method and a terminal for obtaining panoramic images". This patent is also the patent "Guozhibao Caizi [2023] No. 3" in the list of four patents that Huawei sued Xiaomi for patent infringement.
We also find out from the official release on Acceptance of Administrative Decisions on Major Patent Infringement Litigation published by National Intellectual Property News in February of this year, that on January 17, 2023, the State Intellectual Property Office accepted the allegation of Huawei that the defendant, Xiaomi, had violated the law in four Chinese patent cases. Judging from the disclosed content, the four patents in dispute are as follows:
Guozhibao Caizi [2023] no. 1: patent no. ZL201110269715.3, title of the invention "Method and device for sending control signals";
Guozhibao Caizi [2023] no. 2: patent no. ZL201010137731.2, title of the invention "Method for feedback of ACK/NACK information during aggregation of carrier, base station and user equipment";
Guozhibao Caizi [2023] no. 3: patent no. ZL201380073251.6, title of the invention "A method and a terminal for obtaining panoramic images";
Guozhibao Caizi [2023] no. 4: patent no. ZL201810188201.7, the title of the invention is "a method for locking the screen and a mobile terminal".
In response, Xiaomi replied that: "The two sides are actively negotiating on the patent license; the country's intellectual property protection system provides a variety of resolution mechanisms, including administrative and judicial mediation. It is industry practice to resolve licensing issues through third-party mediation mechanisms. Both Huawei and Xiaomi believe that intellectual property licensing and cooperation are conducive to promoting innovation and public interest, and believe that mediation is an effective channel to help obtain the license. While continuing to actively negotiate, the two sides try to use a variety of mediation mechanisms to help the parties reach an agreement."
According to the data, the Huawei patent application date ZL201380073251.6 is December 13, 2013, which reveals a method and terminal for obtaining panoramic images. At present, smartphones basically support panoramic image shooting.
For Xiaomi, in the face of Huawei suing for patent infringement, there are three main solutions: 1. Find a way to prove that it has not infringed the other party's patent; 2. Pay the patent royalties and obtain permission to use the other party's patent; 3. Apply for a ruling that the other party's patent is invalid, and if the other party's patent is confirmed invalid, Xiaomi naturally does not infringe its patent.
Therefore, Xiaomi's choice to apply to declare Huawei's patent invalid is also a routine operation in the industry, but it is difficult to say whether it will be successful. At present, Xiaomi executives have not yet responded to this news.
According to the first intellectual property white paper released by Xiaomi Group at the end of last year, as of September 30, 2022, Xiaomi holds more than 29.000 patents worldwide, covering more than 60 countries or regions worldwide. Among them, the share of 5G standard patent declarations ranks 13th in the world.
In terms of technology research and development, Xiaomi has entered 12 technology fields, including 5G mobile communication technology, big data, cloud computing and artificial intelligence. At the same time, based on intelligent manufacturing, it has entered the industry of robots, human-free factories, intelligent electric vehicles, etc. A total of 98 fields divided.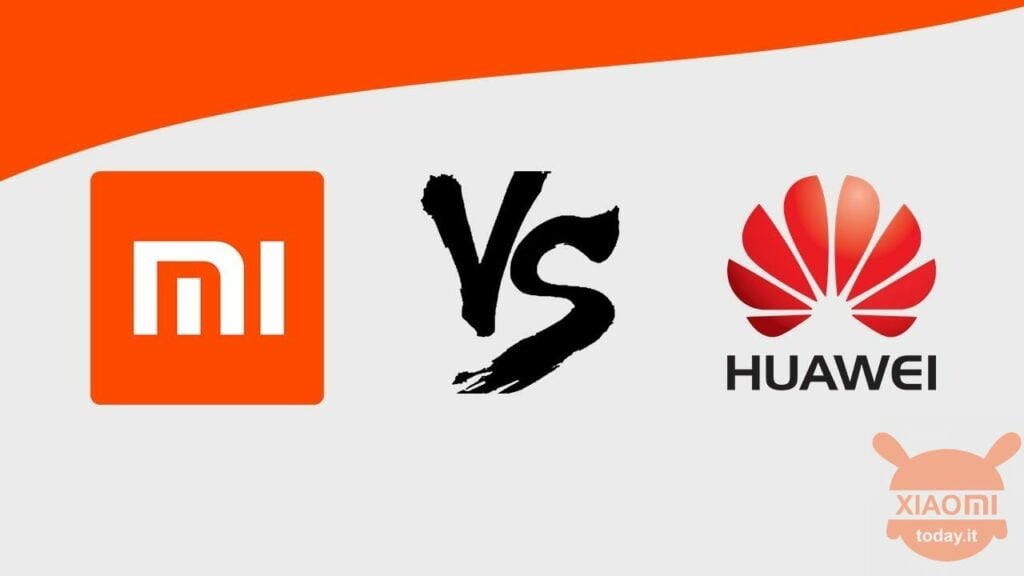 Among them, Xiaomi has more than 7.700 patents worldwide in the field of MIUI system and software functions. In the same period, Xiaomi has more than 1.000 imaging technology patents worldwide, more than 1.200 patents in the field of artificial intelligence, and more than 700 patents in the field of mobile phone charging technology, including the architecture of the underlying circuit, safety management, transmission optimization, etc.
Huawei has a higher accumulation of patents, and its R&D investment remained high throughout the year. Statistics show that as of the end of 2021, Huawei's cumulative invention patent applications worldwide exceeded 200.000, the cumulative number of authorized applications exceeded 110.000, and the number of PCT patent applications exceeded 60.000, ranking number one in the world for five consecutive years.
In 2022, the number of Huawei PCT patent applications reached 7.689, which is 1,8 times the number of patent applications of the second-ranked company. From 2017 to 2022, Huawei ranked first in the ranking of international patent applicants for six consecutive years.
In terms of R&D investment, Huawei's R&D expenditures will amount to 2022 billion yuan in 161,5, or 25,1% of annual revenue. The accumulated research and development expenditure invested in ten years exceeded 977,3 billion yuan.