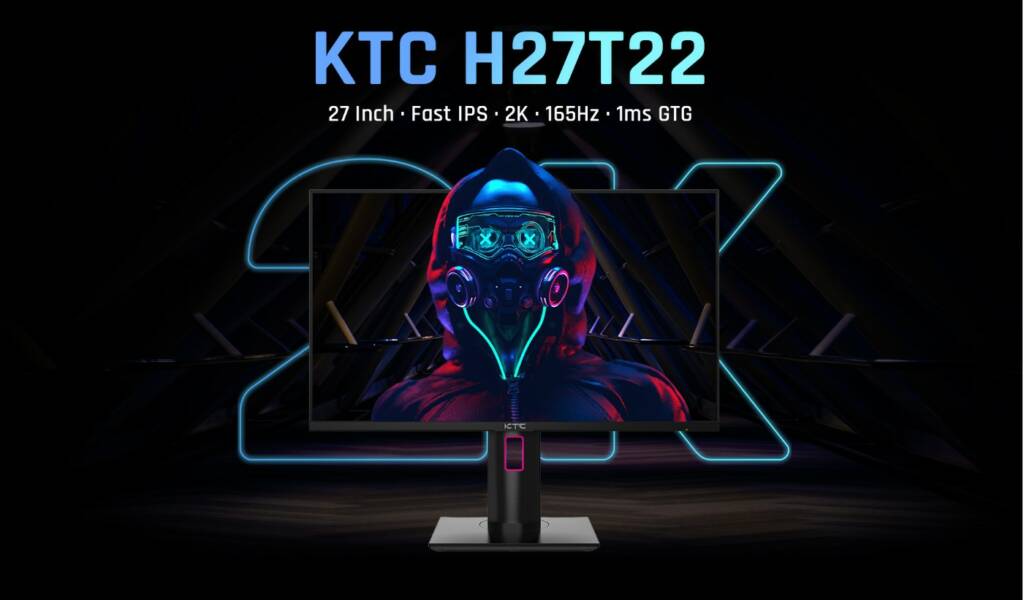 Are you interested in OFFERS? Be smart and subscribe to our Telegram channel! Lots of discount codes, offers, pricing errors on technology from Amazon and the best online stores.
If you are a gamer and simply users who use the monitor for work several hours a day (like myself) you will always be looking for the best Monitor that can guarantee us excellent performances at the best price. After trying several I stumbled upon the KTC H27T22 and I'm pretty sure that for a few years I won't have to look any further! KTC, Key To Combat, is a Chinese brand that produces Monitor from Gaming with a really crazy value for money.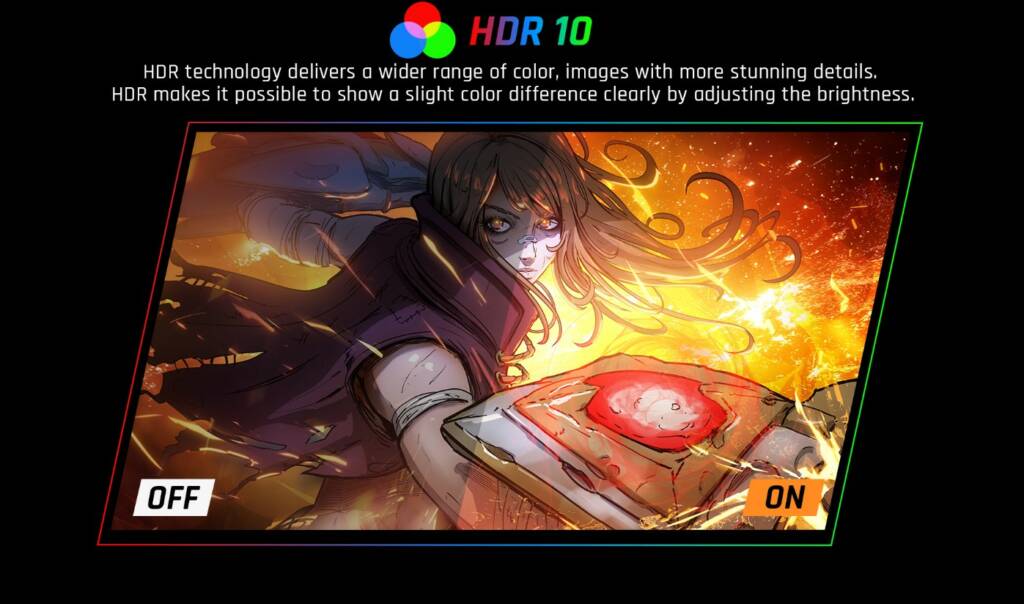 CONFEZIONE
The monitor will arrive in a beautiful blue box with absolutely secure internal packaging, so there is no risk of receiving it damaged. Inside you will find:
Monitor
Vertical support
Support base
Power pack
DP cable
Instruction booklet
Warranty leaflet
MOUNTING
Assembly is really simple. In fact, you just need to lock the vertical support to the base with a screw already inserted and then hook the monitor to the vertical support. This second part will simply be interlocking.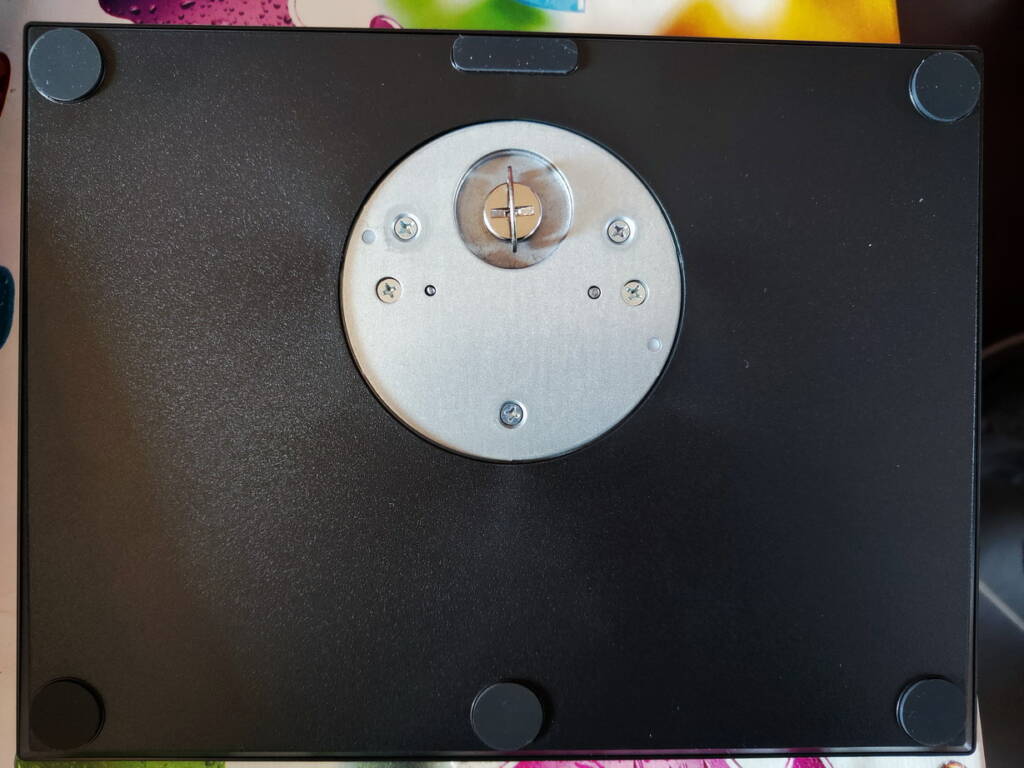 AESTHETICS AND DIMENSIONS KTC H27T22
I like it a lot! The base (18.5 x 24.5 cm) can be placed anywhere, the vertical support (36cm) has a pleasant pink insert (cable holder) and will allow us to tilt up to 20°, an excursion of well 13cm and a rotation of 30° on the vertical axis. It can even be placed upright in case you want to use it as a secondary screen. Put simply, it will be impossible not to find your PERFECT position. In the back we also find a really nice LED insert that will give a touch of color to the back wall. This can be turned on or off via the OSD settings. The screen weighs about 5.5Kg, has a diagonal of 27″ (68cm) 16/9 format. In my opinion it is the perfect size to use it as gaming and office.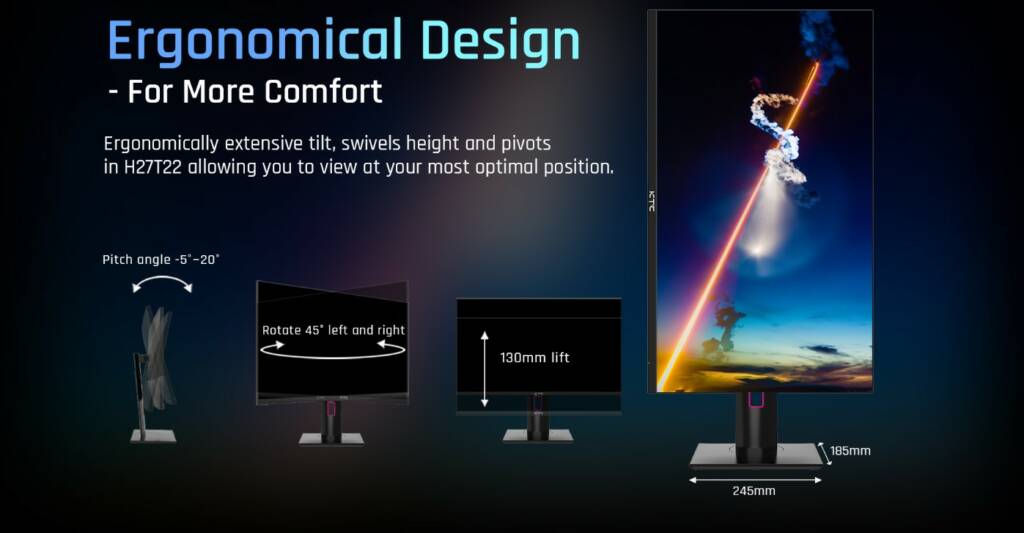 INPUTS
The input connectivity is absolutely complete, in fact we find:
2 x Display Port (on which the 165Hz refresh rate can be reached)
1 x HDMI 2.0 (on which you can reach the 144Hz refresh rate)
1 x USB-A (for firmware update)
1 x 3.5mm audio
1 x power input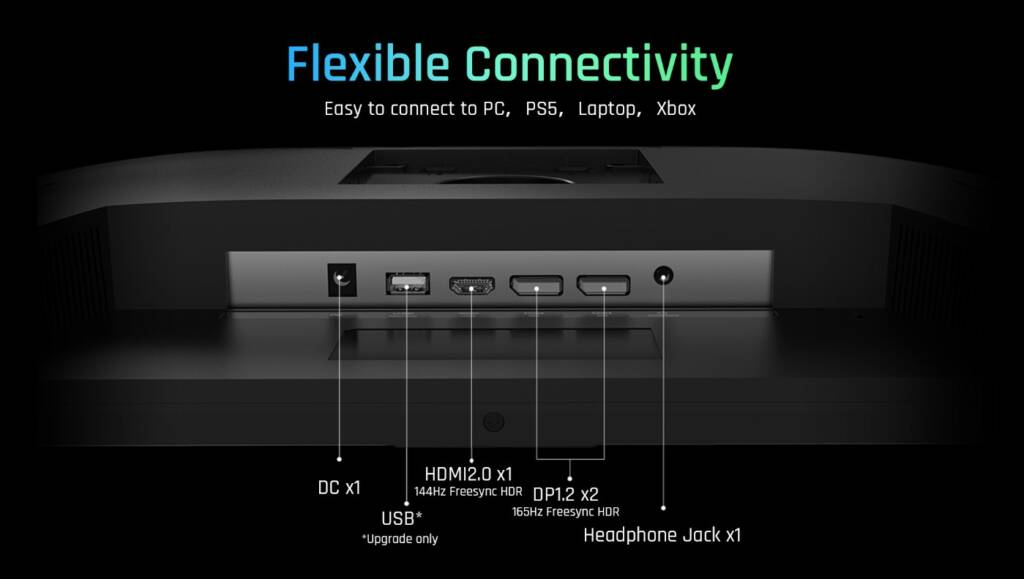 TECHNICAL SPECIFICATIONS KTC H27T22
The technical characteristics of our monitor are really high level and I summarize them in this detailed technical sheet: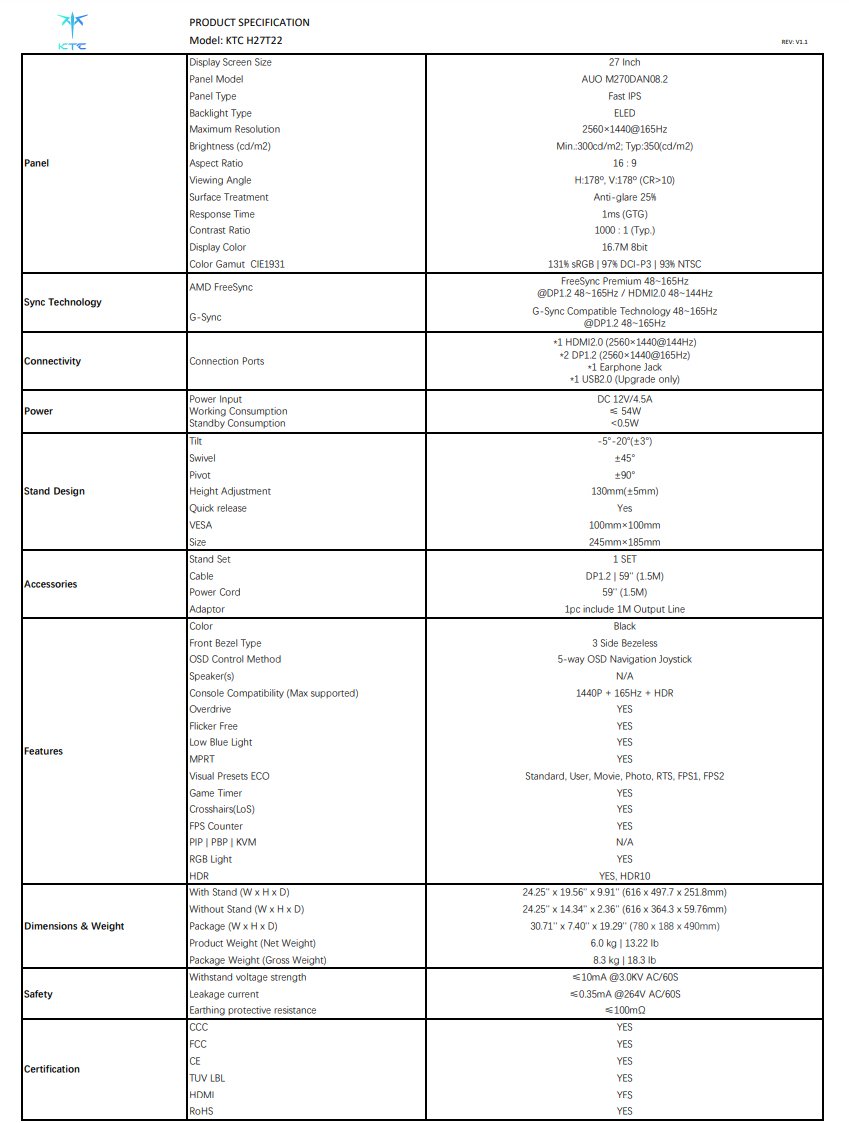 As you can see, we have everything we need to have a truly excellent gaming experience. Indeed, we find a large resolution of 2560x1440p (WQHD), a response time of 1ms, and an update rate of ben 165Hz. The brightness reaches i 350 cd / m², the screen is anti-glare, it supports HDR10 e FreeSync/G-Sync. The latter is really important as these 2 features, respectively technologies of AMD ed NVidia , will allow our monitor to synchronize with the video card of our PC and consequently adapt the refresh rate sent by the video card in real time. This way you will avoid annoying problems such as screen tearing, stuttering and input lag. I would say really fundamental things for a gamer.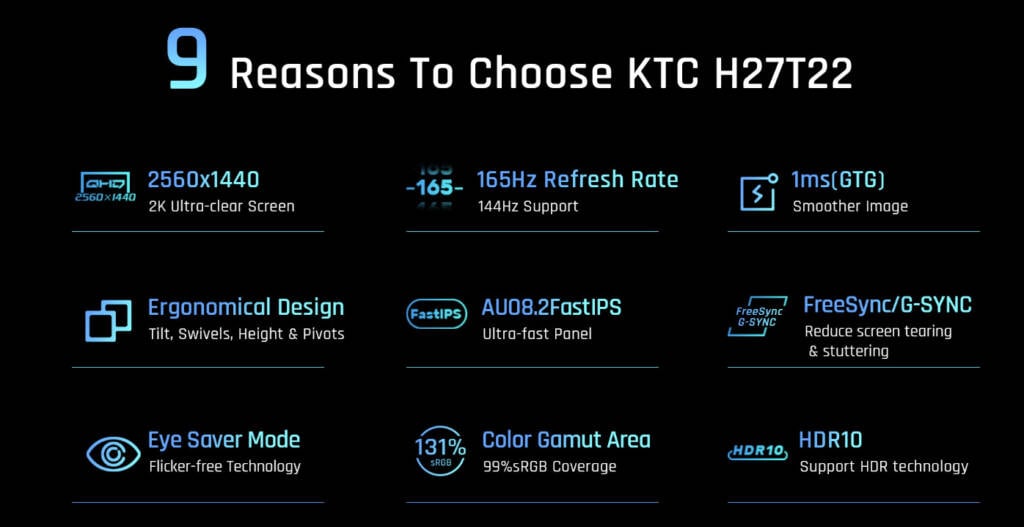 OSD SETTINGS
On the back (looking at it to the right) you will find a single button that will allow you to enter the OSD menu from where you can change many settings. To enter the menu, just press it and it will work like a Joystick! To enter the submenus move the pad to the right and to enter again to the right.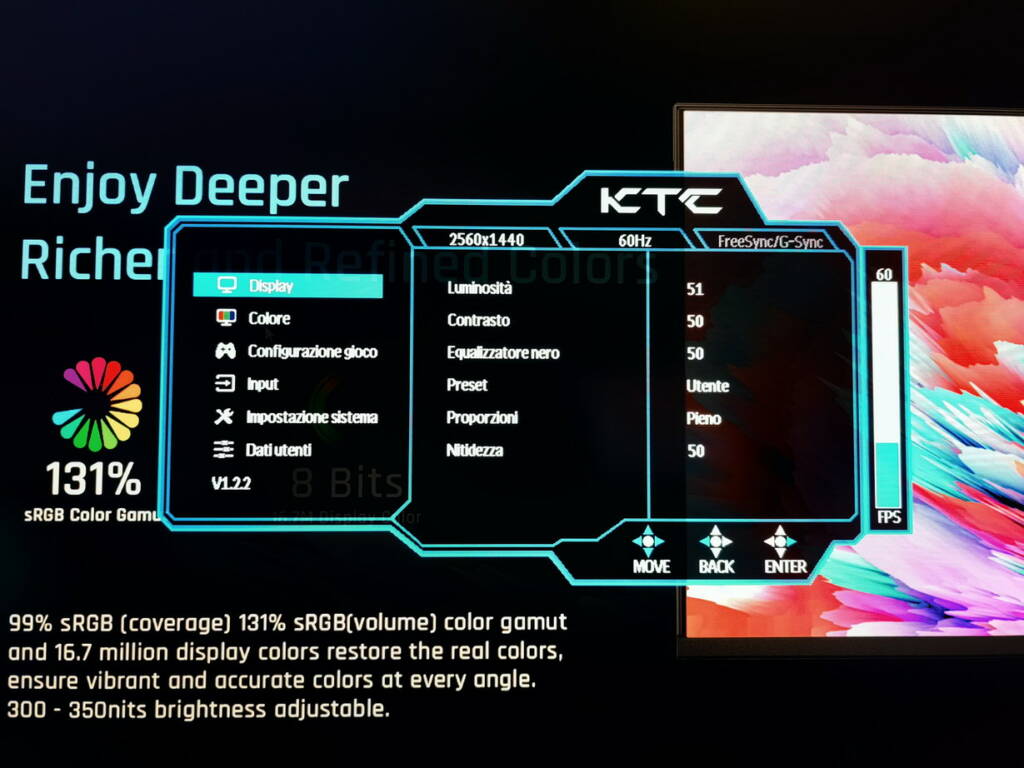 Here you will find 6 menus, with their sub-menus:
Display (Brightness – Contrast – Black Equalizer – Preset – Aspect Ratio – Sharpness)
Color (Temperature - Gamma - Hue - Saturation - Blue Light Filter)
Game configuration (Fresync – Overdrive – Game assistant – HDR – DCR – MPRT – RGB light)
Input (DP1 – DP2 – HDMI)
System setting (Language - OSD Setup - Sound - Reset - USB Update)
User data (User 1 - User 2 - User 3)
As you can see, the customization can be truly total and you can then save 3 different profiles in user data. The possibility of updating the firmware via USB port is excellent. These are the terms translated into Italian, in the game configuration menu the "rgb light" item indicates the rear LED which you can keep on or off as you please.
IMAGE QUALITY KTC H27T22
But let's get to the fundamental question, namely the image quality. I must say that it is really very high, far beyond my standards (which however are not those of a particularly demanding gamer). The panel (FAST IPS ELED) offers us a contrast ratio 1000:1, a viewing angle of ben 178° and resolution of 2560 × 1440 does the rest. The colors (which you can customize via OSD) are also very good, reaching the following values: 131% sRGB | 97% DCI-P3 | 93% NTSC. The refresh rate it gets to 165Hz does the rest, also excellent for those who use it as an office monitor as the higher frequency is less tiring for the eyes. The maximum brightness reaches i 350 cd / m2 and the anti-reflection screen will allow us to use it even with any light sources not really suitable for perfect use of the screen. As for the most hardened gamers, they can count on a response time of 1ms and as already mentioned to technologies Freesyng e G-sync which will be the icing on the cake for a truly satisfying gaming experience. Technology is present HDR10 (can always be activated and deactivated from the OSD menu).
FINAL CONSIDERATIONS
Considering that to buy a good gaming monitor with a 24.5″ diagonal, "only" FullHd resolution and a 144Hz refresh rate, you spend an average of €250, here we are faced with what could be a real bargain. The KTC H27T22 it costs $370 list price but thanks to GEEKBUYING (which we thank for sending the sample) and our coupon you can take home this fantastic monitor for only €250, shipped FREE from Europe warehouse (therefore without the risk of having to pay annoying customs taxes). We also remind you that on GEEKBUYING you can pay with PayPal to protect your purchases.
So if you need to change Monitors, I advise you not to miss this sensational opportunity and I remind you that this promo is valid for a limited number of coupons.
KTC H27T22" />
€250 €370
GEEKBUYING
🇪🇺Fast Shipping from Europe Included (No Customs)
A true Best Buy
A Gaming Monitor with a quality-price ratio that is difficult to beat
PROS
2K resolution
Response time 1ms
FreeSync/G-Sync compatible
HDR 10
Thin frames
Fully adjustable (height, vertical and lateral tilt)
Perfect OSD
Complete connectivity
Add your review