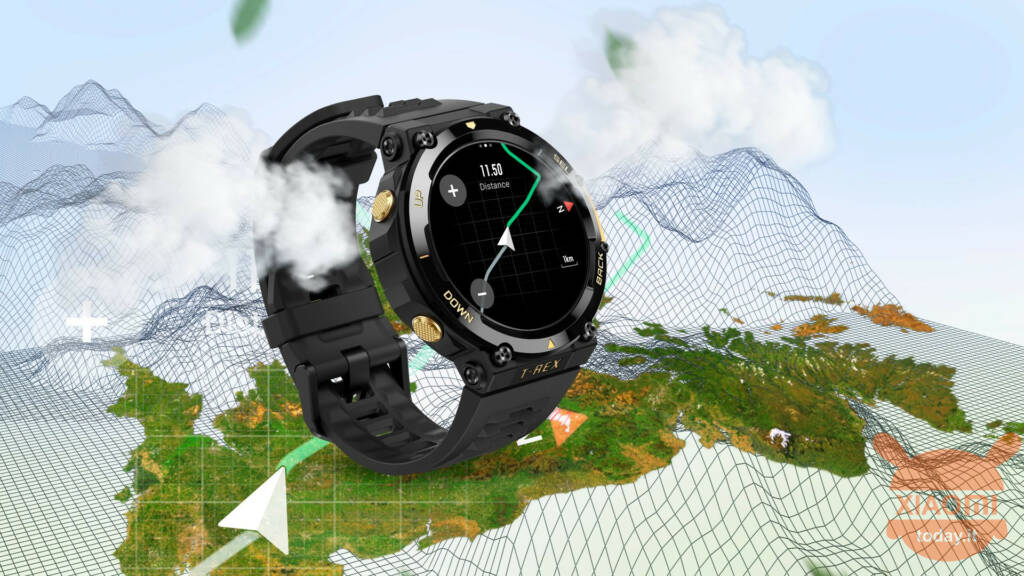 Last May ZEPP Health gave us (so to speak) the ultimate rugged smartwatch for 2022: theAmazfit T-Rex 2. The device looks very similar but not the same as the previous model. There are certainly different aesthetics, since the current model is more complex and "tamarro" than the first. Also from the point of view of features the device is more complete, even more so if today we add a long-awaited function: the GPS independent or standalone. Let's see what it's about.
Amazfit T-Rex 2 is finally updated with independent GPS: now navigating will be easier and you will no longer need a smartphone
Huami, or rather Zepp Health, officially unveiled the Amazfit T-Rex 2 smartwatch in May. Among the features of the rugged smartwatch were real-time navigation and the ability to preload the routes (thanks to advanced GPS features). However, the manufacturer immediately stated that these functions would arrive on the watch after sales began in the form of a software update. And in fact, immediately after the listing some users complained (unfortunately without knowing) the lack of the function. This came today though, via an update.
The update Zepp OS 9.22.7.2 is available for Amazfit T-Rex 2 in the Zepp app and is clearly installable by updating the app. Not only adds real-time navigation and route import (GPX / TCX / KML formats), but also allows you to use training templates. In this way, users can import route files from the Zepp app and keep track of your progress without having to take out your smartphone while running or walking.
Also, users can now create training templates in the Zepp app that can be applied to 11 sports. Each scheme can be divided into phases of Heating, Training, Rest e Recovery. Amazfit T-Rex 2 can also be set to send reminders or automatically change the core of the workout. After completing a workout, users can view their progress at each stage directly on the watch.
Via | NotebookCheck
Amazfit T-Rex 2 | Black
35 used by 178,39 €
30 November 2022 4: 55

Amazon.it
Price updated on: 30 November 2022 4:55