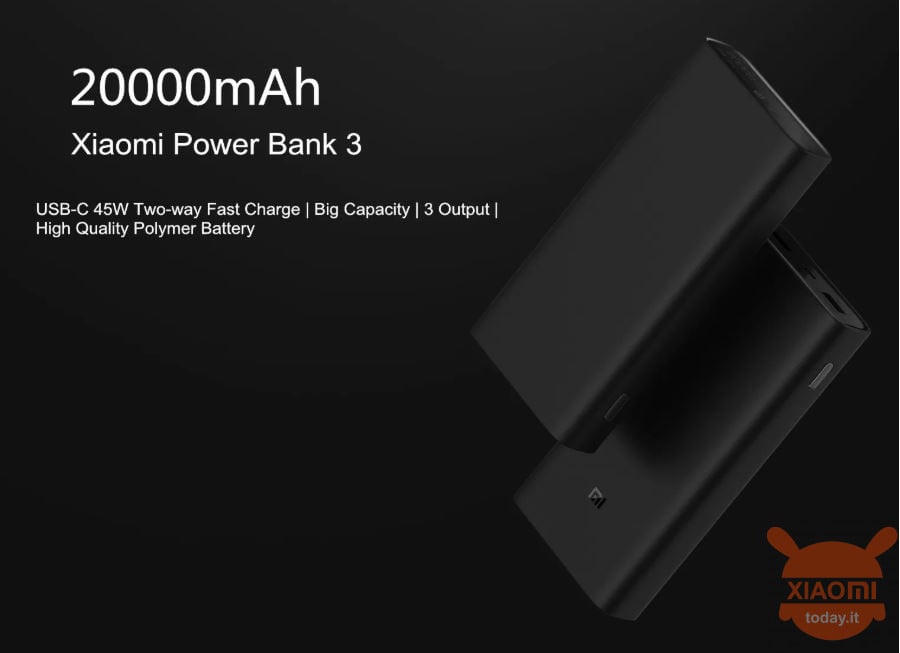 Here is available for purchase the fantastic new Xiaomi Power Bank!
With this power bank you will be sure not to worry about your battery for several days! In fact the 20k mAh guarantee, on average, 6 complete refills of our device, naturally with the possibility of exploiting the 3.0 Quick Charge technology.
Below the detailed technical features:
Features:
-20000mAh High capacity
-Supports USB-C both for input and output, up to 45W.
-The USB Type-A single port provides 5V / 2.4A, 9V / 2A, 12V / 1.5A fast charge but it gives 5V / 3A output when two charging ports are working at the same time.
-Surge protection, short circuit prevention and more advanced safety features protect you and your devices.
General Specification:
Brand: Xiaomi
Model: PLM07ZM
Capacity: 20000mAh 74Wh 3.7V
Rated capacity: 12600mAh (5V 5.4A)
Product Weight: about 400g
Dimensions: 153.5 × 73.5 × 27.5mm
Technical Parameters:
Battery Type: Lithium Polymer Battery
Inputs: 5V3A, 9V3A, 12V3A, 15V3A, 20V2.25A
Output: 45W MAX
USB-A(Single port): 5V2.4A,9V2A,12V1.5A
USB-A (Dual USB): 5V3A
USB-C: 5V3A,9V3A,12V3A,15V3A,20V2A
3 Port: 5V5.4A, 9V3A, 12V3A,15V3A,20V2A
The improved PRO version is also on offer today
All offers for 3 Xiaomi power bank
-19%
Sale
"Registered Air Mail Shipping"
-33%
Sale
-29%
Sale
Are you interested in OFFERS? Follow our TELEGRAM Channel! Many discount codes, offers, some exclusive of the group, on phones, tablet gadgets and technology.