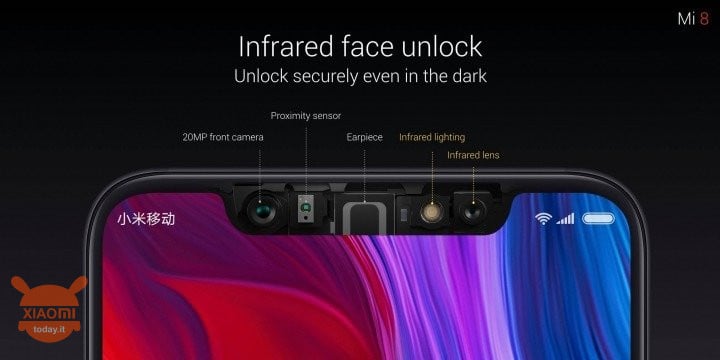 Xiaomi Mi 8 e POCOPHONE F1 they are two of the Chinese company's smartphones that in this period are receiving a lot of attention from the tech loving people and not from the brand. Xiaomi Mi 8 is the flagship of the company but also applies to the POCOPHONE F1 that offers a super competitive price all that is basic to the user, but with real top-of-the-range hardware including one photographic department of absolute professional value. In addition, the device of POCO, since the debut always has nod to the global modder community and so here the freaksters have found one really interesting feature, apparently hidden, that will allow you to shoot Infrared photos exploit the Face ID present on Mi 8 and POCOPHONE F1.
XIAOMI Mi 9T 128GB BLACK - BLUE Global 6 / 128gb
ATGRATIS Shipping from Italy 24 / 48h

There are actually two ways to make this type of shots and the first is to use the free app MIUI Hidden Settings that you can download in a completely free from Google Play Store. The tool will allow you to have access to some hidden options related to software but above all to fully exploit the potential of the hardware that comes with your device.
How to take IR photos with POCOPHONE F1 and Xiaomi Mi 8
At this point, from the application screen, stay in the section ANDROID 8 and click HARDWARE TEST. A will open menu related to various tests as well as calibrations of the sensors of the Mi 8 and POCOPHONE F1. You will have to look for the item number 52. IR CAMERA TEST from where you can take pictures with the infrared camera that is used for facial unlocking in low light situations. If you do not want to install the MIUI Hidden Settings application, you can also access the secret menu by typing the following code from the smartphone dialer * # * # * # * # 6484 or from the phone info plug 5 times on the kernel version.
READ MORE: POCOPHONE F1 REVIEW | REVIEW XIAOMI MI 8
Of course, do not expect a performance worthy of the best SLR, as the camera is dedicated solely to facial recognition and therefore its maximum resolution is VGA with opening f/ 2.4 which produces 640 x 480 pixel shots. But it is still a fun effect that you will get to amaze your friends on various social networks.