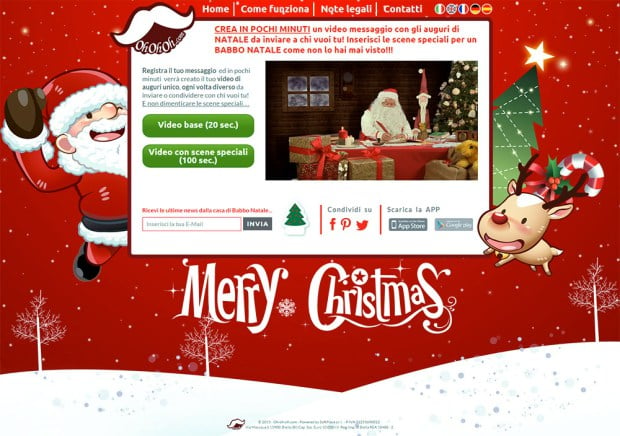 Are you interested in OFFERS? Be smart and subscribe to our Telegram channel! Lots of discount codes, offers, pricing errors on technology from Amazon and the best online stores.
You are missing less than a month at Christmas and, of course, you will not give up special wishes to the people you hold the most.
If you are bored of the usual letters or the usual messages sent on WhatsApp, for this year, there is an app for Android and iOS that can create nice and original customized video tapes to offer more and more special Christmas wishes.
The app we're referring to is OH OH OH, of which there is also the Official site to access it from your PC and start developing custom video of all kinds. The most important peculiarity lies in the fact that it is You can record your voice to make Christmas wishes by adding it to the videoas well as camouflage her so that she becomes the voice of Santa Claus.
The two video modes are standard 20 seconds and the one with special scenes from 100 seconds, in which the user may also decide to integrate the special effects video attributed to the various characters.
The creation of video messaging brings a lot of freedom, both in the characters' movements within the movie, and in regard to the texts and voices that can be edited in full autonomy. If, however, you can not find a nice message that you can insert, the system has already pre-set phrases and texts that can be edited at will.
After creating the video chat, it will be easily shared through various social networks or you can do it directly from your device so you can get the thanks right away. The latest point to make is that the team in question, who has implemented this project, is totally Italian. It would be a good way, then, to take advantage of their Christmas greeting service to promote and highlight their work, often overshadowed by foreign teams.
Here the badges to download the application on your smartphone:
WP-AppBox: ohohoh - Christmas Greeting Videos (Free*, Google Play) →
WP-AppBox: Oh-Oh-Oh (Free, App Store) →
via | Enjoy Phone »Xiaomi