Il DJI Mini 4 Pro it is the latest addition to the Chinese company's renowned series of mini drones, which brings with it a series of innovations and improvements, while maintaining the weight under 250 grams. Let's see the details of this little drone just now announced, exploring its distinctive features, advanced technical specifications, new features and the potential it opens up for drone and aerial photography enthusiasts.
Structure and design
The DJI Mini 4 Pro continues the tradition of improvement while maintaining a weight of 249 grams, a distinctive element of the series. The challenge of integrating new elements and features without compromising structure and weight was brilliantly overcome by DJI, making the Mini 4 Pro a masterpiece of engineering and design. The basic structure remains faithful to the previous Mini 3 Pro model, but introduces new sensors for navigation and a more aerodynamic and refined design.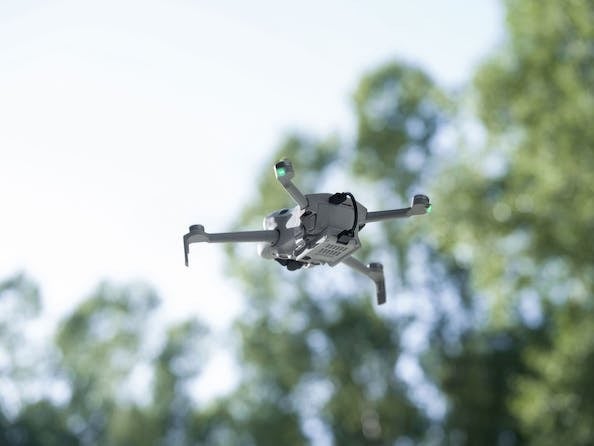 Technical features and camera
The DJI Mini 4 Pro is equipped with a 1/1.3 inch CMOS sensor and 48 megapixel, capable of capturing high-quality images with an f/1.7 aperture lens. The camera, the central element of this drone, has not undergone changes compared to the previous model, allowing those who own the Mini 3 Pro to enjoy the same photographic performance.
However, DJI has implemented a new ISP that improves night shooting and introduces new shooting modes, such as 10-bit D-Log M recording and slow motion 4K is 100 fps, thus offering new creative possibilities to users.
Navigation and obstacle detection
The Mini 4 Pro stands out for its advanced omnidirectional obstacle detection system. The new ones wide-angle and vision sensors, strategically positioned, allow the drone to navigate precisely in complex environments, avoiding obstacles and dynamically following moving subjects.
This functionality, combined with the work APAS (Advanced Pilot Assistance Systems), makes the Mini 4 Pro an ideal companion for creative and dynamic shooting, capable of following a person on a bicycle in the woods while avoiding obstacles with millimeter precision.
Autonomy, transmission and control
The flight autonomy of the Mini 4 Pro reaches i 34 minutes with standard battery, but can be extended up to 45 minutes with Plus battery. The new O4 video transmission system guarantees transmission FHD at 1080p/60fps smooth up to 20 km away, allowing users to explore and capture images from angles and distances never before achieved. Furthermore, the Mini 4 Pro offers new software features such as automatic route Waypoin flightt and the Cruise Control for long-distance flights, further expanding the possibilities for flight control and management.
Accessories and Price DJI Mini 4 Pro
The DJI Mini 4 Pro is available starting from 799 € and offers a range of accessories such as ND filters, an Ultra Wide lens and a 4G module. The Fly More Combo version, available at 1129 €, includes the drone, a DJI RC 2 remote controller, three batteries, a DJI Mini shoulder bag and charging station, representing a complete option for drone enthusiasts.
Full DJI Mini 4 Pro specifications
| Feature | Detail |
| --- | --- |
| Sensor | 1/1.3 inch CMOS |
| Camera Resolution | 48 megapixel |
| Lens Aperture | f / 1.7 |
| Shooting Mode | D-Log M 10-bit, 4K slow motion at 100 fps |
| Navigation and Obstacle Detection | Omnidirectional with wide-angle sensors |
| Flight autonomy | 34 minutes (45 minutes with Plus battery) |
| Video Transmission System | O4, FHD transmission at 1080p/60fps up to 20km |
| Weight : | 249 grams |
| Base price | Starting from 799 € |
| Fly More Combo Price | 1129 € |
| Accessories Included (Fly More Combo) | DJI RC 2 remote control, three batteries, shoulder bag, charging station |
| Software features | Automatic Route Flight Waypoint, Cruise Control |
| Optional Accessories | ND filters, Ultra Wide lens, 4G module |