Are you interested in OFFERS? Be smart and subscribe to our Telegram channel! Lots of discount codes, offers, pricing errors on technology from Amazon and the best online stores.
Who among you still uses the mop to clean the floor at home? Have you ever heard of cordless floor cleaners? Here today I will tell you about one of these, the Dream H12 Pro which I'm pretty sure is the best you can buy today. But first I would like to make a premise for all those who are not yet very well versed in the matter. Today we have 2 "smart" ways to clean the floor: with automatic robots or with scrubber dryers. The robots are those that you have surely already seen in various online videos, they do everything automatically, dust extraction and washing, and in the latest models available there is also the robot's emptying and self-cleaning base. The second option is that of cordless vacuum cleaners and floor cleaners (which for convenience I will call floor cleaners), which suck up dust and wash the floor in a single pass. I have always opted for these second devices, as they are more versatile, quick to use even for small disasters (the classic bottle of wine spilled on the floor), they certainly wash better and above all they do not require a particularly "tidy" home. In fact, if you have many objects scattered on the floor, the robot should go around them and therefore cleaning would be affected. With this in mind, we can begin.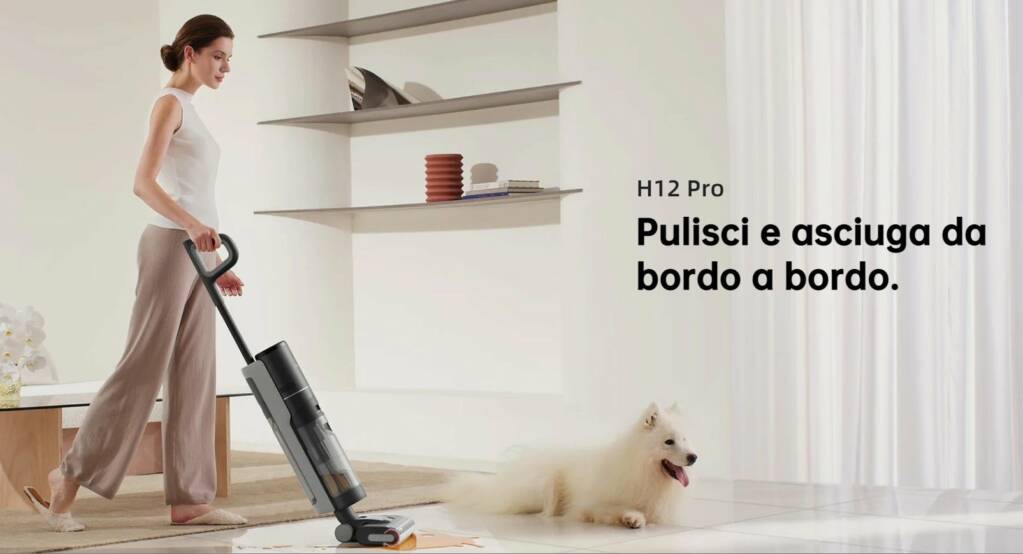 PACKAGE Dreame H12 Pro
Already from the packaging you can understand the level of the product, i.e. TOP LEVEL as usual DREAM, today a reference point for SMART cleaning products. The box itself is enclosed in an external box to protect the original packaging as well. Inside all the pieces are perfectly packed even against the worst courier in the world!
We immediately notice a gem, the quick instructions for use printed directly on the box!
Inside the package we find:
Dreame H12 Pro machine body with tanks and roller already assembled
Handle
Charging and cleaning base
Replacement roller
Replacement filter
Dream cleaner
Brush for unclogging
User manual (with Italian language included)
ASSEMBLY - DISASSEMBLY
The assembly and disassembly of all parts is really very simple. As already mentioned, the scrubber body arrives already assembled, you will only have to insert the handle/handle from where you can then also control everything. Very simple operation, just insert it in the hole above the machine body until you hear a click. Obviously it will have to face forward. To remove it, however, you will need a tool such as a small screwdriver to be inserted into the slot behind it until you reach the release button (but obviously this operation will hardly help you).
As for the tanks, they are easily removed and put on using the release button that you find in the upper part. In the dirty water one you will also find the hepa filter, also easy to put on and take off (interlocking). At the end of each washing session it should be removed and washed under running water and dried well before reusing it. You also have a spare one supplied, in case you need to use it before it has dried well.
The ease of removing the washing roller is also very good, but why am I telling you this? Our Dreame self-cleans and dries the roller once inserted in the base but my advice is to disassemble the roller at the end of each wash, clean it manually (also fine under running water) of any dirt residues and let it dry detached, perhaps near ( not too much) to a heat source. This above all because manual cleaning ensures an almost perfect job and naturally for a matter of energy saving (the whole cleaning and drying process takes about an hour). To disassemble it, just in order: remove the roller cover using the double release button, and press the button on the upper part of the roller unit. At this point you just need to remove it. To reattach it, simply center the roller in its seat, press all the way down and reattach the handle, hearing the classic "click" which will certify that it has been hooked up.
I am absolutely satisfied with this ease of use that I have not found in many other similar devices.
TECHNICAL FEATURES Dreame H12 Pro
The data sheet is certainly another strong point of the H12 Pro, from the capacity of the tank to the battery life. Here I leave you the card that we will sift through in detail later:
Product name: H12 Pro Wet & Dry Vacuum Cleaner
Nominal power: 300W
Weight/size: 4,9 kg
Battery capacity: 6 x 4.000mAh
Autonomy: 35 min
Charging time: ≈3 hours
Clean water tank: 900 ml
Dirty water tank: 700 ml
Operating mode: Auto mode, Ultra mode and Vacuum mode
Brush type: Rotating brush for edge-to-edge cleaning
Motor: Brushless
Screen: LEDs
Automatic dirt detection: Yup
Voice feedback: Yup
Automatic cleaning: Yup
From an aesthetic and material point of view, there is poco to say… simply WONDERFUL! With attention to every detail as soon as you see it and touch it, it returns premium feedback like no other had given me. The bearing structure, handle and motor body are in aluminum alloy, the tanks in plastic. Although polycarbonate would have been the best choice for weight, the fact remains that even so we are under 5Kg and therefore it is not too heavy to carry it even when switched off. When, on the other hand, the traction of the roller is in use, it is really very strong, minimizing the effort we have to exert to clean.
METHOD OF USE
There are 3 methods of use and I assure you that they are enough and more! I find really useless those products that have an infinite number of modes that no one ever uses. Here we have the ones you need: automatic mode, ultra mode and suction mode.
Automatica: this is the one I strongly recommend, in this mode it will automatically detect the amount of dirt present and consequently adjust the suction power and water release for cleaning. In this mode, the greatest autonomy is also guaranteed, which is around 40 minutes
Incredibly : in this mode the maximum suction and maximum water release will be set, obviously to be used only in particularly dirty areas of the floor. Here the autonomy drops to about 20 minutes maximum.
Suction: if you only have to suck up liquids then this is the mode to use. In fact there will be no release of water on the roller but only suction.
To switch from one mode to another, simply press the appropriate mode button immediately above the power button.
Dreame H12 Pro DISPLAY
The LED display is another point in favor of this scrubber dryer. The information that will be offered to us is really exhaustive and very pleasing to the eye. Structured in a circular manner, it will provide us with details on:
Active usage mode
Remaining battery percentage (even while charging)
Error messages
Amount of dirt detected
Self Cleaning/Drying
There are 4 error messages: insufficient water (clean water tank), dirty water tank full/not installed, hose blocked, roller blocked/not installed. If the message "hose blocked" appears, remove the dirt tank and check that there are no obstructions where it hooks to the brush unit, where the dirt sensor also resides.
VOICE FEEDBACK
We also have the possibility of being informed in real time, via vocal feedback, of the most important messages for the perfect use of our Dreame. By default the language is set to English but it will be child's play to set it to Italian. Simply press and hold the button on the back of the engine block for 3 seconds. In this way you will enter the selection mode and each time you press the text you will hear the name of the language that is set. When you hear "Italian" you will have to press and hold for 3 seconds to confirm your choice.
The other options are, by pressing the key in sequence: active feedback, active feedback with maximum volume, deactivated feedback.
CLEANING THE DIRTY WATER TANK
This operation can also be done in the blink of an eye, just press the release button at the top, detach it and take it to where you can empty the dirty water (and of course any aspirated solids) which will normally be the toilet. Here we will just have to remove the part that contains the filter and empty the tank. Subsequently, the filter will also be removed and washed under running water. Remember to let it dry well before using it again.
SELF-CLEANING - ROLLER DRYING
Naturally, the possibility of self-cleaning and drying the roller could not be missing. As I have already told you before, in the assembly section, in my opinion it is always better to at least proceed first with manual cleaning to perfectly remove any solid residue present on the roller and in the tube. After that, to proceed with the automatic cleaning you will simply have to place our H12 Pro on the charging base and press the button above the handle. Remember to check that there is enough clean water to clean the roller. Once the cleaning is finished, you will have to empty the dirty water tank which will have collected that of the roller cleaning and check if there are any water residues on the base to dry (which is very likely)
If you wish, you can also dry the roller by pressing and holding the same button down for 3 seconds. This procedure will only take place if the battery is at least 15% charged. Recharging will start as soon as drying is finished. However, I advise you to avoid this procedure by detaching the roller and letting it dry independently.
HOW IT CLEANS
I feel I can say that it is the best floor cleaner I have ever tried, usable on any type of floor (ceramic, laminate, parquet, etc.). The ability to detect the amount of dirt on our floor is really excellent. As you could have seen from the video, in just one pass it really removes all types of dirt, from solid to liquid ones. Passed even the most difficult exam, that of oil (the drama of every person who spills it on the floor). We are now really one step away from cleaning with a mop, which obviously remains unsurpassed today due to the question of the pressure we can exert perhaps on "glued" stains on really old and solidified ones. But to better understand how it cleans, I obviously invite you to watch the video review where as a test I tried to suck up a truly incredible mess!
As a cleaner it is of course better to use the one supplied, once finished you can also buy it on Amazon at THIS ADDRESS, but the classic ones will also be fine as long as they are not foamy and do not require rinsing. I also tried one from the supermarket and there were no problems!
Maneuverability is also very good, light to move and with a roller brush joint that allows us to reach every point of the house. The flush cleaning is also good, which unlike the H12 model is now on both sides of the brush. There is practically no uncleaned floor space and for the sticklers for cleanliness this is also an important plus. The maximum inclination of 140° which allows us to clean comfortably under the tables is also very good. The possibility of turning it off automatically by placing it perfectly vertically, a position which it then holds without the need to place it or place it immediately in the base, is convenient.
No problem even for autonomy as in automatic mode we will easily exceed 30 minutes, going close to 40 if the floor is not particularly dirty. For those who have never used a scrubber dryer, I can tell you to be absolutely calm, in fact in 30 minutes you will be able to clean a really large apartment, from 100 to 120 square meters, without problems. Because I remind you that in one pass you will vacuum and wash your floor!
FINAL CONSIDERATIONS
After having talked in detail about the product, now we come to the final considerations, or whether it is worth buying Dream H12 Pro and if I can recommend the purchase. Let's start from the price, on the official Dreame website (which we thank for sending the sample) you can find it at €549. It must be said that you could certainly find other devices, more or less with the same characteristics, even for much less but, there is obviously the but. If you love to have the best then you will necessarily have to focus on this one because the others that cost €100/200 will not be remotely comparable to the H12 Pro. Then everything depends on your cleaning expectations: if you have children in the house who maybe crawl, if you have pets pets (as in my case) that lose tons of hair (and trust me, even if you don't see them there are ..), if you can't clean every day for obvious reasons then I strongly suggest you buy this Dreame. But then I only found positive sides? No! Since our reviews are always objective, I have to say that there is a lack that made me turn up my nose a little, the possibility of connecting it to an application is missing. You'll say: "what's the point of connecting it to an application, it's not a robot.." and I'll tell you that without this feature it will be impossible to update the firmware and perhaps have the status of the consumables under visual control. If the consumables issue can be overlooked, I think the firmware issue in a product of this level should have been a must but it's not like that. Too bad, a little tug on the ear to Dreame. It must be said that the present firmware does not seem to have bugs, so all in all we can also accept the impossibility of making future updates. Another small flaw is the non-removable battery but here I must say that it is not a big problem given the excellent autonomy of the automatic mode.
So I just have to leave you the direct link to the product and wish you good shopping!