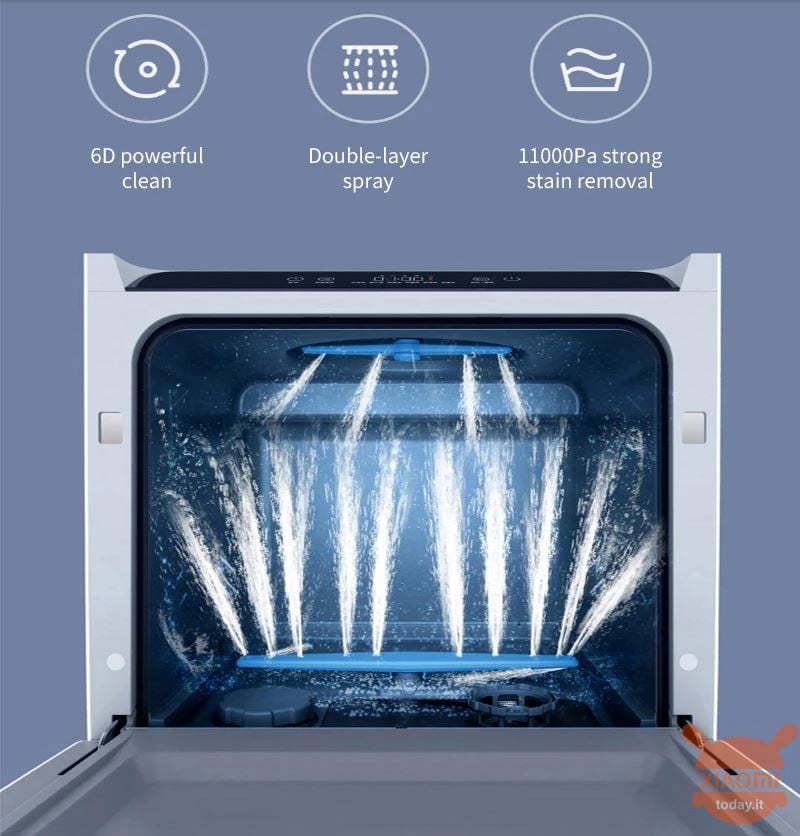 Washing the dishes is a real pain in the ass… let's say it bluntly! But sometimes due to space problems or in second homes, we don't have the possibility to install the dishwasher which could make our life easier! From today this will no longer be a problem as thanks to Xiaomi and GOOD BANG we will have the opportunity to buy the brand new dishwasher Xiaomi Mijia VDW0401M guaranteed Xiaomi Mijia.
Xiaomi Mijia VDW0401M dishwasher
🇪🇺Fast Shipping from Europe (No Customs)
The incredible aspect of this product is that it can be installed without special exhaust systems or logistical arrangements.
In fact, you can simply place it on the worktop of your kitchen, guarantee access to the water, the sink for draining and that's it!
The washing of your dishes will be accurate and will even be dried and sterilized! There are even 6 washing modes, for all needs, from maximum savings to maximum cleaning.
Despite the compactness of the product, the washing capacity is very respectable .. in fact we are talking about 32 pieces!
As for all the detailed technical characteristics, here is the summary sheet:
Specifications
Brand: Mijia (Xiaomi Cooperation Brand)
Model: VDW0401M
Drying method: Fan + Residual Temperature
Washing Method: 6 Types
Installation Method: Tableware Loading Capacity: 4 Sets
Standard water consumption: 5.3L (energy-saving washing)
Water pressure: 0.04-0.4MPa
Controls: Buttons / App
Power 900W
Voltage: 220V
Frequency: 50Hz
Charging time: 4 - 6 hours
Working time: 90 - 120 minutes
Dimensions:
Weight: 12.5 kg
Size: x 44.2 46.15 41.9 cm x

Content

1 x Washdisher, 1 x Female fine thread adapter F22, 1 x Female fine thread adapter F20, 1 x Female coarse thread adapter F20, 1 x Small wrench, 1 x Male adapter M24, 1 x Male adapter M22, 1 x Male adapter M20 , 1 x Sucker, 1 x Water inlet pipe, 1 x Drain pipe, 1 x Clamp, 1 x Three-way valve, 1 x Quick start guide, 1 x Manual
We remind you of today's great offer, you can in fact buy it, with our coupon, with over 150 € discount with shipping INCLUDED from the European warehouse (CZ) of GOOD BANG. We remind you that with this shipping method you will have your device in about 5 working days without additional customs fees.
✨ Xiaomi Mijia VDW0401M dishwasher at 222 €
💰 coupon: bgvdw0401mcz
Buy HERE
🇪🇺Fast Shipping from Europe (No Customs)