For some years now, our partnership with GSHOPPER is consolidated and has become one of the absolutely recommended sites for your purchases. Anyone who knows us knows that we publish dozens of offers every day and most of them come from here. For what reason? Simple, among the best online prices, reliability, speed of delivery and product catalog updated daily. But today I want to talk to you about a really important event, in fact from this week until August 31 we will celebrate the 4th birthday of GSHOPPER which will bring with it a series of really crazy offers. Needless to say, it would be madness to let it slip away!

You are surely wondering which products will be the subject of this fantastic sale .. well, "old" products (already in the price list previously) but also very new and that despite this will already be reduced by up to 15%. For all the others, on the other hand, you can find discounts of up to 50% on our beloved products Xiaomi. Some examples? here they are: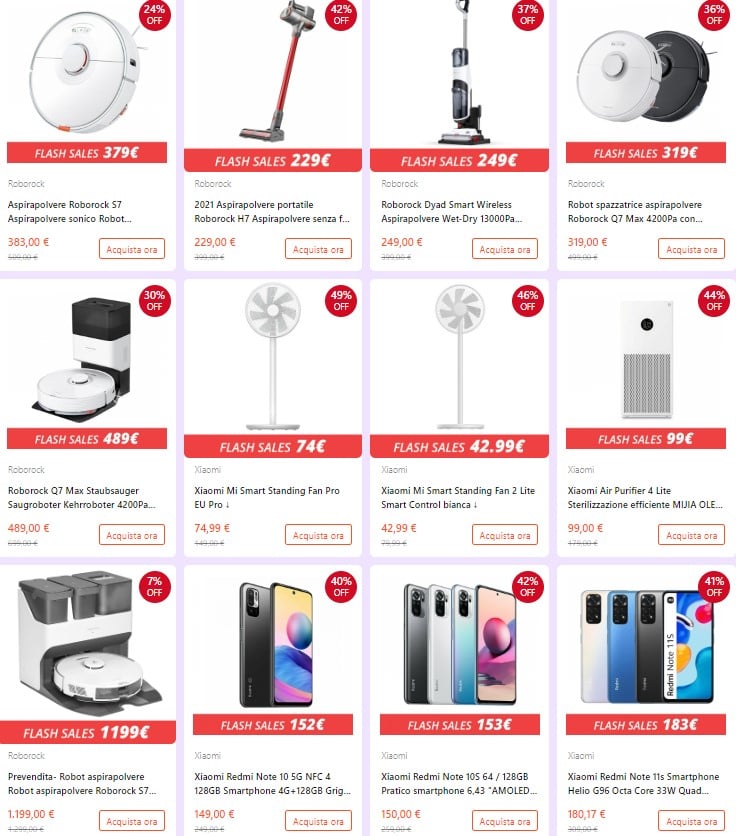 As you can see the offers really are CLAMOROUS, with historical lows such as in the case of the highly-recommended scrubbing machine Roborock dyad that you can take home for less than 250 €, of smart free-standing fans Fan 2 lite e FanPro with crazy discounts, or the brand new ones S7 floor cleaning robot, Q7 and the last arrived S7 Pro Ultra.
There is no shortage of offers for smartphones, in fact we will be able to find the best Xiaomi phones like the Note 11S, Note 11 Pro, Xiaomi 12 / 12X and all the others still in production.
If, on the other hand, you are looking for electric scooters, fitness products and more, do not worry .. the offer of this promo is 360 ° and you can really find many categories of products.
We remind you that the products in this promo, like almost all those in the price list, are present and shipped from warehouses located in Europe, therefore without the risk of customs duties and with a very fast delivery time of 2-4 days. The cost of shipping is about € 3 (one third of a shipment in Italy ..) and, to protect your purchases, you can pay with PayPal.
So my advice is don't miss this 4th birthday of GSHOPPER and at least take a look at the offers here ON THE PROMO PAGE! If you do not find what you are looking for here, try a search on the site as the discounts are on many products even that are not included in the main page.
I just have to wish you good purchases!