Tired of having to manually clean the house especially when you don't feel like it or are out of energy? In cases like these, the technological progress of recent years helps us a lot with products such as floor cleaning robots. If you want to experiment in this field and prefer something cheap instead of spending hundreds of euros, theILIFE W400 is the product for you, especially today that thanks to our coupon you can buy it at the price of only €109,99 instead of € 260,00 (-57%) with the discount code GEEKMALLBF10. Click here to buy this robot shipped from EU, so fast shipping and no customs fees. We note that on Geekmall The BlackFriday promo has started, Thu find all the offers.
Su
the whole site
you can use these coupons to take advantage of further discounts:
GEEKMALLBF10
– €10 discount
GEEKMALLBF150
– €15 on a purchase of at least €150
GEEKMALLBF500
– €30 on a purchase of at least €300
GEEKMALLBF6
– 6% discount when you buy two products
ILIFE W400 is the scrubber dryer that really cleans and costs only €110
The ILIFE W400 is a powerful robot capable of cleaning different types of surfaces such as tile floors or stone floors.
Thanks to the new cleaning system, the robot navigates the house with a pre-established path by passing the mop and removing the dirt. The mopping robot uses a fiber roller and performs wet cleaning. In particular, the clean water tank of this cleaning robot has a capacity of 0,85 litres. With one full tank, the robot cleans up to 30 m2. If full is not enough, you can pause the robot and refill the water tank. Afterwards, the robot continues cleaning where it stopped.
The ILIFE W400 floor cleaning robot has two water tanks: a 0,85 liter clean water tank and a 0,90 liter dirty water tank.
In addition, ILIFE's robot is equipped with TidalPower technology. This is a four-stage cleaning system: water is sprayed onto the floor to loosen stubborn stains. The floor is then scrubbed with a fiber roller. The dirty water is sucked up and stored in the dirty water tank. The remaining water is removed with a scraper.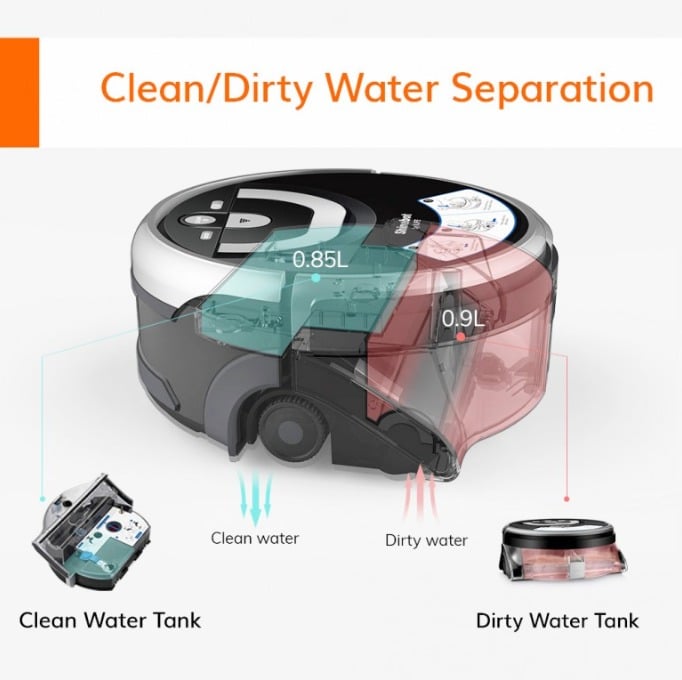 Finally, the robot has a 2400mAh battery for cleaning about 50 square meters on a full charge.
🌐 For sale on #Geekmall
💰 Goes down to
€109,99
from € 260,00 (-57%)
🎟️ Discount code:
GEEKMALLBF10
📌 Buy
https://bit.ly/3hK9hhi
🇪🇺 Fast Shipping from Europe Included (No Customs)
Also ILIFE V9e on sale
For those looking for a robot vacuum cleaner at an affordable price, we also recommend it ILIFE V9e
ILIFE V9e it has a less advanced navigation system but an enviable power, 4000pa. An ideal product for those with low demands and a small house. It will be on offer on this page at 89,99 € using the discount code GEEKMALLBF10