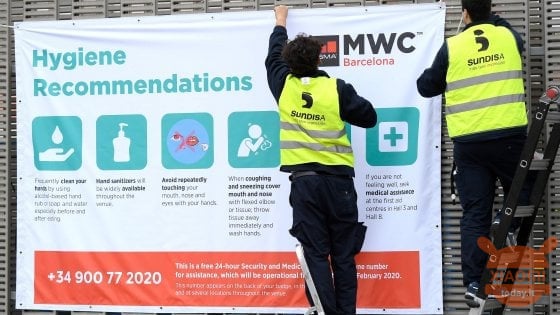 Unfortunately, this is not a bad joke and therefore the cancellation of the most anticipated technology event of the year, the Mobile World Congress 2020, is official. The decision came as a bolt of lightning, even if the probability of canceling the MWC 2020 was partly in the air, given the renunciations by a number of producers as well as practically the "desert" that would have welcomed the patrons of the fair, as the companies surrounding the event would all remain at home given the vast origin from Chinese territory, the center of the Coronavirus epidemic.
The current situation deriving from Coronavirus and its widespread diffusion have alarmed the city of Barcelona, ​​leading to the decision by the GSMA team (association that deals with the organization of this important appointment in the world of technology) to cancel the MWC 2020, even if until the end the hope of the opposite has remained alive.
The news was made global by GSMA CEO John Hoffman, who gave his explanations via the Bloomberg portal, stating that the event could not have taken shape given the growing concerns arising from the Coronavirus, as well as the scarce knowledge of the "enemy".
MWC 2020 has been canceled due to Coronavirus
A news that catches all the unprepared workers in the sector, given that up to the last the presence by many other demonstrators was guaranteed, just like Xiaomi herself who had planned the event launching the top of the Mi range on a global scale 10 but also the Mi Explorers program, in which 20 lucky users from all over the world could have previewed the new flagship of the Asian brand.
However, we must admit that the decision to cancel the MWC 2020 event is to be considered responsible and sensible given the extent of the problem generated by the Coronavirus. Should we therefore expect press releases from the various producers who would participate in the event? Will special events be organized to demonstrate the launch of their devices on a global scale?
Certainly among the most awaited news of the MWC 2020 we find precisely the Xiaomi Mi 10, which was supposed to come to life on Sunday 23 February, the day in which Huawei and Motorola would also have unlined their axes. Oppo e Realme instead they should have launched their flagship Find X2 and X50 Pro on day 22. We will surely know more in the next few days so stay tuned because we will be ready to give you all the necessary updates. For the moment, see you tomorrow with the launch in China of Xiaomi Mi 10. Are you ready?
Are you interested in OFFERS? Follow our TELEGRAM Channel! Many discount codes, offers, some exclusive of the group, on phones, tablet gadgets and technology.