Intel has today made an announcement that is shaking the world of technology: the presentation of Thunderbolt 5. This new connectivity standard is set to fundamentally change the way we transfer data, connect devices and manage our technology setups. But what does all this mean for users? How will our connections improve? Let's see it together.
Thunderbolt 5 features and specifications
With a up to three times more bandwidth Compared to Thunderbolt 4, this new technology is a real game-changer. Thunderbolt 5 isn't just a simple evolution; it is a real revolution in the field of connectivity. This standard promises to take data transfer speed to a whole new level, with a capacity up to 120 Gbps. But that's not all: the 80 Gbps bidirectional connection This means you can send and receive data simultaneously at extraordinary speeds. Here are the most notable features:
Support for DisplayPort 2.1: this function will allow you to enjoy an unprecedented visual experience. Imagine you could Connect up to three 4K monitors at 144 Hz or even 8K display;
Compatible with PCI-E 4.0: with a 64 Gbps bandwidth, Thunderbolt 5 can support the latest high-speed graphics cards and storage devices. This means that the most demanding games and applications will run like never before;
Charges up to 240W: This is fantastic news for everyone who uses laptops and other portable devices. Forget about waiting times for charging; with Thunderbolt 5, the laptop will always be ready for action (where charging is supported);
Backwards compatibility: One of the best features of Thunderbolt 5 is its compatibility with previous versions of Thunderbolt, USB and DisplayPort. This means you won't have to worry about replacing all your old devices;
Advanced signaling technology: This new technology allows Thunderbolt 5 to work with passive cables up to 1 meter. This is especially useful for those who need a fast connection but don't want to invest in expensive cables.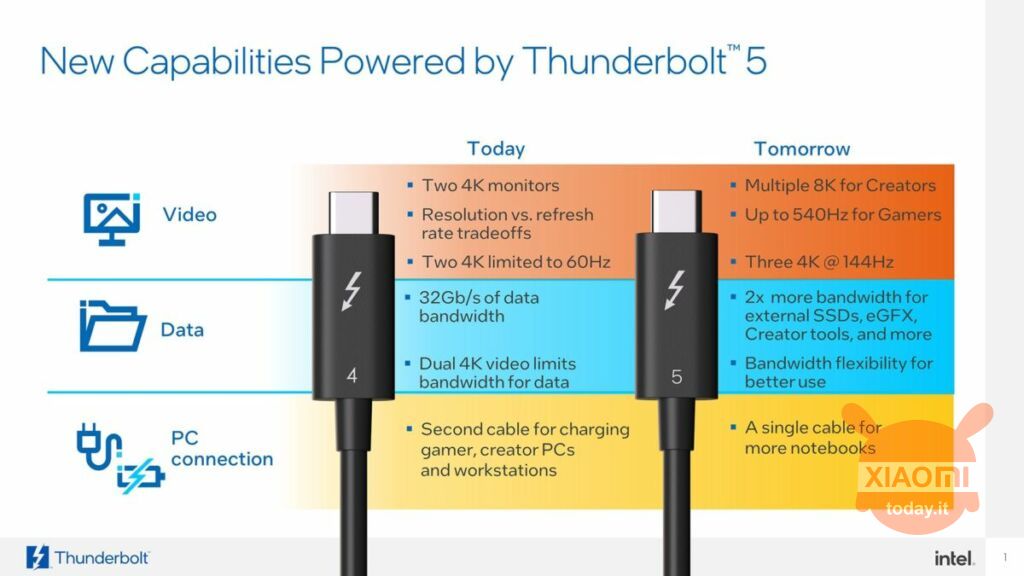 Additionally, Thunderbolt 5 will be ssupported by Intel enablement and certification programs, thus guaranteeing maximum quality and reliability. This is a big step forward in the standardization and adoption of this revolutionary technology.
Thunderbolt 5 and Thunderbolt 4 comparison
| Features/Functions | Thunderbolt 4 | Thunderbolt 5 |
| --- | --- | --- |
| Flexibility | A single port for data transfer, video output and power | Same features, but with charging capacity of up to 240 watts |
| Bandwidth | 40Gbps bidirectional | 80 Gbps bidirectional, with a total capacity of 120 Gbps |
| Versatile Connectivity | Compatible with previous Thunderbolt, USB, DisplayPort, and PCIe | Same compatibility, but with added support for DisplayPort 2.1 |
| Connectable Devices | Dock, display, storage, video capture devices | Same device types, but with support for 8K displays and 4K monitors at 144Hz |
| External Monitors | Up to two 4K monitors at 60Hz | Up to three 4K monitors at 144Hz or 8K displays |
| External Storage | High-speed Thunderbolt SSD | High-speed Thunderbolt SSD with higher bandwidth |
| USB peripherals | Mice, keyboards, controllers, headphones | Same peripherals, but with faster data transfer |
| PCI Express (PCIe) Devices | Access to PCIe devices such as video capture devices | Same access, but with support for PCIe 4.0 and 64 Gbps bandwidth |
| Networking | Connection to 10 Gigabit Ethernet networks or peer-to-peer connection between PCs | Same features, but with faster data transfer |
| recharge | Charge devices that require less than 100W | Charging up to 240W, suitable for a wider range of devices |