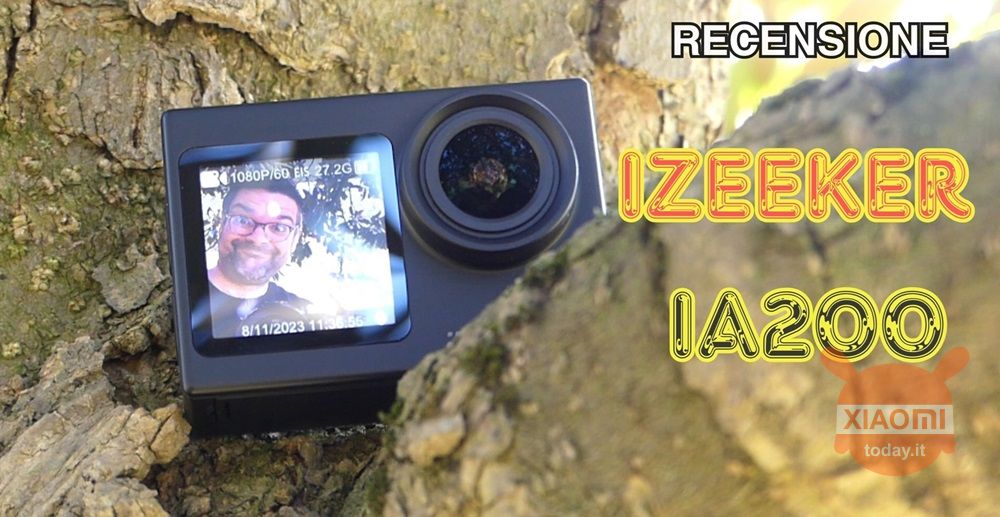 The desire to capture the most extravagant moments of our life can be achieved thanks to action cams, small devices that allow us to record from points of view that would be impossible with common cameras, such as the shot from the helmet while we are on a motorbike or the immersion in the depths of a beautiful sea. On the market we find action cameras for all budgets but to have good video quality and I also add audio, how much do we have to shell out? Thanks to the iZEEKER iA200 action camera, really poco, offering an excellent range of accessories but above all a truly impressive stabilization, but without spoiling too much I'll tell you everything in this complete review.
On offer on Amazon
Last updated on December 9, 2023 14:40
unboxing
As already anticipated, our iZEEKER iA200 offers a truly complete sales package, therefore further savings for you who will not have to pay additional euros for the purchase of additional accessories. Specifically, what you will find inside the sales box manages to cover most of the uses you will make of the action camera, such as anchoring it to helmets, to the handlebar of the bike / motorcycle, etc. but better leave you a more detailed list:
3 x Short Thumb Screw;
2 x Long Thumb Screw;
extension arm;
short vertical extension arm;
long vertical extension arm;
J-mount with buckle;
waterproof case for diving up to 40m;
clamp attachment;
180° rotatable support;
360° rotatable support;
bicycle handlebar holder;
2 x helmet attachment with adhesive;
helmet attachment support;
plastic camera frame for selfie stick attachment;
charger for 2 batteries;
wrist/helmet strap;
door to protect the display from splashes of water;
2 x 1350 mAh battery;
manuals;
iZEEKER iA200;
remote control for taking photos and videos remotely.
USB Type-C cable for charging and PC connection;
lavalier microphone with USB-Type-C connection;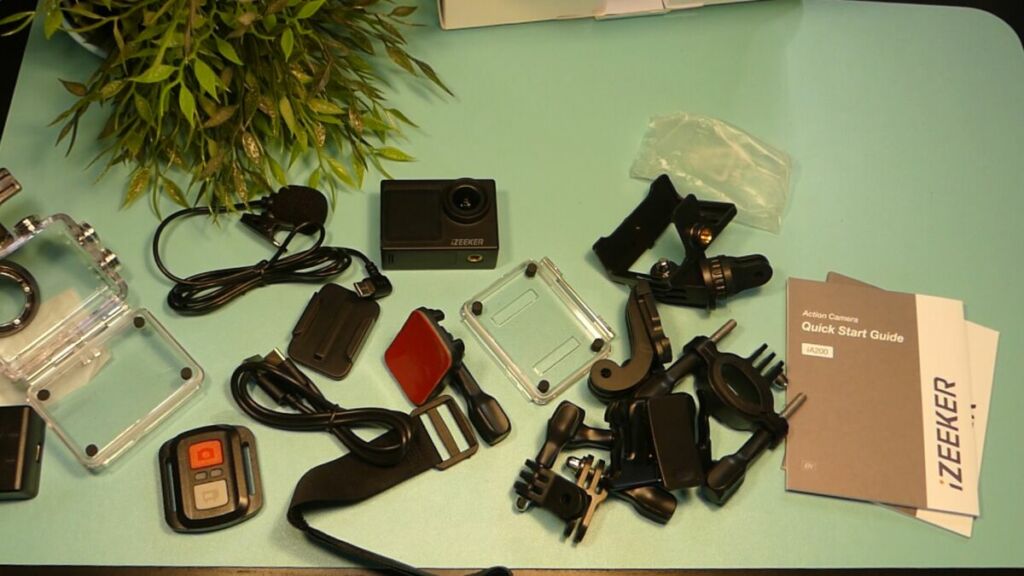 CONSTRUCTION
From a construction point of view, the iZEEKER iA200 does not hide its economical nature, showing itself to be entirely made of plastic, whose only design flaw I found was the battery compartment cover, as opening appears difficult, so you will have to use a small knife to remove the cover with the risk of scratching the plastic. Apart from this, the feeling in the hand is not the usual one found in typical action cameras of "Chinese" origin, in fact there are no creaks or assembly imperfections, allowing the action camera to be immersed up to 40 meters by adding the case supplied equipment. Smaller than a GoPro, with dimensions equal to 60 x 41 x 24 mm and a weight of 64 grams.
On the right frame we have the integrated microphone which, in all sincerity, does not offer audio up to expectations, resulting rather flat and poco volume, but fortunately we have the Type-C input supplied which, in addition to performing the charging and data vehicle function when we connect the product to the PC, allows us to use the Type-C lavalier microphone supplied, bringing the audio capture quality to definitely excellent levels. We can of course use other Type-C lavalier microphones but not the wireless ones, as the charging connector does not support OTG and therefore will not power the receiver. Also on the right frame we find the input for micro SD cards with support up to 256 GB.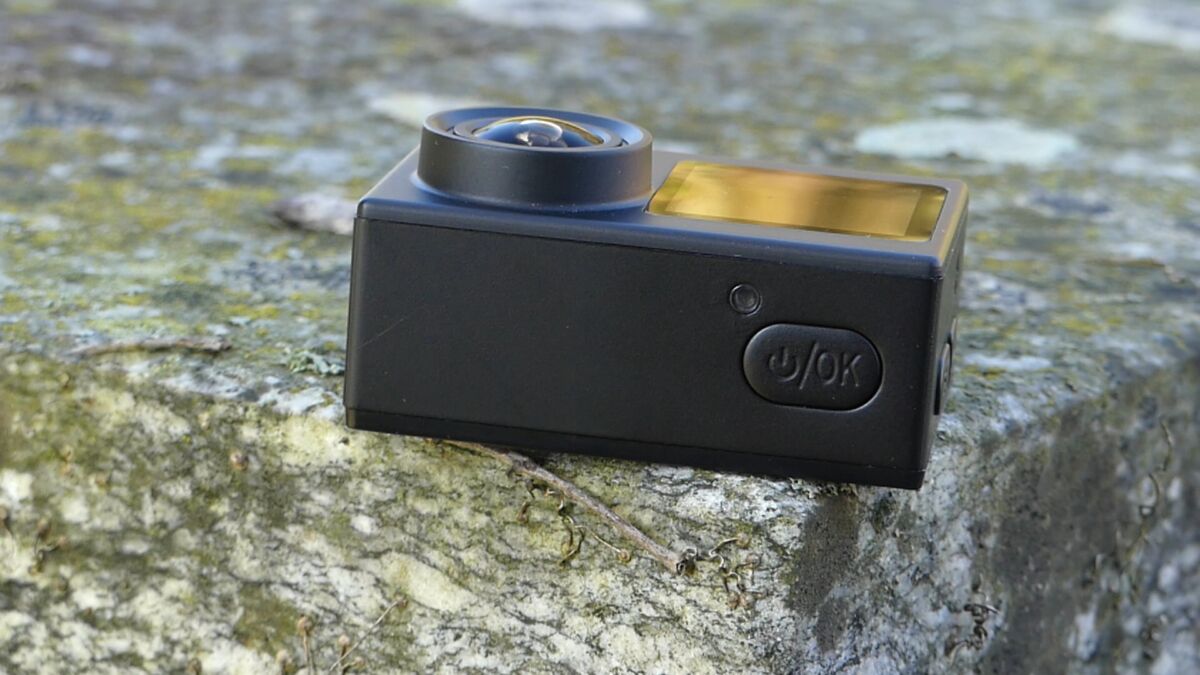 On the left we have two buttons, which allow you to navigate within the menus but also have functions: the upper one allows you to enter the menu for choosing the photo/video mode or if held down for a long time allows you to switch from the main display to the front, for capturing in selfie mode. The lower button, if pressed, will take you to the action camera menu or, if held down, it enables the WiFi connection for the use of the companion app which allows us to use the small camera remotely. Finally we find a small speaker to listen to the audio of our videos, the volume of which is decidedly low for this feature.
Yes, you read that right, our iZEEKER iA200 has a 1,4-inch front display that allows you to vlog while enjoying the maximum quality offered by the action camera, also ideal for taking selfie photos, carrying out video interviews and much more, the whose only limit remains your imagination. The front display is bright and large enough to allow a good shot without struggling to understand what we are recording, but unfortunately it is not possible to switch from one display to another during recording. Next to this panel we then find the optics, a 140 fisheye lens.
On the upper profile we find the on/off button and confirmation of the required actions as well as a small LED that lights up when the WiFi mode is active. Finally on the lower profile we find the battery compartment door but above all, a welcome surprise is the presence of a 3/4 screw connection for attaching to tripods/selfie sticks without the use of covers or anything else.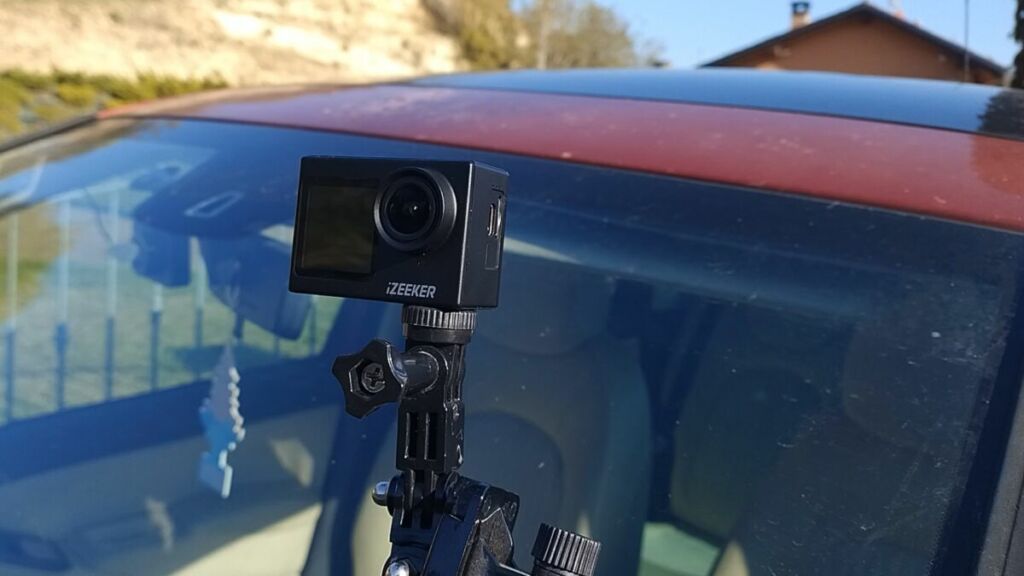 I mentioned the front display before, but I can't fail to mention the main display positioned on the back of the iZEEKER iA200, a 2-inch touch panel that has good resolution and brightness, so you can set all the parameters even under direct sunlight. Sun. The scrolling fluidity is good and through swipes or touches we could manage all the functions without having to resort to using the physical buttons.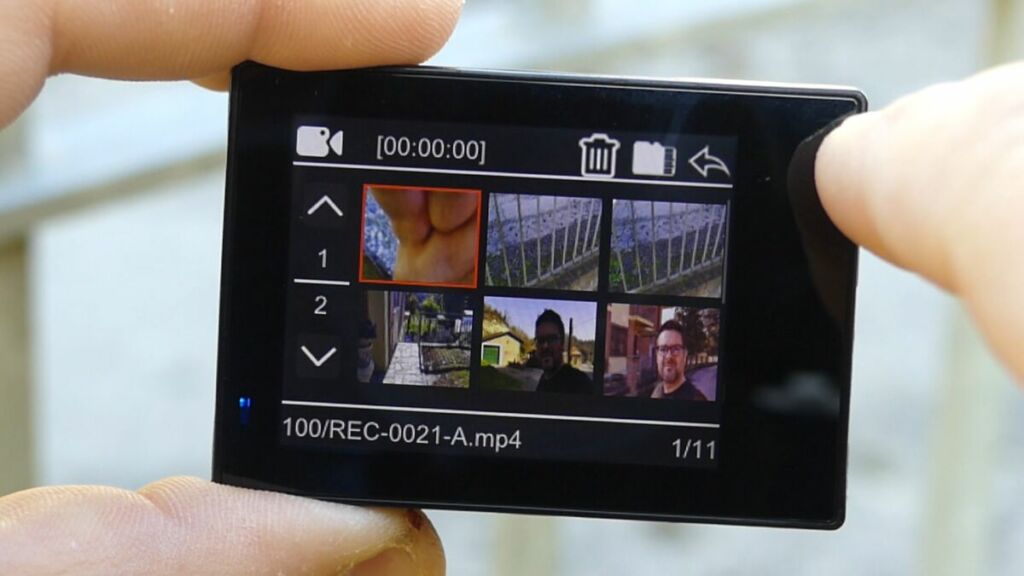 HARDWARE AND SOFTWARE
I don't know the in-depth technical specifications of the iZEEKER iA200, but I can tell you that the product is capable of recording videos up to 5K 30fps, an interpolated value, while with real resolution we have 4K 30fps and then down to 2,7K, 1080p, 720p with various fps speeds, up to 120 for 720p, with the possibility of taking advantage of excellent 6-axis EIS stabilization. Among the video modes we also have the possibility of capturing a time lapse with different intervals (1, 2, 5, 10, 30 or 60 seconds) or a slow motion (1080p 2x/4x or 720p 2x/4x/8x).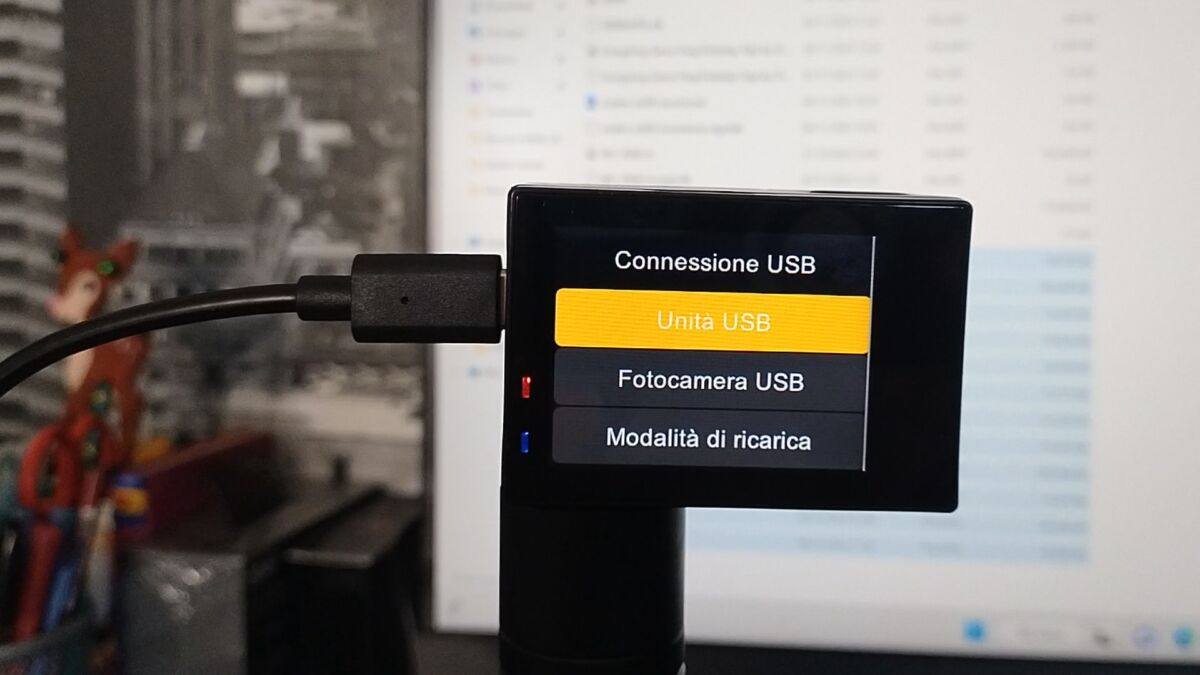 We can also take photos with a maximum resolution of 24 MP, as well as enable a self-timer (up to 20 seconds) or shoot in burst mode up to 10 shots per second, taking photos at intervals. The action cam software is almost entirely in Italian, in fact there are some translation errors, but still well organised. However, there is no shortage of functions to correct white balance, exposure compensation, sharpness and ISO. The menus flow rather fluidly and the same goes for the main screen, while we have no control over the front one. What surprised me in a positive way is that the iZEEKER iA200 can be transformed into a dash cam, with loop footage or a webcam, via connection to the PC. Photos are saved in JPG format while videos in MP4.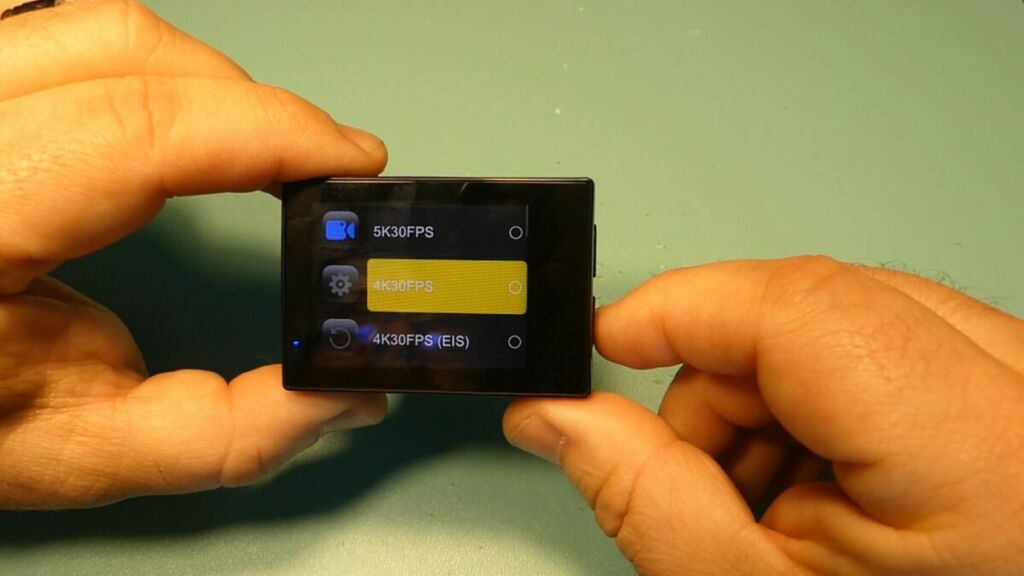 EXPERIENCE OF USE
iZEEKER iA200 allows you to capture photos and videos of the highest quality in an easy and immediately shareable way, for its price range. We have some color profiles available at software level but without having to apply any changes the colors returned are decidedly good although some predominance of the blue color range can be seen. We can record videos up to 5K at 30 fps but this is an interpolated value and in any case difficult to exploit for traditional use, while the 4K 30 fps resolution is real where the definition and details are truly a cut above the crowded action cam competition low price. This quality is certainly at the top in daytime and well-lit scenes, while as the light fades you can notice a loss of detail and the presence of noise in digital, but it should also be noted that the use of these products is not aimed at this purpose.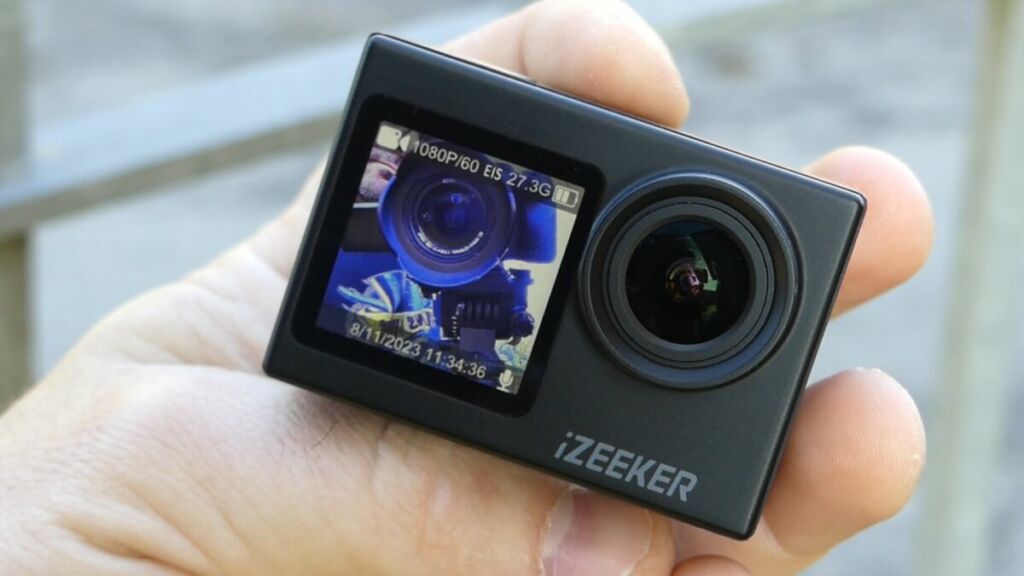 We do not find on board the LDC (Lens Distortion Correction) function, i.e. the correction of lens distortion (fish-eye effect) and the WDR (Wide Dynamic Range), i.e. the control of the dynamic range which on sunny days and/or against light allow you to avoid having a burnt sky or subjects in dim light, but post production will help to obtain even more quality so that overall the final result, without having to resort to processing, is more than acceptable. Even the photos, with shots up to 24 MP, highlight the good quality of the image/video processing algorithm and the quality of the lens and sensor used in the iZEEKER iA200, without ever experiencing the watercolor effect seen in less valid products. The audio capture, via Type-C lavalier microphone, is certainly to be praised, resulting rather clean and easily audible.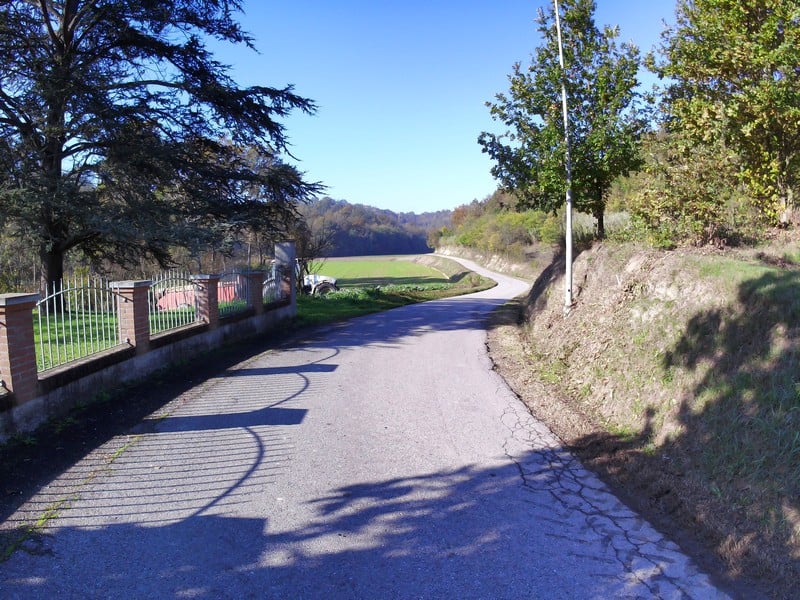 But certainly one of the strong points is the presence of EIS digital stabilization, so good that it makes the result seem optical. I tried this feature in different conditions, even while running, holding the action camera with just my hands and the results were excellent, where even rapid changes in direction or more irregular oscillatory movements have a brilliant result, making the iZEEKER iA200 perfect for truly "action" scenes.
On offer on Amazon
Last updated on December 9, 2023 14:40
In any case, it is also unfair to compare a cam like this to models that cost up to 4 times as much, with a clearly different target, but know that whatever use you make of it, you will not be disappointed. There is also the companion app for smartphones, SUPCAM PRO, with which you can set and start recordings directly from your smartphone, therefore remotely, positioning the action camera in places where it would be difficult to provide various settings and settings, or to start time lapse from the balcony, while it's raining outside and you are sitting comfortably in an armchair.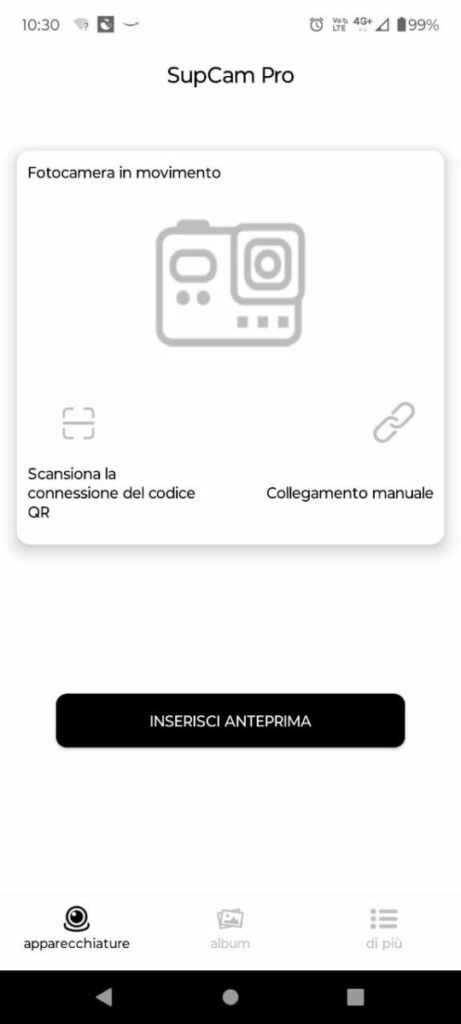 The connection takes place via 2.4 GHz WiFi but if necessary you can also take advantage of the supplied remote control, this is really useful for example if you place the camera on the motorcycle helmet and you cannot activate the recording with gloves.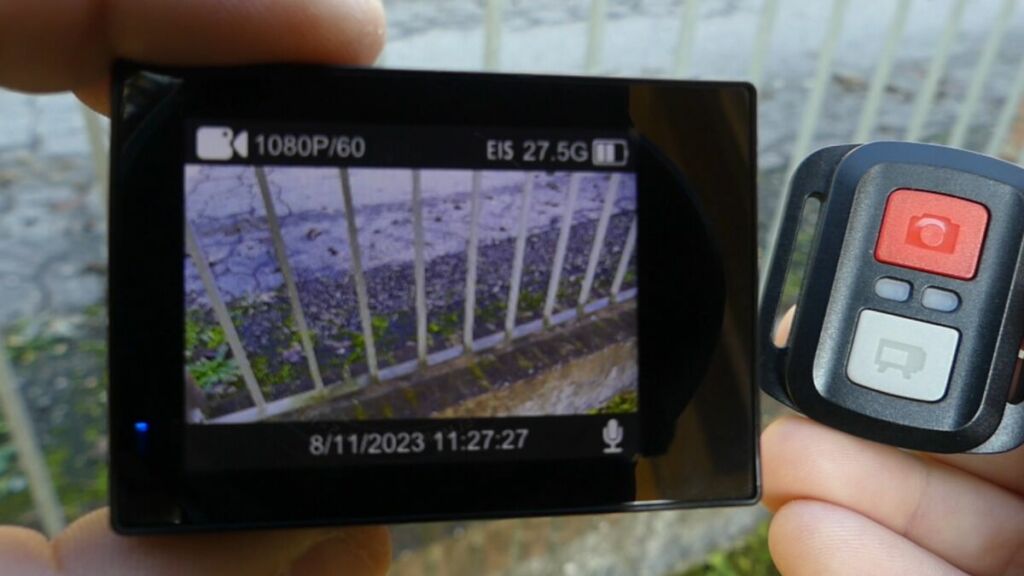 AUTONOMY
The fact of having two batteries in the package is already a point in favor of the iZEEKER iA200, if we then add that we also have a charger available which allows us to recharge the batteries at the same time and therefore effectively enjoy double autonomy, it brings the opinion of this room at top levels. We are talking about two 1350 mAh batteries, which in real use conditions, taking advantage of EIS stabilization (not available in time lapse and/or slow motion mode), with 4K resolution 30 fps offers us a recording duration of 45 minutes. More than good value if we think that this refers to a single battery, but we have two, so we could easily record clips for an entire day of work or entertainment.
On offer on Amazon
Last updated on December 9, 2023 14:40
CONCLUSIONS AND PRICE
iZEEKER iA200 for the price it is offered on the Amazon store is to be grabbed immediately, even as a gift idea. You can find it at a price of only 59,99 euros by using the discount coupon available on the purchase page. The price in this case is a key factor, because at these figures it is not easy to find action cameras with two color screens and which record in 4K at 30fps real, with excellent image stabilization and completeness of accessories. We don't have a companion app on par with GoPro, Insta360 and DJI, but this is certainly the most negligible aspect of the case, considering that basically you can process your videos with the many apps available on the Play Store / App Store, editing the recorded in a professional way or in a modern way for use on various social networks.
So at this price, iZEEKER iA200 stands as the best solution to enter the world of action cameras, without sacrificing quality, but above all without having to pass out, especially if the use you will make of it will be the typical user, that is, occasional and unprofessional.
IZEEKER IA200
iZEEKER iA200 brings the convenience of a dual-screen action camera to a very affordable price range. Ideal for vloggers, selfie lovers and for those looking for a high-quality product to immortalize their adventures, but if necessary it can also transform into a webcam and dashcam.
SALES PACKAGE / ACCESSORIES
10
DESIGN AND CONSTRUCTION QUALITY
7.1
PROS
PRICE
DOUBLE DISPLAY
TOP STABILIZATION
REAL 4K
LAVALIER MICROPHONE INPUT
IT TRANSFORMS INTO DASHCAM AND WEBCAM
3/4 ATTACK DIRECTLY ON THE BODY
MANY ACCESSORIES SUPPLIED
CONS
CONSTRUCTION MATERIALS A LITTLE "CHEAP"
Add your review