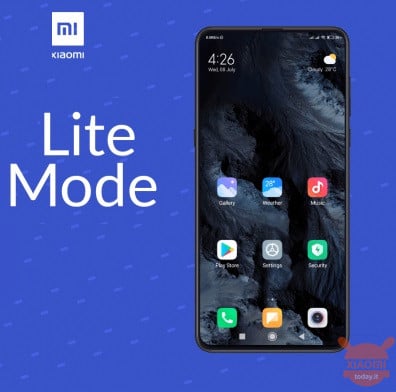 Are you interested in OFFERS? Be smart and subscribe to our Telegram channel! Lots of discount codes, offers, pricing errors on technology from Amazon and the best online stores.
Have you given your parents or grandfather a new smartphone or have you thought of indoctrinating your child to tech joys? Surely in all these cases, some of them might complain that despite their device having a rather resolute large display, they cannot display the texts well and above all they never find their favorite application, since it is the app drawer or of the system home, in the end there is confusion in the search for a certain icon.
Well if you have chosen to give these people a Xiaomi, Redmi or POCO, you almost certainly have on board the proprietary MIUI 12 interface, which if you don't know it provides a feature that allows you to solve the problems listed above, offering a minimalist and easy-to-use home with a few taps: let's talk about MIUI's Lite mode 12 and we explain what it is, what it is used for and how it is activated.
MIUI 12 Lite mode: what it is, how it works and how to activate the [GUIDE]
Of course the Lite mode is one of the countless functions present within MIUI 12, but considering the nature of the problem at the moment we focus only on this feature, but it would be good if I explained to whom this guide is addressed, who can also change themes, icons and backgrounds to their liking. But let's not waste any more time because the Lite mode is actually aimed at people who love the simplicity of a system as well as ease of use.
In particular with the Lite mode we will have larger icons, setting the grid to a matrix of 3 x 4, but also the texts of the various menus, application, etc. .. will be enlarged to offer easier reading. As for the icons, their size and shape allow immediate recognition, but notifications will also appear in XXL format. In short, everything appears larger and therefore easier to touch, but above all the Lite mode disables the gesture navigation and the app drawer, making all the applications available on the various pages that flank the Home.
Ok, it seems the solution suitable for the elderly and visually impaired but how to enable it? Nothing could be simpler, even if the massive interface change could make it seem like we have to call up who knows what secret menu. Instead, enabling Lite mode in MIUI 12 is simple and can be done in less than a minute:
Go to the "Settings" menu of your smartphone;
Go to the "Special functions" submenu;
Select the "Lite Mode" function;
Click on the "Activate Lite mode" button.
Now everything is ready to start using the smartphone without anyone continuing to stress you because they can't find something or read the content of articles etc .. For the rest, the smartphone's potential remains unchanged, so no fear, the Lite will only impact visually. Did you know this function? Do you think it could be useful to someone you know?