The time has come: tomorrow Xiaomi will finally begin to launch the long-awaited official and final MIUI 11. And from 24 September, the day the brand's UI was announced, that users around the world are waiting for it. Some will receive it immediately while others will have to wait a few more weeks, but within two months (roughly) most of the company's devices and its Redmi sub-brand will be updated. But are we sure we really know all about this nice update that is about to arrive? Apparently not, since today a new feature has been released that will be introduced on the eleventh release: it's called "Blurry preview"And will serve to protect the data of some apps.
MIUI 11 will introduce "Blurred Preview" on apps to protect privacy
It probably won't interest many of the users, but by now the use of cash is increasingly being lost and is being undermined by the payments via NFC or credit card. One service over all is Google Pay: easy to use and convenient it has become one of the most used payment methods, but although Big G is constantly working to increase the security in terms of privacy (in this case, but not always unfortunately) it is not said that he succeeds. It comes in handy Xiaomi with this new feature on MIUI 11 called "Blurry preview".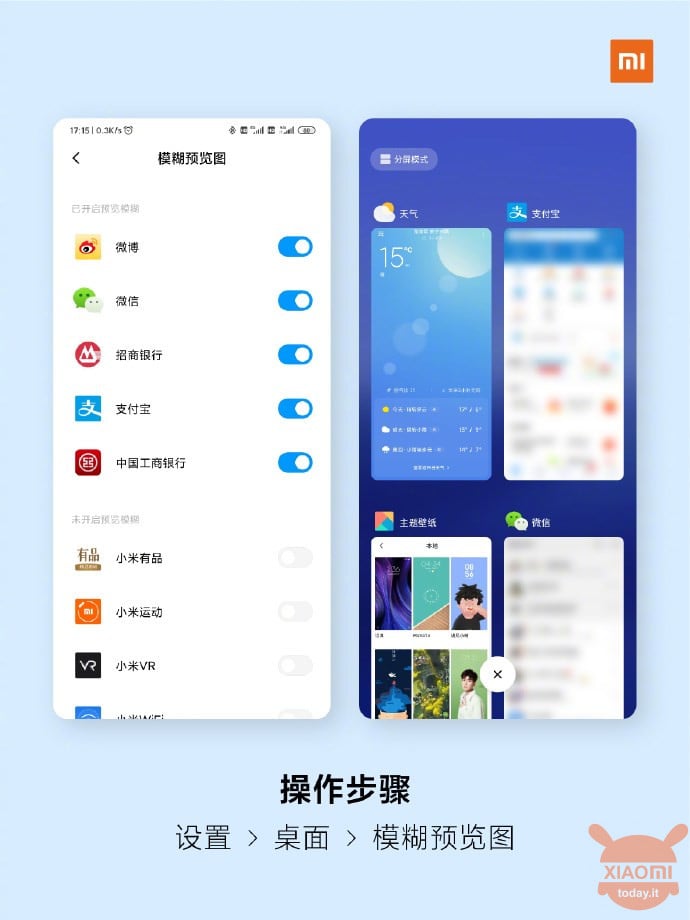 According to what we see in this presentation poster, the aforementioned function will act as a real filter to prevent prying eyes being able to steal sensitive information about our payment method data, such as card number associated with the account or even residual liquidity. Although in Italy, but in general a little all over Europe, bar code payments are little used or non-existent, in China it is now used by everyone and it is very easy for this code to be "stolen" to make purchases.
But how does it work? As we see in the image above, when the user will open the section related to multitasking to switch from one app in the background to another or to clean up the memory, the smartphone will recognize the active processes concerning payment applications like AliPay or WeChat (in the case of China) e will make the images immediately blurred thus avoiding that the information is in plain sight.
At the moment we do not know if this feature will be implemented for us, but without a doubt it is a useful and effective tool if you are used to using your smartphone as a means of payment. Would you like it?
Are you interested in OFFERS? Follow our TELEGRAM Channel! Many discount codes, offers, some exclusive of the group, on phones, tablet gadgets and technology.