It has finally arrived. We've been talking about it for days, indeed for months. There MIUI 12 is official in China and a few minutes ago the official presentation ended where, among other things, the new one was introduced Xiaomi Mi 10 Youth (aka Mi 10 Lite). The innovations that this device bring are manifold, but we talked about it in this article. Here we will see all the news that the new custom interface Xiaomi and Redmi will bring, in addition to the devices that can update and improve. In fact, at the end of the presentation, one was presented list of brand terminals that will receive, in three separate moments starting from June, the stable ROM (NON GLOBAL).
All the features of the MIUI 12 presented today in China: we focus on the aesthetics of the UI but there is no lack of improvements in the privacy field
As anticipated, the biggest news is with regards to animations. We are not only talking about "superfluous" animations, that is, those that we can choose to use or not, but also those that we will find in the system applications like Message, calls or simply opening applications.
Without taking anything away from the "old" MIUI 11 released less than a year ago, it must be admitted that the design of this new interface is really very beautiful. Remember, albeit remotely, that of iOS (Apple operating system). You will have understood for yourself that "intuitiveness" is the password. During the presentation the brand said "think of MIUI 12 as an extension of your arm". In fact, we find this feature immediately on settings such as quick responses. While it is now possible to bring up a superimposed window through which to reply to Whatsapp messages, for example, after we can extend in the truest sense of the word the notification that reaches us.
How many times have you had to use two applications at the same time, but the "Multi screenIs it too cumbersome to reach? For those not aware of it, by accessing the multitasking, the above option appears at the top left. Through this you can split the screen in two and use two apps at the same time. With MIUI 12 the arrival to this function is simplified to the maximum. We see it in the video below.
Dynamic animations in all MIUI 12 options and menus
Le dimanic animations, that is, the most beautiful ones to see and that make you perceive a greater fluidity of the system, they are not only extended to applications as we have seen poco does. In this case we will find these changes also in the drop-down and menu options in the settings. As we see in the GIF below, the "clouds" of the drop-down menu, what we open doing swipe from the top side down, appear in iOS style but are animated if you can say so.
The nice thing is that the system will introduce a highly adaptive mode. What does it mean? Thanks to the algorithm IA Lingxian, animation behavior will be recorded over the days and this will lead to a subsequent stabilization in terms of autonomy. In a nutshell, over the days theenergy consumed by animations will become less and less
, up to a minimum (based on laboratory data) of 1
% in one day
of using the smartphone.
Super Screen Lock on MIUI 12
An upgrade has also been made to lock screen. If before we had very simple animations, such as those that simulate the pressure on the display at the moment of the touch, here we go just further. With MIUI 12 it will be possible unlock the device using the effects we dreamed of before. Check out the videos below.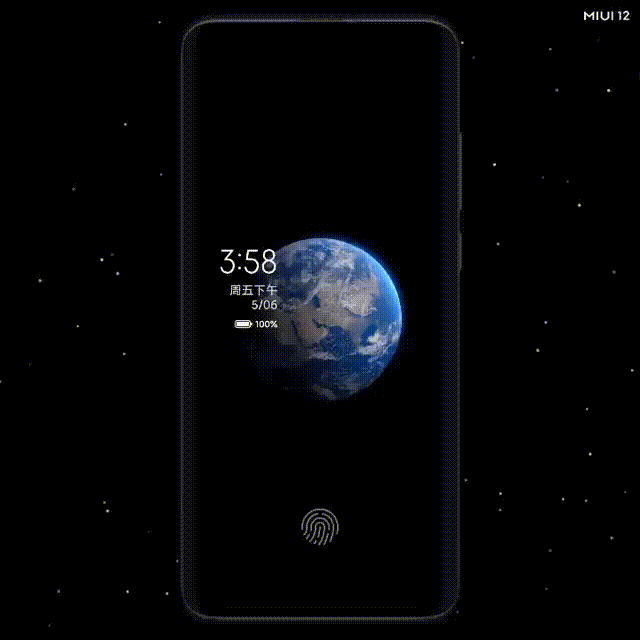 As announced, during the lock screen it will be possible to see theretrend of the weather together with that of the timetable.
Security on MIUI 12
We have extensively talked about the privacy talk on Xiaomi's new UI in this article. However, there are some details to add: MIUI 12 is the first operating system to have received TUVRheinland certification. The company does not only certify the security of smartphones displays as we have seen, but it deals with security in a general sense. Xiaomi's new user interface has been described as the most attentive in terms of data transfer and privacy strictly speaking. We cannot fail to mention the improvements that have been made in the field "Incognito mode". According to reports, the data are protected by very powerful algorithms and their transfer to third parties is out of the question.
List of devices that will receive the MIUI 12 update
Let's talk about the implementation plan and its check-in date. It is a process that requires long times, which starts from the end of June and will be divided into 3 tranches, resulting in the first private beta (CLOSED BETA ROM) available for download starting today. Below is the complete list. Clearly this is not GLOBAL.
End of June:
Xiaomi Mi 10 Pro
Xiaomi Mi 10
Xiaomi Mi 9 Pro 5G
Xiaomi Mi 9
Xiaomi Mi 9 Transparent Edition
Redmi K30 Pro
Redmi K30 5G
Redmi K30 4G
Redmi K20 Pro
Redmi K20
Second tranche (to be communicated):
Xiaomi Mi Mix 3
Xiaomi Mi Mix 2S
Xiaomi CC9 Pro
Xiaomi CC9
Xiaomi CC9 Premium Edition
Xiaomi Mi 9 SE
Redmi Notes 8 pro
Notes redmi 7 Pro
Redmi Note 7
Third tranche (to be communicated):
Xiaomi CC9e, Xiaomi Mi Note 3
Xiaomi Mi Max 3
Xiaomi Mi 8 Explorer Edition
Xiaomi Mi Mix 2
Xiaomi Mi 6X
Redmi Note 8
redmi 8
Redmi 8A
redmi 7
Redmi 7A
Redmire Xiaomi Note Pro 6
Xiaomi Redmire 6
Xiaomi Redmi 6A
Xiaomi Note 5 Redmire
Xiaomi Redmi S2
A note for top-of-the-range lovers: all the more "energy-consuming" features will be available only for those who own a high-end smartphone. The brand has announced which of its smartphones will be able to use all, none excluded, of the features:
Xiaomi Mi 10 Pro
Xiaomi Mi 10 Youth Edition (Mi 10 Lite)
Xiaomi Mi 9 Pro 5G
Xiaomi Mi 9
Xiaomi Mi Mix 3
Xiaomi Mi 8
Xiaomi Mi 8 Explorer Edition (Mi 8 Pro)
Redmi K30 Pro
Redmi K20 Pro (Mi 9T Pro)
The other devices they will use will always be able to count on MIUI 12 (e not MIUI 12 Lite as some say) but with fewer features.
Small spoiler: there will be a MIUI 13.
Xiaomi Mi 10 Global 5G 8 / 128Gb from EU warehouse
🇪🇺FREE Fast Shipping from Spain (NO customs) ✈
Source | MIUI
Are you interested in OFFERS? Follow our TELEGRAM Channel! Many discount codes, offers, some exclusive of the group, on phones, tablet gadgets and technology.