Much has been said in recent weeks about devices Xiaomi e Redmi who will receive the much coveted update to MIUI 12. Although each time it has never been an official list, we have always tended to believe that those lists were reliable. A few minutes ago news, however, seems to confirm (albeit in part) these devices. We learn about this list from theofficial application of the Chinese Mi Community. Here, as we have shown you poco some time ago, messages appeared in the last period that hinted at the imminent arrival of the major release. Today these messages are inclusive of smartphones.
The official app of the Xiaomi Community China tells us in preview what are the first devices to receive the update to MIUI 12
As you can see in the screenshot below taken directly from Weibo, the interface is that of the app Mi Community that we have seen previously. At the bottom of this screenshot are visible i code names of the devices concerned. The message that precedes possible carriers of MIUI 12 reads: "MIUI activity: the recruitment channel will be opened shortly, please come back later".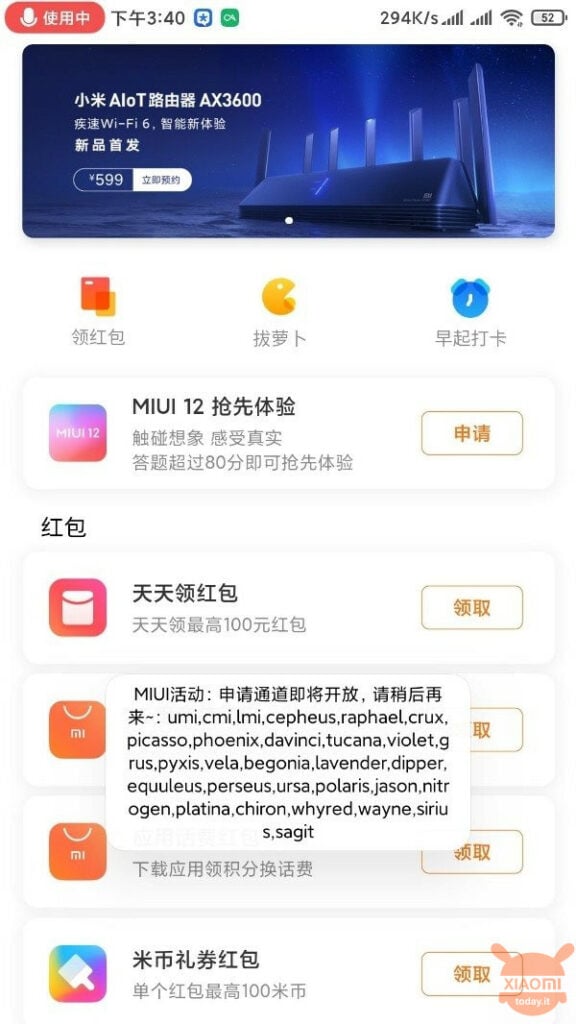 But which devices do these codenames actually correspond to? Before communicating them, we want to underline a couple of things: first of all it is not clear if these codenames concern them Xiaomi and Redmi smartphones with developer ROM or not. We assume yes, given the clues that have come to us in recent days; secondly it is clear (although we shouldn't say it) that it is Exclusively from the CHINA and non-GLOBAL branch
. To see the major release also on our devices we would have to wait months. Maybe just there
ROM EU
you can receive the update with a small advance.
List of Xiaomi and Redmi smartphones upgradeable to MIUI 12
umi: Xiaomi Mi 10;
cmi: Xiaomi Mi 10 Pro;
lmi: Redmi K30 Pro;
cepheus: Xiaomi 9;
raphael: Redmi K20 Pro aka Xiaomi Mi 9T Pro;
crux: Xiaomi Mi 9 Pro 5G;
picasso: Redmi K30 5G;
phoenix: Redmi K30 4G;
davinci: Redmi K20 aka Xiaomi Mi 9T
tucana: Xiaomi Mi CC9 Pro alias Mi Note 10 Pro;
violet: Redmi Note 7 Pro;
grus: Xiaomi Mi 9 SE;
pyxis: Xiaomi Mi CC 9 aka Mi Note 10;
sail: Xiaomi Mi CC 9 Meitu;
begonia: Redmi Note 8 Pro;
lavender: Redmi Note 7;
dipper: Xiaomi Mi 8;
equuleus: Xiaomi Mi 8 Explorer Edition;
perseus: Xiaomi Mi Mix 3;
ursa: Xiaomi Mi 8 Youth Edition;
polaris: Xiaomi Mi Mix 2S;
jason: Xiaomi Mi Note 3;
nitrogen: Xiaomi Mi Max 3;
sinker: Xiaomi Mi 8 Lite;
chiron: Xiaomi Mi Mix 2;
whyred: Redmi Note 5;
wayne: Xiaomi Mi 6X;
sirius: Xiaomi Mi 8 SE;
sagit: Xiaomi Mi 6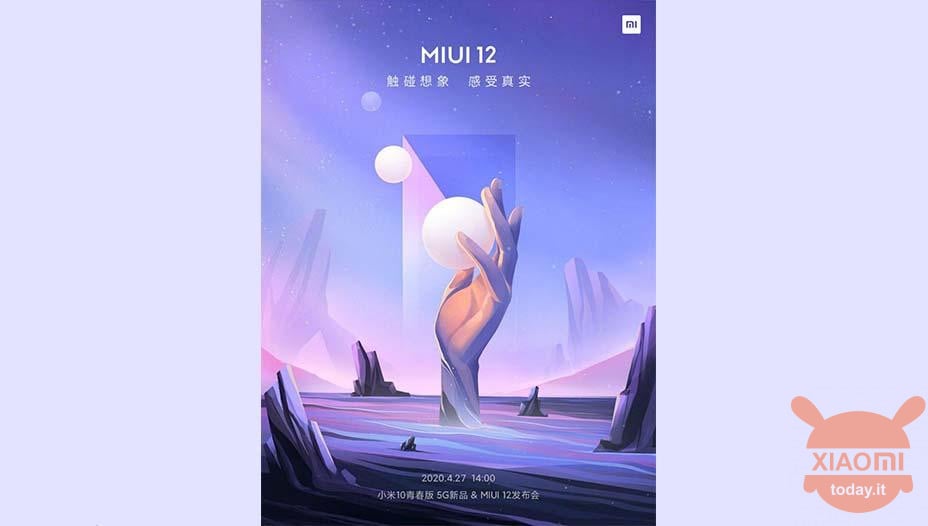 As anticipated, this is not about GLOBAL smartphones of the brand that will receive the update. For now the matter is still nebulous. If you were equipped with ROM CHINA DEVELOPER you will surely receive news in the next few days.
Xiaomi Mi 10 Global 5G 8 / 128Gb from EU warehouse
🇪🇺FREE Fast Shipping from Spain (NO customs) ✈
Via | Weibo
Are you interested in OFFERS? Follow our TELEGRAM Channel! Many discount codes, offers, some exclusive of the group, on phones, tablet gadgets and technology.