With the release of the new Redmi K20 series in China and Xiaomi Mi 9T in Italy, the first real Xiaomi flagship killer, the F1 Pocophone, has definitely lost most of its appeal. What instead remains a rather interesting feature brought by the device to the market is the dedicated launcher created by Xiaomi (or Poco?) For the smartphone.
As you will already have understood, we are talking about the Poco Launcher that now comes in the new 2.0 version.
Little 2.0 Launcher: Beta released for testers on Google Play
We need you!

Do you want to experience POCO Launcher 2.0? Come and join us to be a user of POCO beta. A totally new launcher journey is waiting for you.

Download POCO Launcher 2.0 at https://t.co/hSpAZSnSNp pic.twitter.com/2Kjv9JUMjo

- MIUI (@miuirom) June 14, 2019
The update was communicated directly by Xiaomi on Twitter along with the explanatory video we can see above.
The main changes on the new application Little 2.0 launcher concern the app drawer. Xiaomi seems to have improved the fluidity of the opening and the appearance of the background inside the drawer. As we can see in the video, going into "Backgrounds" we have three options: "Light", "Dark" and "System". Depending on your taste, we can therefore choose whether we want a dark or light background. It is also possible to set a drawer transparency ranging from 0% to 100%.
Are you often unable to find an app on your phone soon? This video will teach you how to manage app categories in POCO Launcher, join us to use POCO Launcher 2.0 to sort out your desktop! pic.twitter.com/fBWYm8g578

- MIUI (@miuirom) June 15, 2019
Another change concerns the application groups. Until now it was only possible to add applications to groups such as Entertainment, Shopping etc, while from now on you can delete the groups that you do not consider necessary and create new ones of your choice by clicking on the "+" icon at the top right.
It is possible to install the Poco Launcher 2.0 by joining the Xiaomi Beta program at shared link on Twitter. Unfortunately, this seems to be currently unavailable as the maximum number of testers has been reached.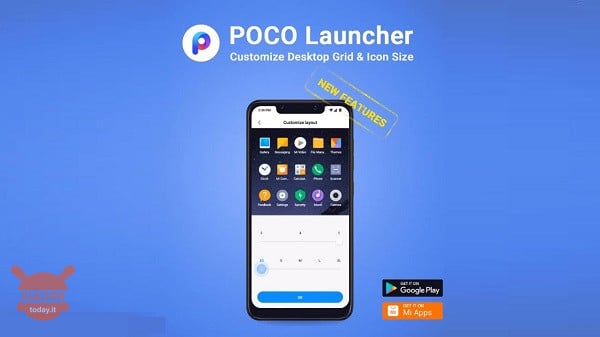 In conclusion, on the 2.0 version we will not find many changes, but perhaps it is better this way since the launcher presented with the Pocophone F1 is one of the most loved in circulation. What do you think instead? Do you agree with us or Xiaomi should have brought other changes? Let us know in the comments section below!
Are you interested in OFFERS? Follow our TELEGRAM Channel! Many discount codes, offers, some exclusive of the group, on phones, tablet gadgets and technology.