Are you interested in OFFERS? Be smart and subscribe to our Telegram channel! Lots of discount codes, offers, pricing errors on technology from Amazon and the best online stores.
It was announced than the series Redmi Note 12 arrived in Italy and here we are. Xiaomi has in fact today launched the four models of the new mid-range range devoted to performance not only photographic but also hardware. Below we will see what they are features, technical and prices of Redmi Note 12 4G and 5G, Note 12 Pro and Note 12 Pro+.
Features Redmi Note 12 4G and 5G, Note 12 Pro and Note 12 Pro+
The crown jewel of the series is the Redmi Note 12 Pro + 5G, which sports a formidable triple camera system. With a main camera from 200 MP Featuring OIS, an ultra-wide camera and a macro camera, this flagship device aims to revolutionize photography in mid-range smartphones. The Redmi Note 12 Pro 5G also offers a remarkable photographic experience, thanks to the IMX766 sensor with OIS, ultra-wide camera and macro for shots in low light conditions.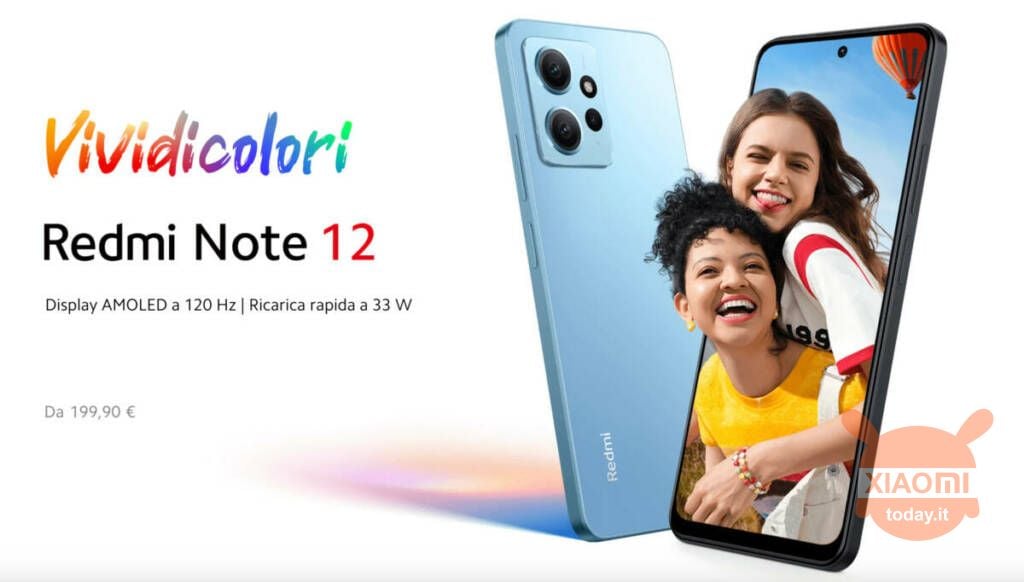 Both the Note 12 Pro+ 5G and 12 Pro 5G are equipped with a AMOLED Flow display at 120Hz, with Dolby Vision and Dolby Atmos support. With even thinner bezels thanks to the flexibility of P-OLED, both devices deliver an exceptionally immersive viewing experience. Both smartphones boast fast charging times, with 2W HyperCharge120 on the 12 Pro+ 5G and 67W on the 12 Pro 5 5G, and a long-lasting battery from 5.000mAh for extended daily use, even during heavy content usage. Smooth and reliable 5G performance is ensured by the powerful chipset MediaTek Dimensity 1080.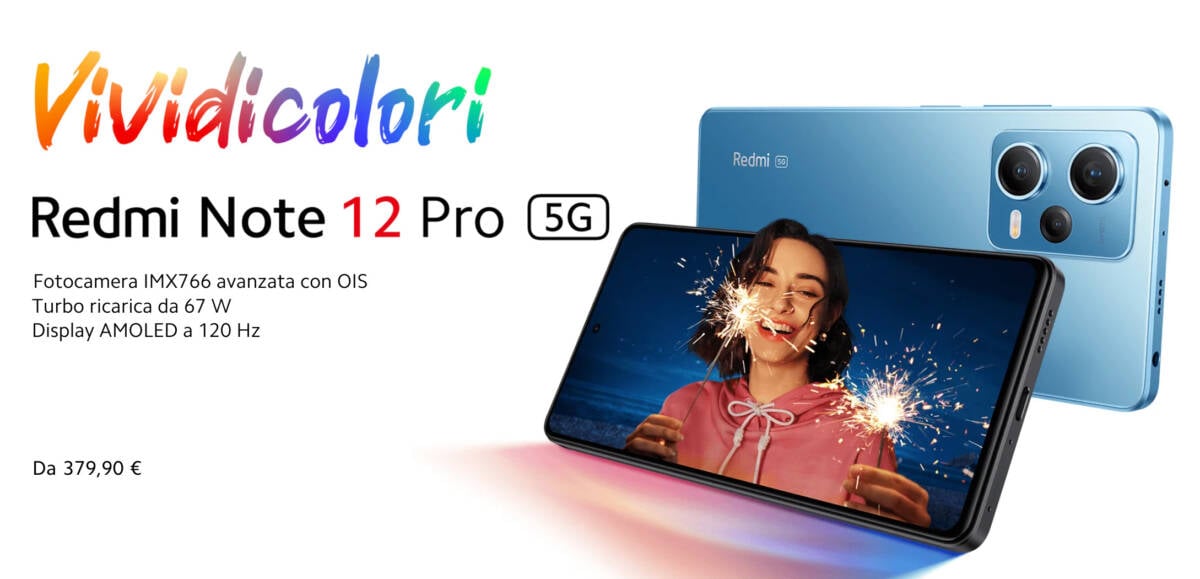 Redmi Note 12 5G is designed for consumers who want to experience all the benefits of a 5G device at a more affordable price. Both the Redmi Note 12 5G than the Redmi Note 12 are equipped with fast charging from 33 and a long-lasting 5.000mAh battery, allowing users to use multiple apps and take more photos without worrying about battery life.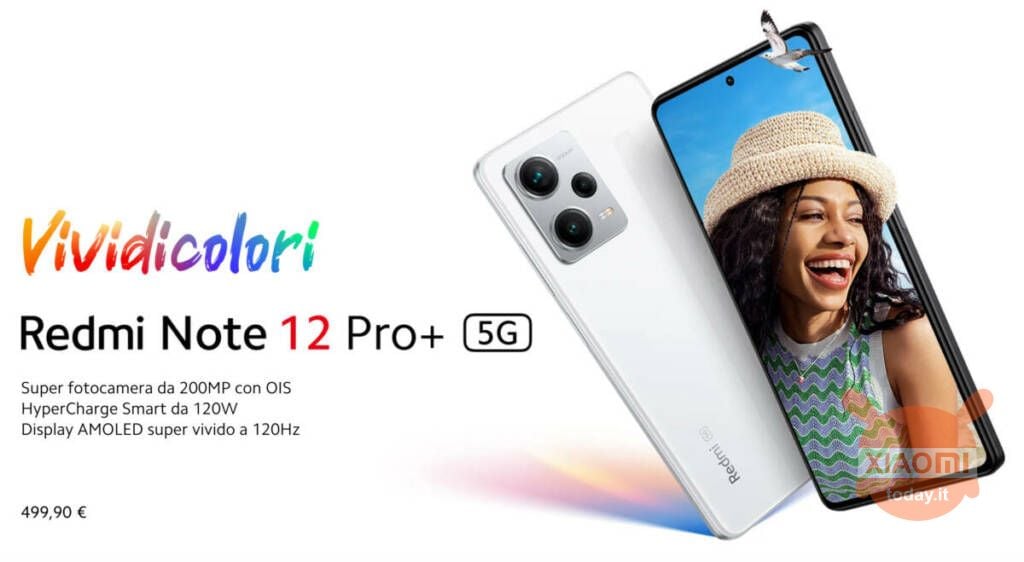 Specifications Redmi Note 12
| Components | Specifications |
| --- | --- |
| Screen | 6,67 ″ E2 Pro type AMOLED display with 120Hz refresh rate |
| | Brightness: 450 nits, HBM: 700 nits, Max Brightness: 1.200 nits |
| | Reading mode |
| Measurements and weight | 165,66 x 75,96 x 7,85 mm for 183,5 gr |
| Colors | Onyx Grey, Mint Green, Ice Blue |
| Rear camera | 50 megapixel main camera |
| | 8 megapixel ultra wide angle camera |
| | 2 megapixel macro camera |
| Selfie-Camera | 13 megapixel selfie camera |
| Processor | Snapdragon 685, Octa-Core CPU up to 2,8GHz, Adreno 610 GPU |
| | 6nm processor |
| Memory and RAM | 4GB – 128GB / 6GB -128GB / 8GB – 128GB |
| Battery and recharge | 5.000mAh at 33W charger included |
| User interface and system | MIUI 14 based on Android 13 |
Redmi Note 12 Pro 5G specifications
| Components | Specifications |
| --- | --- |
| Screen | 6,67″ FHD+ AMOLED Flow Display |
| | Maximum brightness of 900 nits |
| | Reading mode |
| Measurements and weight | 162,9 x 76 x 7,9 mm for 187 g |
| Colors | White, Black, Blue |
| Rear camera | 50 megapixel main camera |
| | 8 megapixel ultra wide angle camera |
| | 2 megapixel macro camera |
| Selfie-Camera | 16 megapixel selfie camera |
| Processor | MediaTek Dimensity 1080, Octa-Core CPU, up to 2,6GHz, Mali-G68 GPU |
| | 6nm processor |
| Memory and RAM | 6GB -128GB / 8GB – 256GB |
| Battery and recharge | 5.000mAh at 67W charger included |
| User interface and system | MIUI 14 based on Android 13 |
Redmi Note 12 Pro+ 5G specifications
| Components | Specifications |
| --- | --- |
| Screen | 6,67″ FHD+ AMOLED Flow Display |
| | maximum brightness of 900 nits |
| | Reading mode |
| Measurements and weight | 162,9 x 76 x 8,98 mm for 187 g |
| Colors | White, Black, Blue |
| Rear camera | 200 megapixel main camera |
| | 8 megapixel ultra wide angle camera |
| | 2 megapixel macro camera |
| Selfie-Camera | 16 megapixel selfie camera |
| Processor | MediaTek Dimensity 1080, Octa-Core CPU, up to 2,6GHz, Mali-G68 GPU |
| | 6nm processor |
| Memory and RAM | 8 GB - 256 GB |
| Battery and recharge | 5.000mAh at 120W charger included |
| User interface and system | MIUI 14 based on Android 13 |
Prices Redmi Note 12 4G and 5G, Note 12 Pro and Note 12 Pro +
Model
Configuration
Normal price
Early bird price
Redmi Note 12 4G
4 GB / 64 GB
€229,90
€199,90
4 GB / 128 GB
€249,90
Redmi Note 12 5G
4 GB / 128 GB
€279,90
€299,90
Redmi Notes 12 Pro 5G
6 GB / 128 GB
€379,90
€399,90
8 GB / 128 GB
€399,90
€449,90
Redmi Note 12 Pro + 5G
8 GB / 256 GB
€499,90
The Redmi Note 12 Series is available for purchase on mi.com e Amazon.it and at Xiaomi Store Italy