One thing is certain, Xiaomi Mi A1 is as beautiful as it is problematic, at the level of updates at least. In fact, since its release every new update firmware has brought in dowry in the lines of code also of more or less serious bugs, for which it has had to resort to a new software fix through further updating. And in fact also the last, or rather the penultimate, update has not been exempt in terms of balance erased all text messages from the phone's memory. Apart from that, fortunately behind this device there is a solid and serious company that intervenes promptly, and in fact in these daysi the rollout has restarted when I update Android Oreo 8.1 on Mi A1, an update that also updates the security patches in July 2018. Of course there is a whole series of bug fixes and vulnerabilities.
Xiaomi Mi 9 6 / 128 Global
FREE Shipping 8 / 10gg - Cover and Complimentary Film - Italy Guarantee 🇮🇹
Restart the rollout of the Xiaomi Mi A1 update that receives the July patches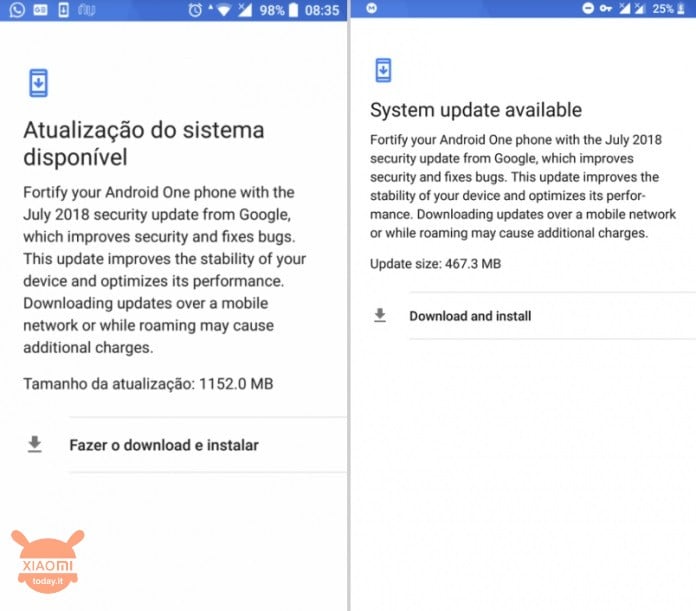 One of the biggest strengths of Xiaomi Mi A1 is the Google's Android One operating system and for the company the device represents the first of a series that will see successively the Mi A2 based on Mi 6X and Mi A2 Lite on Redmi 6 Pro base. Both devices will be presented in Madrid on July 24, but that's another story. Returning to the update of Android 8.1 for Mi A1, this was withdrawn due to the bug mentioned above, but Xiaomi guarantees for this new update that the problems have been solved and that they should not be present of the others. In particular, this new update seems to be divided into two phases, the first with a weight of about 1 GB and the second that will update the security patches in July, weighing only 467,3 MB. And you have already received and installed or do you prefer to wait for feedback from the big community?
Are you interested in bidding? Follow our Telegram Channel!
A lot of discount codes, some exclusive offers from the group, phones, gadgets and gadgets.