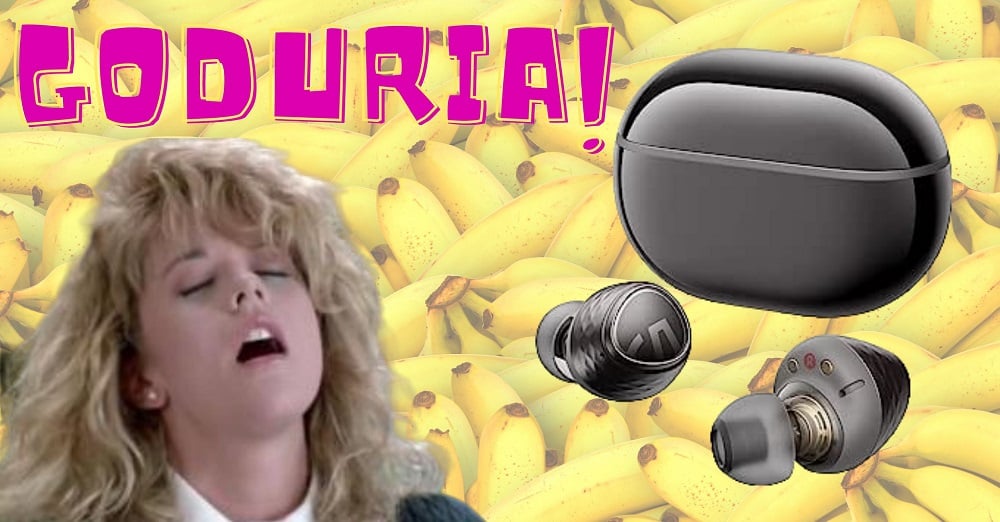 Are you interested in OFFERS? Be smart and subscribe to our Telegram channel! Lots of discount codes, offers, pricing errors on technology from Amazon and the best online stores.
Let's go back to talking about the brand Sound Peats that we have come to know here on the channel for the excellent quality/price ratio that distinguishes its audio products. The new TWS Engine 4 headphones have therefore already been available for a few weeks in Italy, which offer unique specifications in their price range. We spent weeks in their company and today we tell you how it went in this review.
Prices on Amazon
€62,99
€69,99
available
2 new from 62,99 €
5 used starting at € 37,79
to August 25, 2023 11:56 pm
Last update of the 25 August 2023 11: 56
REDEEM DISCOUNT COUPON FROM PURCHASE PAGE
unboxing
As always, we start from the contents of the sales package, with attention to detail, with images and product specifications on the various sides of the box, inside which we naturally find our SoundPeats Engine 4 but also a user manual containing instructions for use and QR Code which refers to the application, USB Type-C charging cable and a pair of silicone rubber tips (size SML) to better adapt and ensure the adhesion of the drivers inside our ear canal, having an in-ear type design .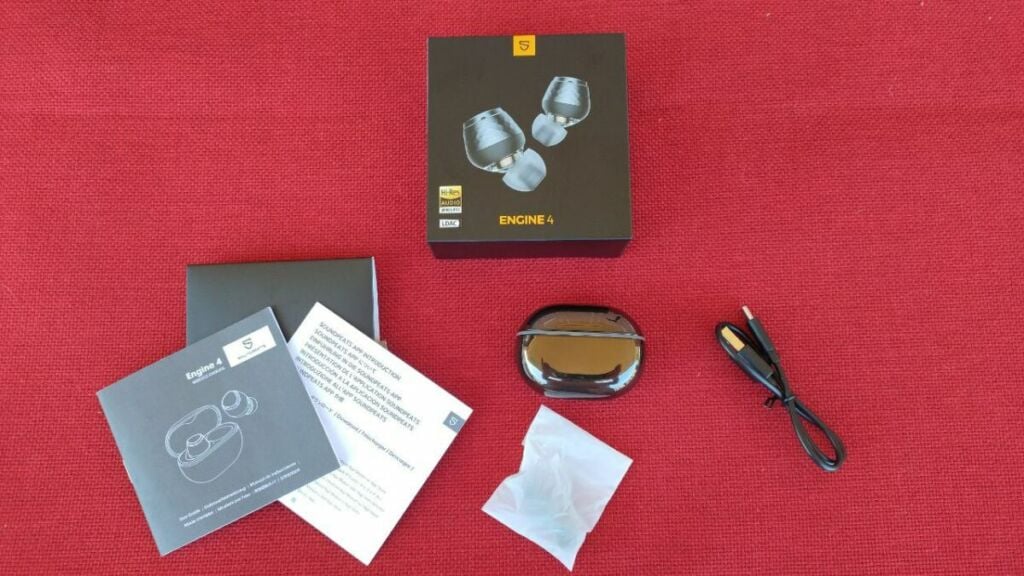 DESIGN, CONSTRUCTION AND CONVENIENCE OF USE
Our first contact with these earphones was decidedly positive, resulting elegant and poco invasive in terms of weight, only 6.5 grams for a single earphone and 43 grams for a case plus earphones. Shape of the latter decidedly rounded without the presence of sharp corners, allowing a grip without difficulty as well as the possibility of storing them in trouser pockets without causing discomfort.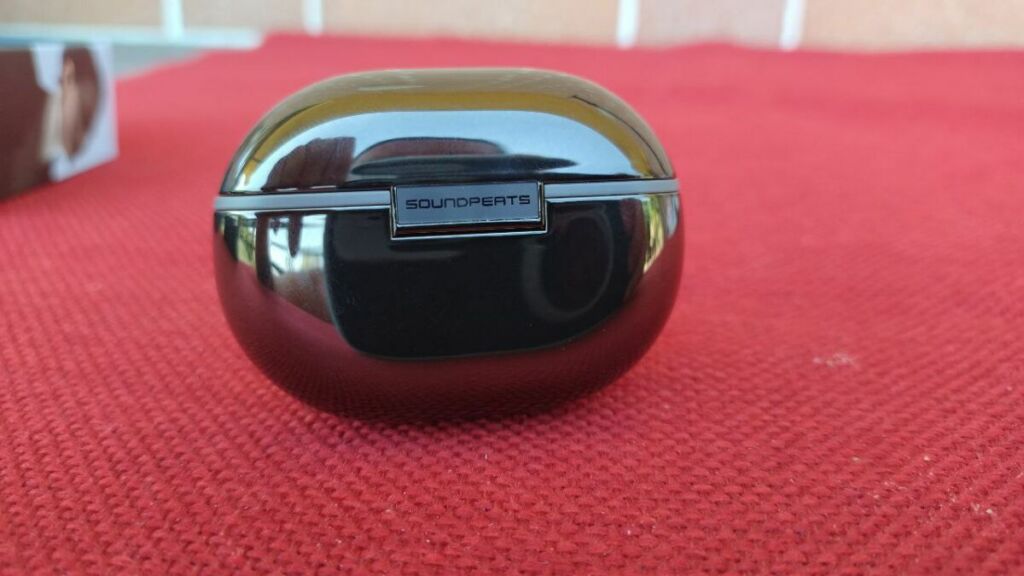 The case is made of glossy polycarbonate with a color that turns to bronze, elegant but unfortunately affected by the fact that fingerprints remain imprinted on the surface. Apparently there do not seem to be elements such as a battery charge status LED, which we actually find in the lower part (not searchable), accompanied by the Type-C charging input and a button that will primarily serve for the first pairing of the headphones a device.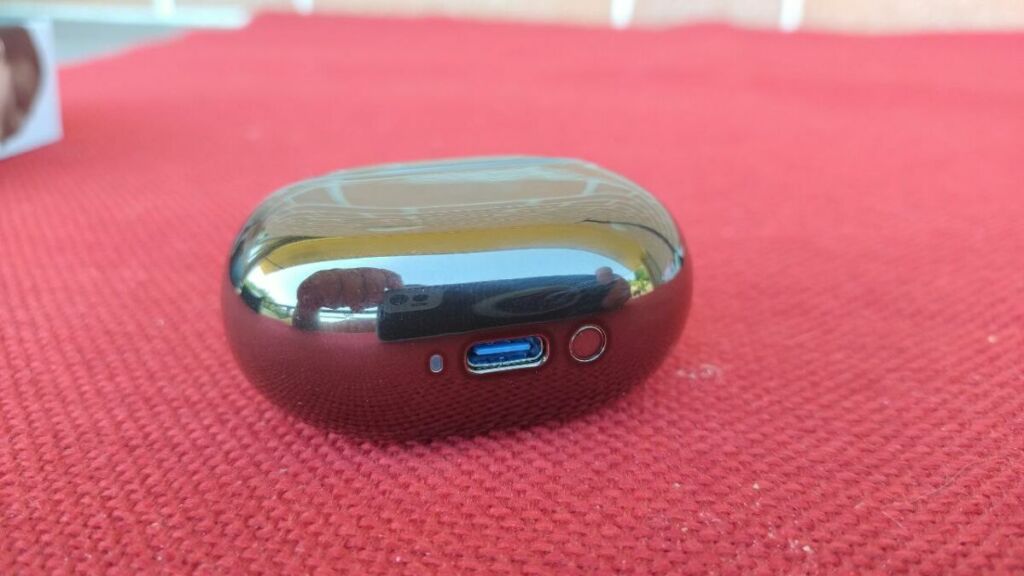 The lid hinge is excellent, distinguished by the brand logo, which appears solid without showing uncertainties in opening and closing. The lid also offers the hall sensor, allowing a quick connection to the smartphone without even taking the earphones out of their housing. By opening the lid we find a led that certifies the state of charge of the headphones, these are well inserted in their seat and anchored by means of small but powerful magnets that do not drop the headphones even if we give strong jolts.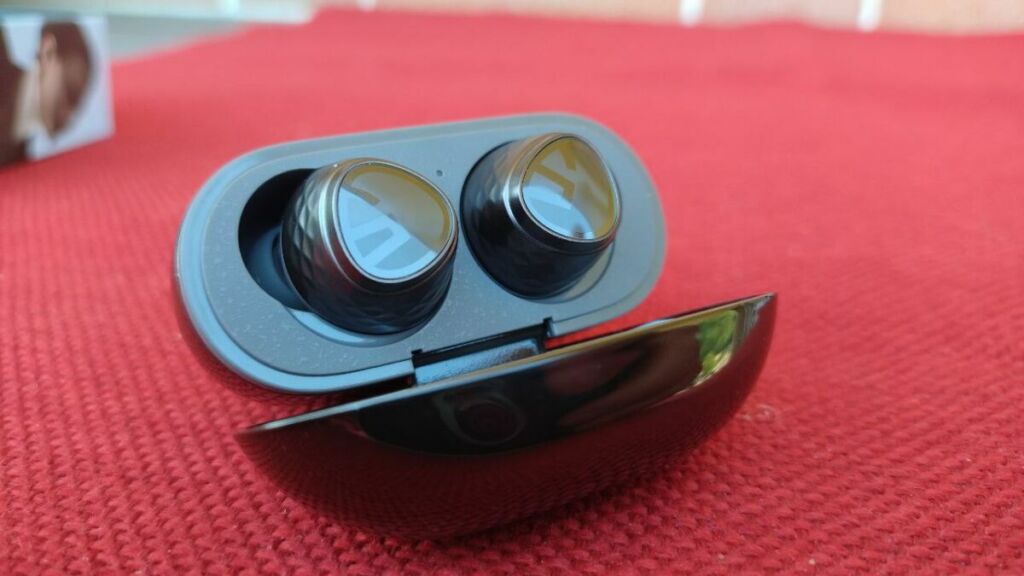 Returning to the weight of the earphones, you will have noticed that this is slightly higher than the competition and this is because the SoundPeats Engine 4 offer a double coaxial dynamic driver, one 6 mm which acts as a tweeter and the second 10 mm woofer. . This combination allows for better sound insulation by eliminating any form of sound distortion, resulting in deep and powerful bass, a variety of sound nuances making the music listening experience clear and immersive.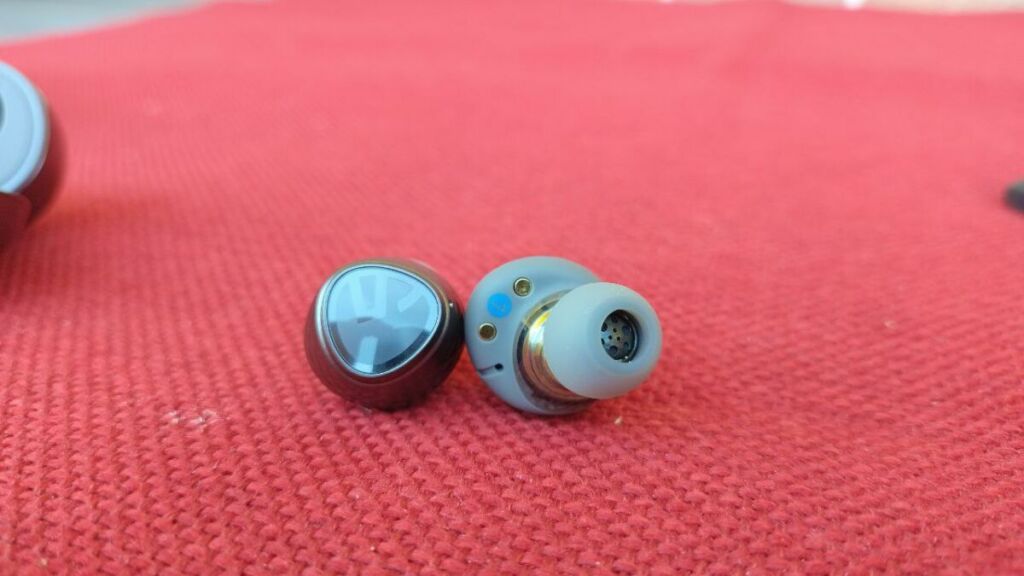 Despite the weight and dimensions are more emphasized than the common earphones in circulation, in everyday use, both at home and around the city or during sports activities, also counting on the IPX4 certification, I have not encountered any discomfort even after several hours of wearing them.
Prices on Amazon
€62,99
€69,99
available
2 new from 62,99 €
5 used starting at € 37,79
to August 25, 2023 11:56 pm
Last update of the 25 August 2023 11: 56
REDEEM DISCOUNT COUPON FROM PURCHASE PAGE
EXTRAORDINARY AUTONOMY AND FULL TOUCH CONTROLS
Our SoundPeats Engine 4 offer a 350mAh battery for the case and a 50mAh unit for single earbuds, both with a charge duration of 2 hours. The only way to recharge the case is in wired form via Type-C, therefore absent wireless charging, but the autonomy settles on the total 43 hours, equal to 12,5 hours of use with a single recharge. Definitely exceptional values ​​considering the excellent listening quality that these headphones give us.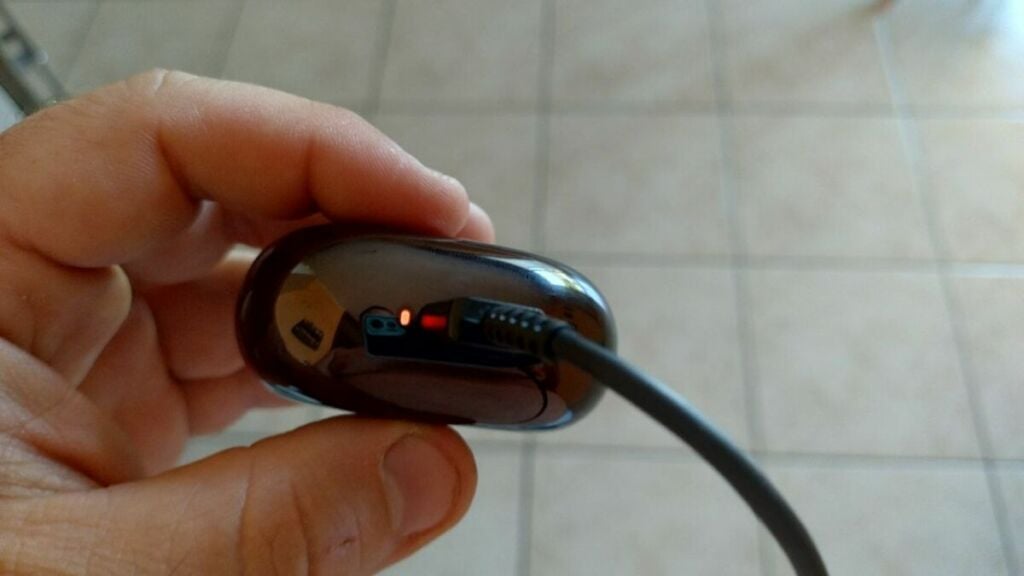 The SoundPeats Engine 4 can also be used independently between individual earphones, while music and/or call management commands take place by means of touches to be imparted on the touch surface that envelops almost the entire driver coverage area. It is possible to play/pause, skip the audio track forward/backward, reject/answer/hang up a call, manage the volume, enable game mode, call up the smartphone's virtual assistant via single/double/triple clicks or presses prolonged. The touch responds immediately to the command given without delays or hesitations of any kind.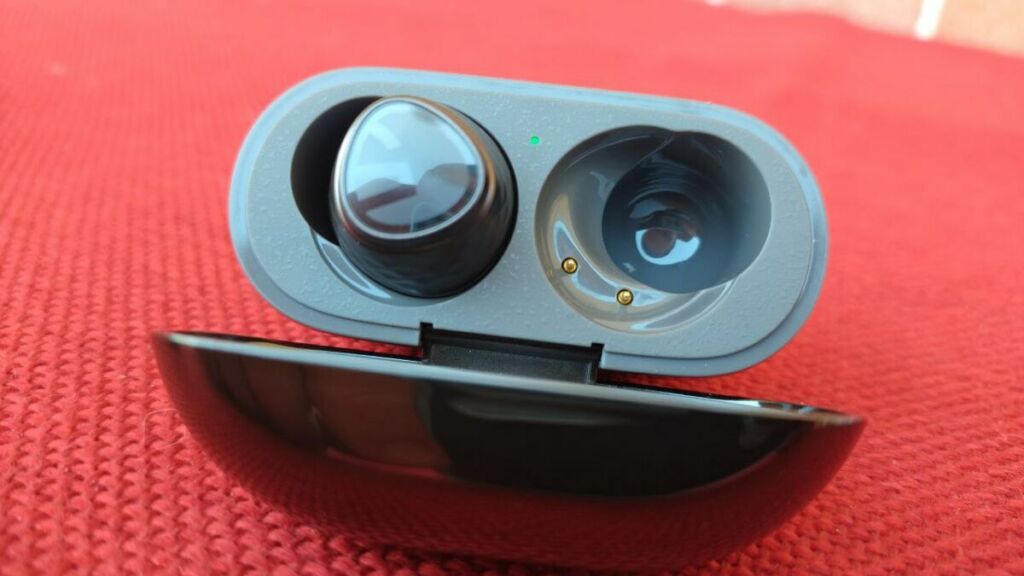 HIGH LEVEL SOUND BUT WITHOUT ANC
Relying on a double driver and the quality certification of the Jpan Audio Society, I wanted to test the SoundPeats Engine 4 with various musical genres, formats and streaming services. For the latter item, the product under test fared well, in fact the latency is only 70 ms while the bluetooth module is of the 5.3 type with WQ7033MX chipset.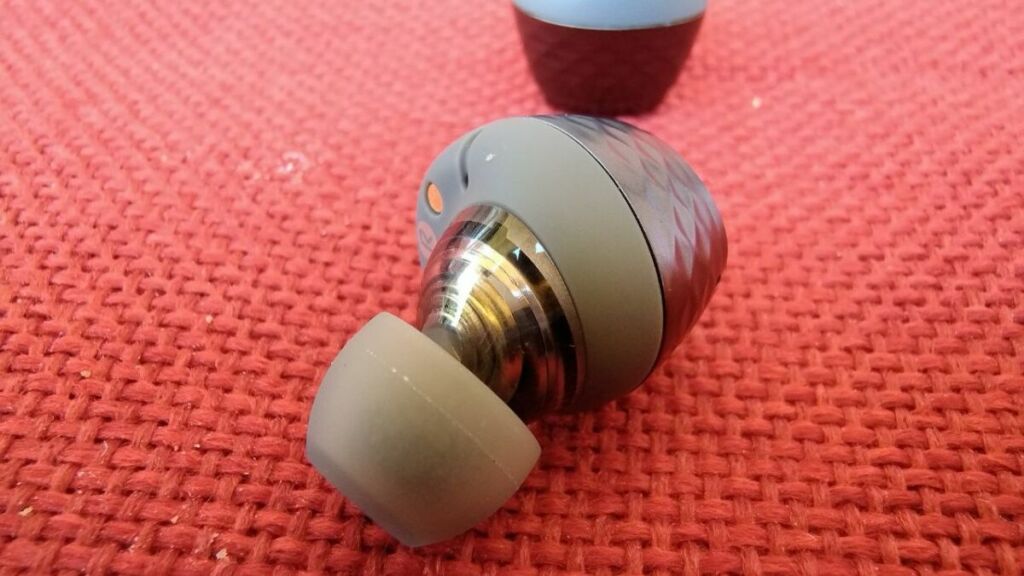 The frequency response range is 20Hz ~ 40KHz, certainly a very interesting figure and certainly not common even for the price range in which the earphones are inserted. The SoundPeats Engine 4 also support the LDAC format which in fact gives better quality in listening to music. By the way, these headphones sound really good, catapulting you into the music scene you're listening to. The drivers and the sound processing algorithm allow you to differentiate the voice from the musical context, appreciating its nuances and bringing out details such as riffs, etc.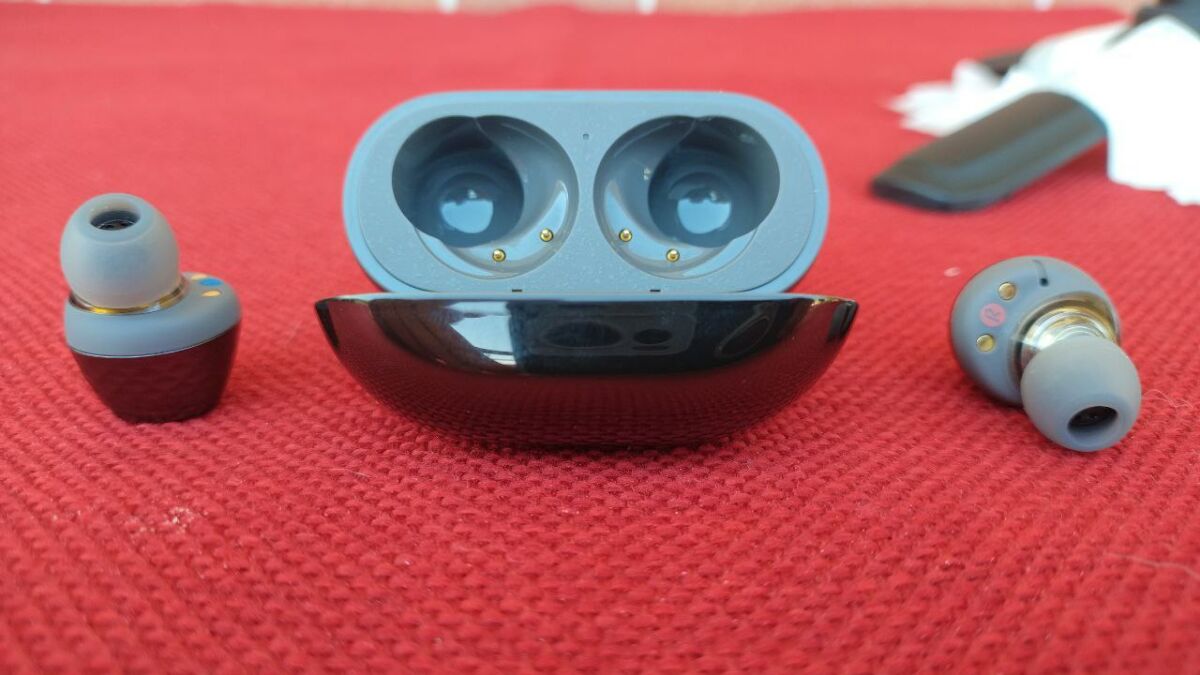 We do not have a form of ANC noise cancellation supplied but basically we manage to isolate ourselves from the context thanks to the shape of the headphones, which however are not invasive, relying on a "pill" shape. We also have excellent call performance, although I have to admit that in "extreme" conditions, such as a bike ride with a headwind or in a car with an open window, our interlocutor sometimes does not understand our words well. I would say that the SoundPeats Engine 4 are almost "studio" headphones, but poco suitable for calls on the go. However, the possibility of connecting the earphones to two devices simultaneously by means of multipoint technology is excellent, thus being able to manage calls on one device for example while listening to music or watching a TV series on another device.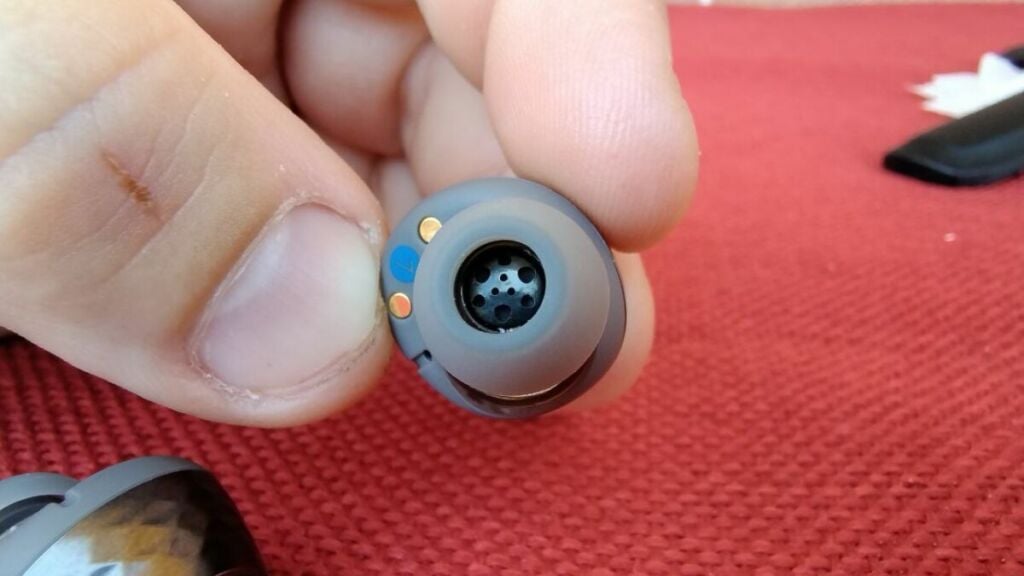 ALSO PRESENT THE COMPANION APP
The proprietary application could not be missing, available for both Android and iOS systems. With this it will be possible to view the charge status of the earphones in percentage terms, but if necessary it is also possible to update the firmware if the company releases new updates, which has already happened during my use.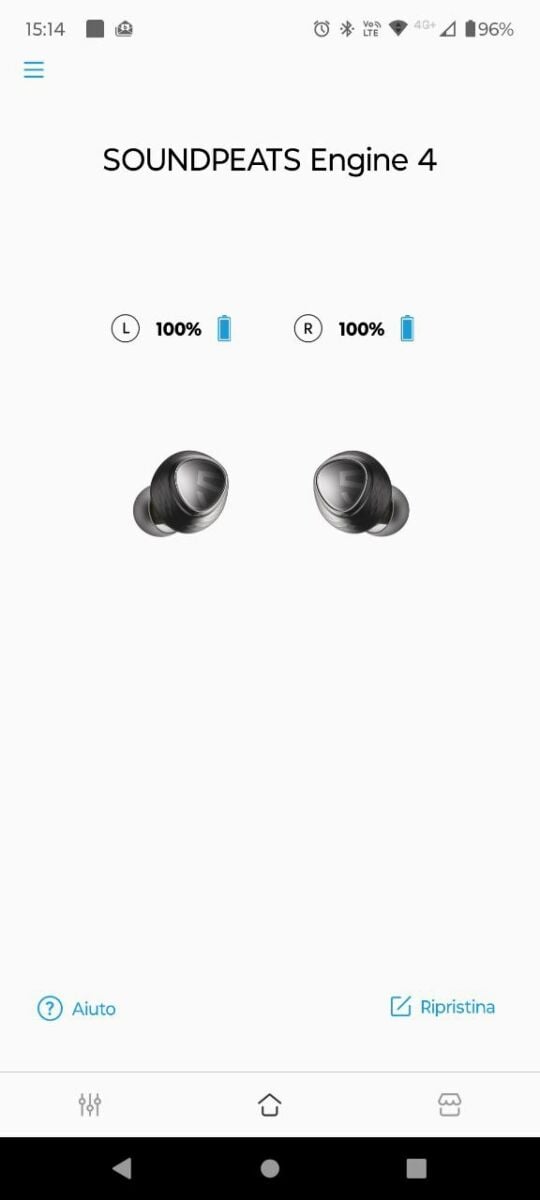 We can then set the listening volume, enable game mode, multipoint connectivity and disable touch controls, useful for example if we fall asleep with headphones plugged in or if we're playing and we don't want involuntary touches to interfere with our gaming experience .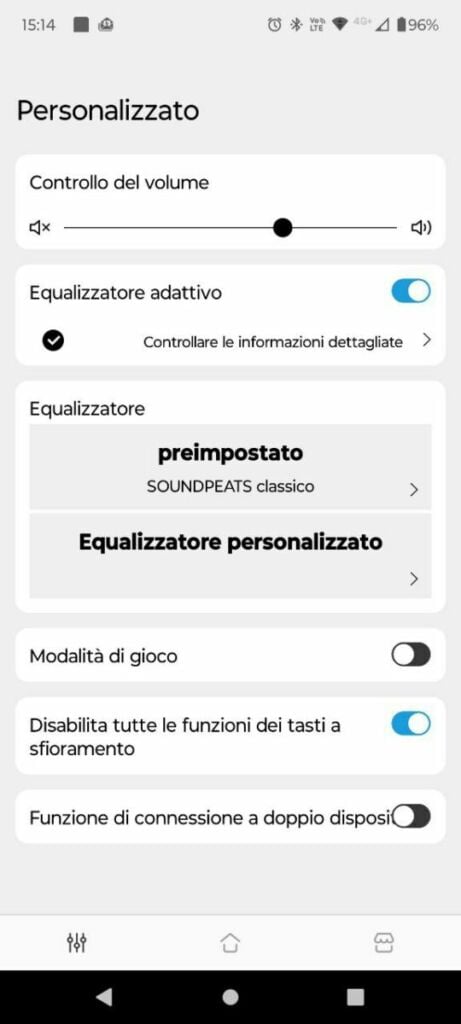 In terms of sound equalization there are some presets dedicated to rock, pop, classical music and much more but we can also define a customized curve on 10 channels according to your tastes. Very interesting is the "Adaptive Equalizer" function which, when activated for the first time, goes through a configuration that aims to guarantee personalized audio quality based on the structure of the ear canal and your hearing characteristics. At this point, the application plays different sounds at various frequencies and asks the user to confirm or not to hear the sound. Absent however the ability to customize the commands of the touch.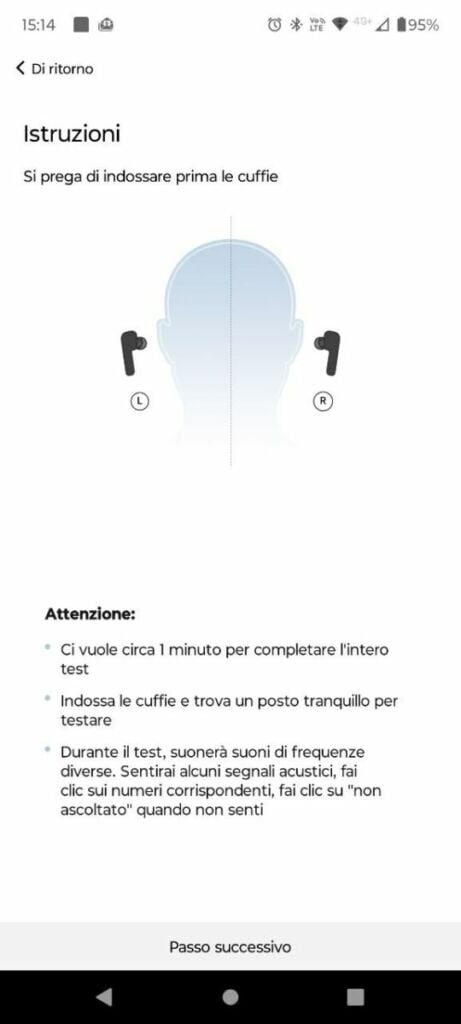 Prices on Amazon
€62,99
€69,99
available
2 new from 62,99 €
5 used starting at € 37,79
to August 25, 2023 11:56 pm
Last update of the 25 August 2023 11: 56
REDEEM DISCOUNT COUPON FROM PURCHASE PAGE
PRICE AND CONCLUSIONS
Let's start from the sale price of these SoundPeats Engine 4, available on Amazon with Prime shipping at the list price of 62,59 euros, but which currently has a 30% discount coupon redeemable from the purchase page that bears the final price at 43,81 euros.
If you plan to buy them mainly for listening to music or TV series, I highly recommend them, because at this price you can benefit from the quality of the LDAC codec as well as a double driver that literally makes the difference in managing the sound spectrum. A little less recommended in call management, in noisy environments or in outdoor sports, although the experience in this situation is not particularly negative. Probably, in the same price range it is difficult to find better, so what are you waiting for?
SOUNDPEATS ENGINE 4
How about, at the present time with poco more than 40 euros you take home a pair of headphones equipped with support for LDAC codecs, Hi-Res AUDIO wireless certification, lots of autonomy and crazy audio quality. Of course I'm referring to the SoundPeats Engine 4.
TOUCH CONTROLS/SMART FUNCTIONS
8.7
CALL MANAGEMENT (MICROPHONES)
6.8
PROS
AUTONOMY
PRICE
EQUALIZATION CURVE CUSTOMIZATION BASED ON OUR HEARING
AUDIO QUALITY FOR LISTENING TO MUSIC / TV SERIES
DUAL DRIVERS
CONS
TOUCH CONTROLS NOT CUSTOMIZABLE
ABSENCE WIRELESS RECHARGE
NO ANC/TRANSPARENCY FUNCTION
Add your review