Just a few hours ago TCL Group, company among the big of world technology as for the production of electronics and in particular of televisions (to the fourth place in the ranking after Samsung, LG and Sony), communicated via a written announcement that the Xiaomi Group would acquire a small share of the same company: that announcement shows that the 4 January 2019 Xiaomi has taken 65.168.803 actions through the Shenzhen stock exchange. This represents the 0,48% of total share capital society. TCL he said that the acquisition would help deepen the collaboration between her and Xiaomi and build a new one strategic partnership as well as actively participating in the conquest of the summit of the global technology market.
Xiaomi Redmi 7 Global
FREE Shipping 8 / 10gg - Cover and Complimentary Film - Italy Guarantee 🇮🇹
TCL Group and Xiaomi: a new strategic partnership
Already last month, the 29 December, TCL Group has signed a strategic partnership agreement with Xiaomi and in a very short time they arrived at an agreement on the purchase, albeit in a minimal part. The two parts conduct joint research and development on the integration of high-level basic components (as far as hardware platforms are concerned) and they will help each other for one ever-increasing development of AI, strong point of Xiaomi. Given that the production of TCL Group focuses mainly on televisions, we will be expecting some nice surprises about it. The application of this technology, says the document, thanks to a joint investment of the companies in question, it will promote smart, innovative products and continuously improve users' experience and interaction worldwide.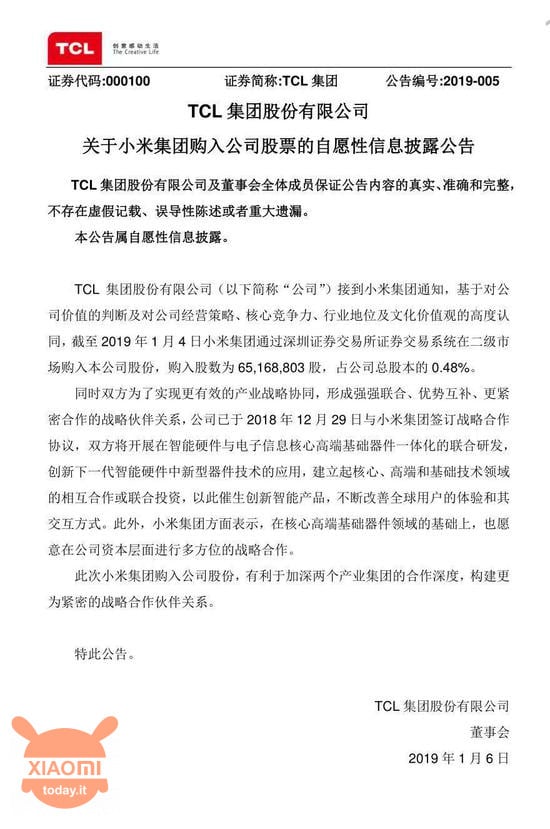 TLC Group will put into play all its experience in the field of TV, thus helping Xiaomi in the production and development of them: to give just one example of the The company's firepower, the Huaxing Optoelectronic TV panel of the TCL Group achieved fifth place in sales in the first three quarters of the 2018 globally.

Therefore, the two sides showed one strong complementarity in their business: Xiaomi has an established presence in the market, research, development and design, as well as a thought that looks to the future of the Internet in everyday life. TCL has a long-established distribution chain, production experience, and it is highly competitive in the display industry and TV. A new strategic collaboration between two companies of this caliber will undoubtedly do well to Xiaomi that lately we are very much on LCD TVs: just think that Xiaomi India has announced the release in a few days of the largest LCD TV ever built by the Chinese company.
Are you interested in bidding? Follow our Telegram Channel!
A lot of discount codes, some exclusive offers from the group, phones, gadgets and gadgets.