Usually the rankings of AnTuTu they arrive at the beginning of the month in reference to the previous one but when it comes to the ranking of the most powerful smartphones, the staff releases the charts during the first two weeks. So here we can admire what the devices are with best performaces of the month of May. As you have certainly understood from the title of the article, the podium is occupied almost exclusively by smartphones from Xiaomi, to be precise We 10 Pro e Redmi K30 Pro. These two little animals si they look a lot like hardware so let's go see the scores.
For the second consecutive month Xiaomi Mi 10 Pro maintains the first position on AnTuTu, Redmi K30 Pro reaches it climbing more than 10 positions
If you remember correctly, in the same ranking referred to the best performers of the month of April, Xiaomi Mi 10 Pro he was always in first position. Thanks to its powerful Qualcomm Snapdragon 865 processor aided by the sprint given by the MIUI he stayed on the podium for a whole month. Nothing too exciting therefore in reference to the latest top of the range of the brand. In fact, what is surprising is the Redmi K30 Pro.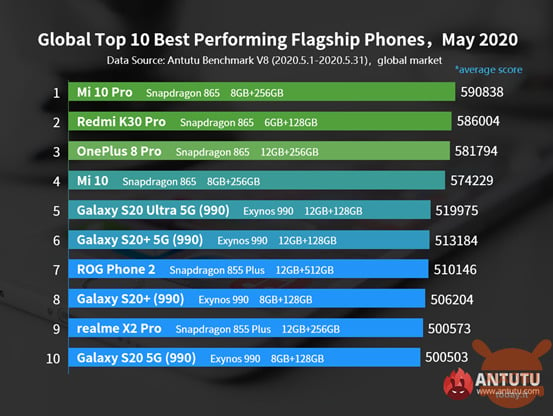 As we can see from the ranking in the screenshot the Redmi K30 Pro, always with processor Qualcomm Snapdragon 865, reaches the second position making Xiaomi keep the point in place top three of the best performing devices. His rise to power is unbelievable since in the ranking for the month of April this smartphone was not present at all! Imagining that he was among the first positions after 10th, we can therefore imagine that he climbed 10 steps, if not more, in just one month. A great result if we consider that Redmi K30 Pro has not enjoyed too much attention until its twin POCOPHONE F2 Pro did not debut in the global market.
In any case, remember that all the rankings, AnTuTu included, they are only meters of comparison poco objective: what truly makes a smartphone the champion of the class are not the numbers but the performance in the real world. But now we see the same ranking for the medium range.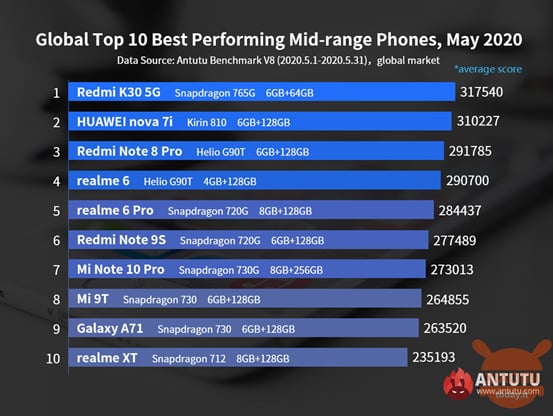 Always in the lead the series Redmi K30 this time with the standard variant. This device is equipped with the processor Qualcomm Snapdragon 765G which is giving emotions to mainly Indian users. Who do we see in third position? Notes redmi 8 Pro, the gaming phone that has been so successful thanks to its processor MediaTek Helio G90T who stayed for several months leading the ranking of the best mid ranges.
Xiaomi Mi 10 16,9 cm (6.67 ") 8 GB 256 GB Dual SIM 5G USB Type-C Gray Android 10.0 4780 mAh 10, 16,9 cm (6.67"), 8 GB, 256 GB, 108 MP, Android 10.0, Grey
🇪🇺FREE Fast Shipping from Spain (NO customs) ✈
Source | AnTuTu