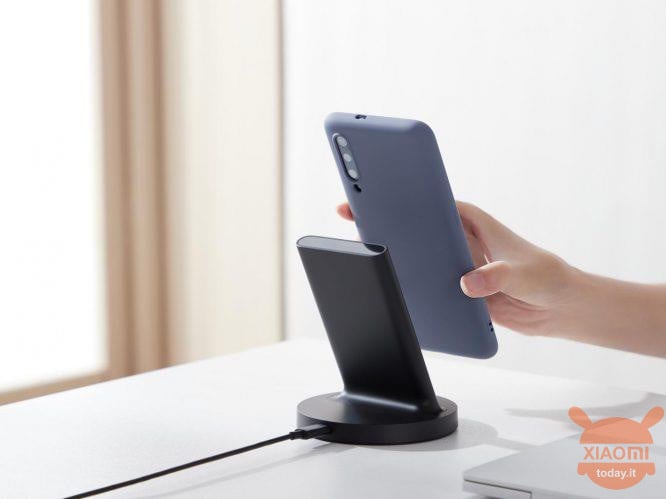 After presenting the Xiaomi Vertical Air-Cooled Wireless Charger 30W a few months ago, who was able to recharge the Xiaomi Mi 9 Pro 5G to the incredible power of wireless 30W, today the Chinese brand has put up a very similar but cheaper device, the Xiaomi Vertical Wireless Charger 20W.
The new wireless charger is now on sale in China at 79 (around 10 euro) if you buy it during the crowdfunding campaign. While the official sale price once the funds have been collected will be 99 Yuan (on 13 euros). So always an accessory more than accessible for those who own a smartphone compatible with Qi Charging technology. Let's find out more!
Xiaomi Vertical Wireless Charger 20W in crowdfunding, starting from 10 €
So let's start with the most important data, ie the top-up speed. As the name suggests, the Xiaomi Vertical Wireless Charger 20W has a power output of well 20W. Those who closely follow the world of smartphones already know that this power, even if smaller than the 30W Mi Turbo Charge that we had seen previously, is still remarkable especially since it is achieved through wireless technology. Specifically we talk about the Qi Wireless Charging standard, compatible with both Xiaomi and other brands like Huawei, Samsung and even Apple.
Obviously depending on the technology integrated in the device we will then have a different top-up that can go from 10W, to 15W and finally 20W.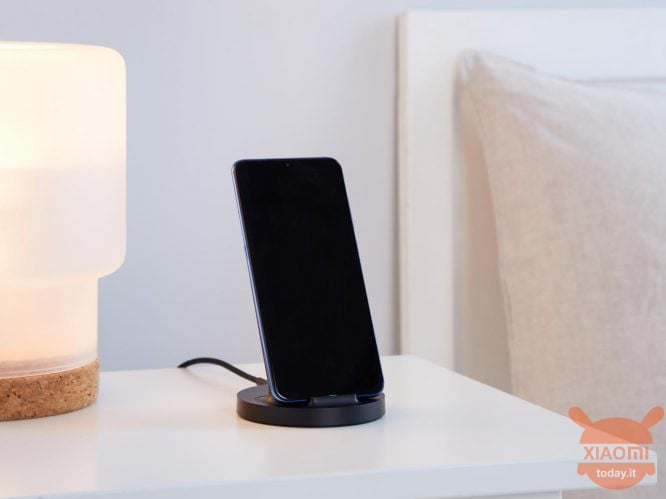 If we take the Xiaomi Mi 9 Pro 5G as an example, the smartphone supports charging to 30W so it is also backwards compatible with 20W charging. As for the charging times instead, we will be able to top up the 50% terminal in 30 minutes. While the maximum distance at which the technology works is 4 millimeters. This means that we can use any type of smartphone cover without any problems.
Besides being one of the most powerful on the market, the Xiaomi Vertical Wireless Charger 20W also has the distinction of running vertically. Obviously this is not a new or innovative feature, but one that could still please those who want to use the smartphone even during wireless charging.
Finally, from the point of view of consumption. the 20W Vertical Wireless Charger manufactured by Xiaomi uses 27W's real input power. This means that even if the smartphone recharges to 20W, the charger will use 27W; one of the few disadvantages of wireless charging is indeed the worst energy efficiency.
Are you interested in OFFERS? Follow our TELEGRAM Channel! Many discount codes, offers, some exclusive of the group, on phones, tablet gadgets and technology.