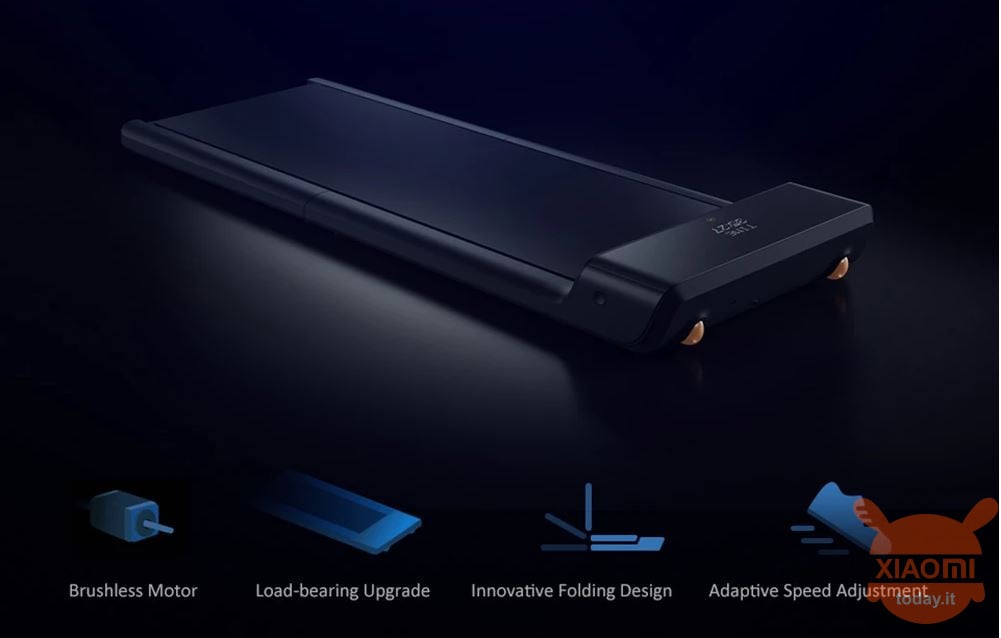 Tapis Roulant Xaomi WalkingPad A1 Pro with foldable design, adaptive speed adjustment, LED panel, remote control, app support.
Specifications:
| | |
| --- | --- |
| Product Name | Walkingpad a1 pro |
| version | EU Version (EU Plug) |
| fold | Yes |
| certification | CE |
| Award | Won 2019 IF Design & Reddot Design Award |
| Working Dimensions | 1432*547x129mm/56.5″x21.5″*5" |
| Folded Dimensions | 822x547x129mm/32.5″x21.5″x5" |
| Walking Surface | 1200x415mm / 47 ″ x16.5 ″ |
| Applicable age | 14 ~ 60 Years old |
| Display Type | LED Display With Status Indicators |
| Speed ​​Range | 0.5 ~ 6km / h / 0.5-3.75mph |
| Rated Voltage | 110V / 220V |
| Rated Power | 746W |
| Platform Height: | 57 mm |
| Max Weight Capacity | 105kg / fifthbs |
| Net Weight | 28kg / fifthbs |
| Gross Weight | 31kg / 68Ibs |
| Sports Modes | Standby, manual, automatic |
Features:
2021 Newest Version Electric Treadmill with Wheels, Folded Fitness Equipment, Walking Machine with Remote Controller, Foot Control, Workout App, WalkingPad A1 Pro Exercise Treadmills, 0.5mi / hr-3.75mi
● Mirage LED Lighting Technology.The Walking Treadmill is our tech-engineers' special NEW design by 2021 at the dashboard. When off- Clear as a metal slate; When on - Clear as a dashboard. Through the LED light on the dashboard, you could visualize walking data for each walk to quantify and urge you to exercise.
● With Remote Control. The handheld remote operation can control your WalkingPad Treadmill is as easy as controlling a TV. That is controlling WalkingPad, controlling your life. That is Acceleration Button, Start / Stop Button, Deceleration Button, Wake Up Mode Switch Button.
● With Your Foot Control.By the high Precision pressure sensor in the walking treadmill, you can control the WalkingPad Treadmill in high, medium or slow speed, through footstep on the front (acceleration) zone, middle zone or tail (deceleration) zone.
● Manual and Automatic Technology. The beginner can use the remote controller to operate WalkingPad Treadmill in manual mode, seasoned user can control the speed through our patented adaptive speed control system, which is called automatic mode.
● With Foldable Design.The WalkingPad makes storage easy because the Walking Treadmill can be folded in half. The Walking Treadmill covers 0.44 square meter and 4.7 square feet. Through the 2 orange rollers at the bottom, it can be moved smoothly and stored under the desk, sofa or bed, etc.
● Almost Mute WalkingPad. The Foldable Treadmill provides a safe and quiet workout experience. With the wear-resistant anti-slip walking belt and the noise-reduction multilayer structure of the Foldable Treadmill, you can walk or jog comfortably at home or office, without disturbing the work or families.
● Lightweight but Heavy Duty Construction The frame of this treadmill weight machine made of the upright aluminum alloy frame structure is light and strong, the net weight is only 61.6lbs and the aluminum alloy frame is light and strong, maximize its fitness, carrying capacity and working life.
Package included:
1 x Xaomi WalkingPad A1 Pro
1 x Power Cable
1 x Remote Controller
1 x silicone oil
1 x User Manual
1 x lanyard
1 x Wrench