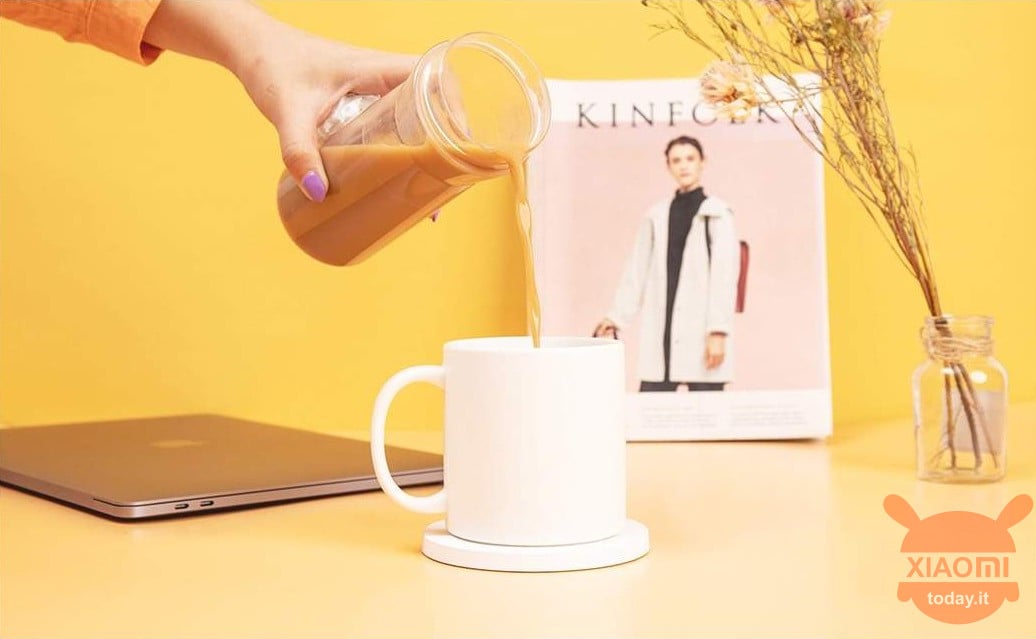 Together with the new eBook Reader of Xiaomi arriving in China on November 20, another very interesting gadget that we could use in combination in these cold and rainy days is the new Xiaomi Wireless Charging Warm Cup presented by the Chinese brand a few minutes ago.
Xiaomi Wireless Charging Warm Cup: The new self-heating wireless cup
The Xiaomi Wireless Charging Warm Cup is, as the name suggests, a self-heating cup with wireless technology whose operation is quite simple. It is enough to place it on the base with which it arrives and it will automatically heat up to a temperature of 55 degrees Celsius.
The peculiarity of this cup is that it works with wireless technology, that is without wires. This technology is more stable and safer than the wired alternatives, precisely because it is not possible to send them more power than necessary, avoiding overheating or other problems. There is also a system that makes the cup go to sleep four hours after switching on, completely turning off the heating.
As for the materials, the cup is made entirely of ceramic, a safe and durable material, as well as being pleasant to the touch. Obviously all the components are waterproof and washable with water as a common cup.
But the most interesting thing is that the base supports Qi Charging technology. This means that we can use it to recharge smartphones of any brand like Xiaomi, Huawei, iPhone and Samsung with a maximum charging power that will be 10W.
Finally, for safety we have a system for detecting metal objects between the cup and the base thanks to infrared technology. In addition to an automatic shutdown in case of overheating to protect both the cup or the smartphone and the wireless charging base.
The Xiaomi Wireless Charging Warm Cup is now on sale on the official Xiaomi website at the 189 Yuan figure, or on the 25 euros at current exchange rates.
What do you think of this new gadget? Let us know in the comments section below!
Amazfit Italy Official - Shipping from Italy
-39%

Sale
🇨🇳 Priority Line Delivery (Delivery 10-15gg, NO customs) ✈
-38%
Coupon
🇨🇳 Priority Direct Mail Shipping (6 / 14gg, No Customs) ✈
Buy
Use discount codes:
BGBFGTS
Are you interested in OFFERS? Follow our TELEGRAM Channel! Many discount codes, offers, some exclusive of the group, on phones, tablet gadgets and technology.