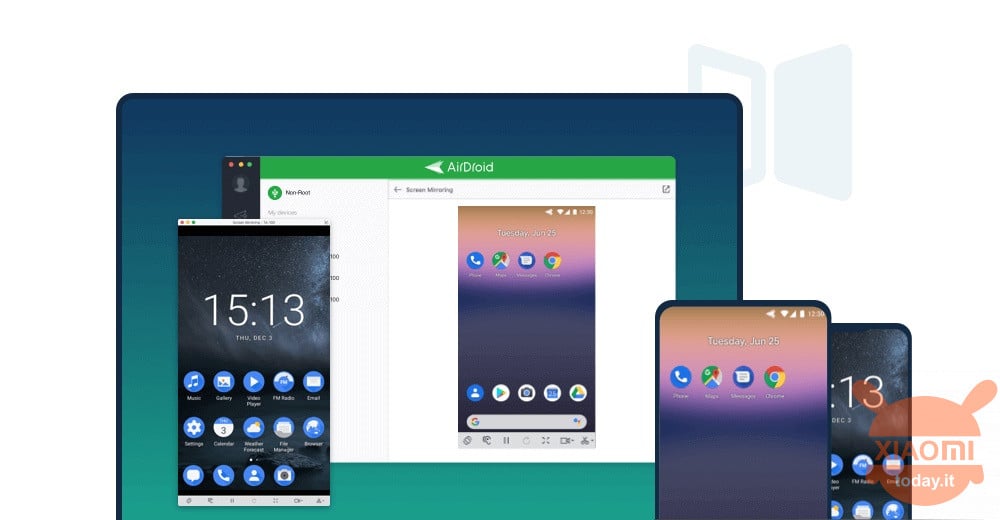 If you have ever had the need to remotely control your android smartphone for any reason, today we are going to find out how you can do it easily and quickly thanks to AirDroid. This app allows you to share files, access the camera remotely, see notifications from your smartphone on our PC and much more.
Main features:
File sending and management;
Remote control (you need to download the AirMirror add-on);
Screen mirroring;
Remote cameras;
Notifications & SMS management;
AirDroid Personal review: the best app to control your smartphone remotely?
In this particular review we will take a closer look at how AirDroid works in the "Personal" version. AirDroid Personal allows us to access and manage the smartphone from any computer and wherever we are. From the program we can send SMS, see notifications, transfer files between different devices and fully control the smartphone.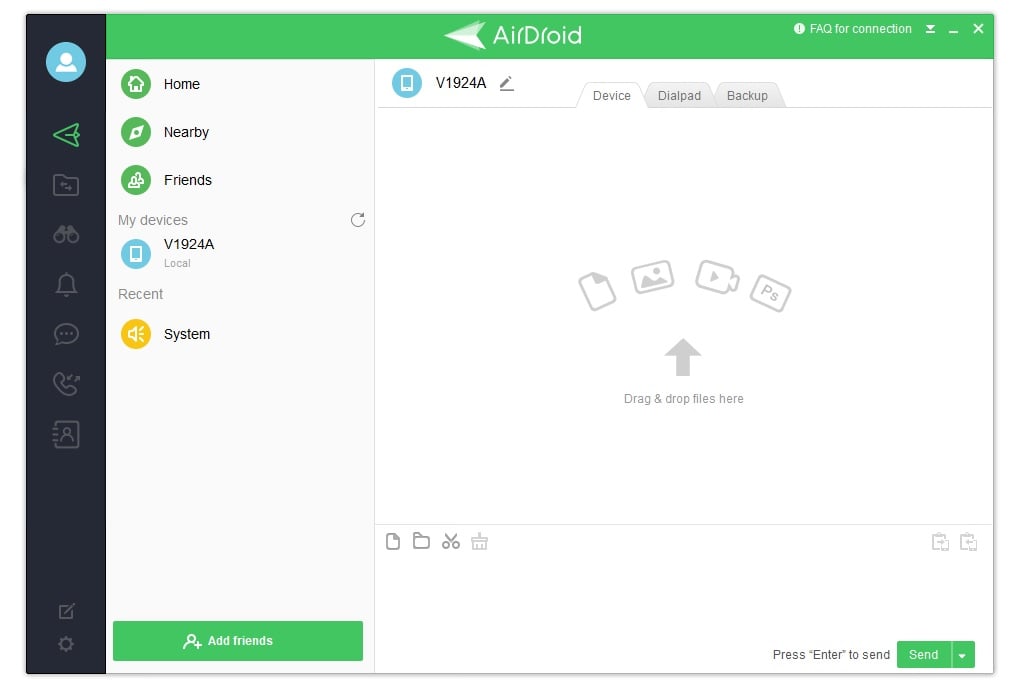 However, we point out that if you want to control a smartphone with a data network or other WiFi, therefore not in the same WiFi network, you have a monthly limit of 200 MB, or you can choose to buy the Premium version starting from only 2,5 $ per month. A negligible figure if you need some of the very particular features that we find in the app.
But let's start with the installation which is really simple: just download the app AirDroid from the official site.
Once the app is installed and opened, click on "Sign Up"And enter our email and password. In the next step, various permissions will be requested, such as the one for using the internal memory. We will also be asked if we want to let the app run in the background or not.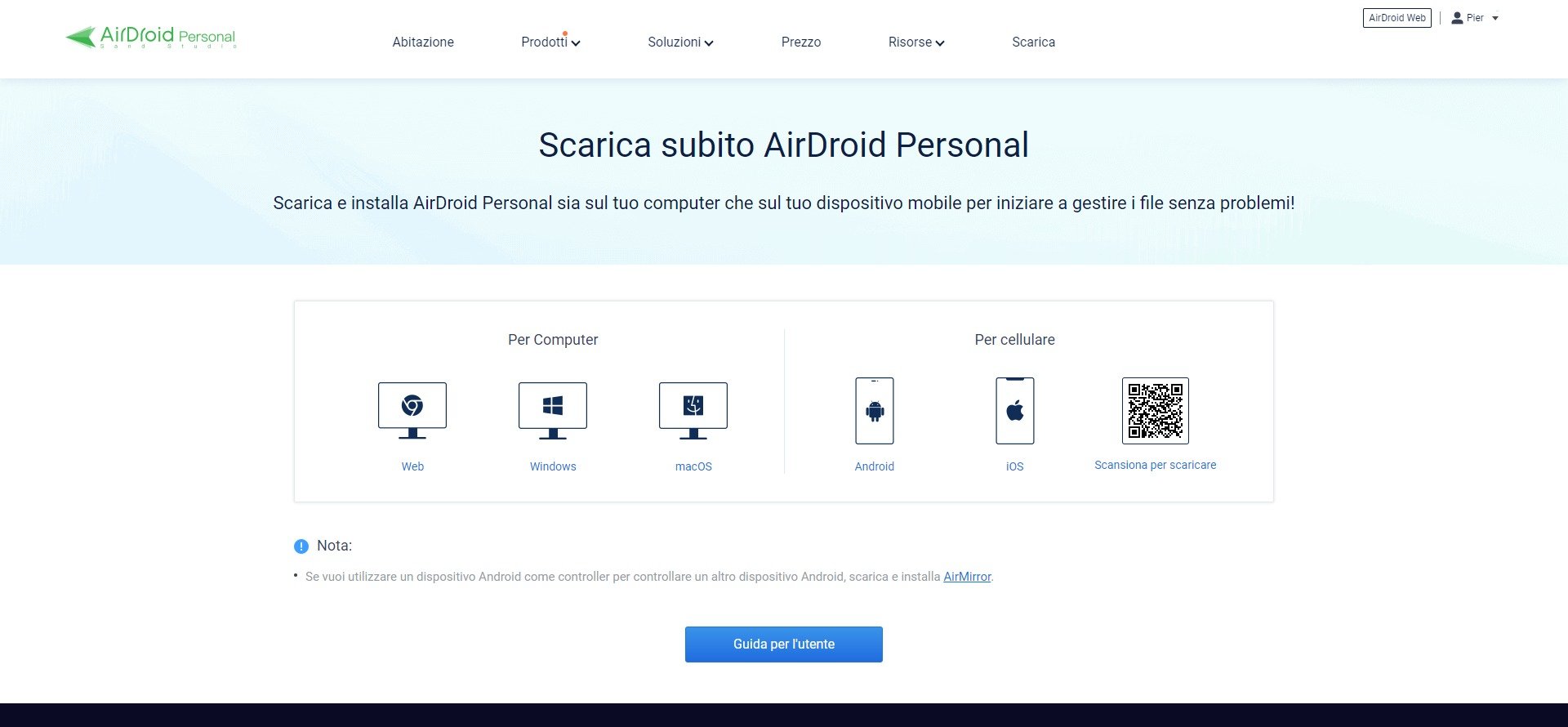 After installing the app on the smartphone, we need to install the app on the PC. Here too the process is very simple, just go on This Page and download the version suitable for our PC: Windows, macOS or Linux (via browser). Alternatively you can go on Web page and log in to connect to the smartphone from the browser.
Once connected to the smartphone, the main interface of the program with all the functions of AirDroid will be displayed. Also, the next time you log in, all linked data will appear automatically.
AirDroid Personal allows us to save on Cloud services
Going to the actual use, the app is very useful for transferring files (especially photos, let's be honest) from smartphone to PC, since even Cloud services such as Google Photos are now paid (over 15GB). So if you are a person who aims to save, AirDroid allows you to save up to 100 euros per year depending on the amount of memory you would use on Google Photos or similar services.
Another very useful feature is the one that allows us to control your smartphone from your PC. Once the permissions have been configured, it is in fact possible to view the smartphone in a window and then use it as if we had it in our hands but with a keyboard mouse directly from the PC.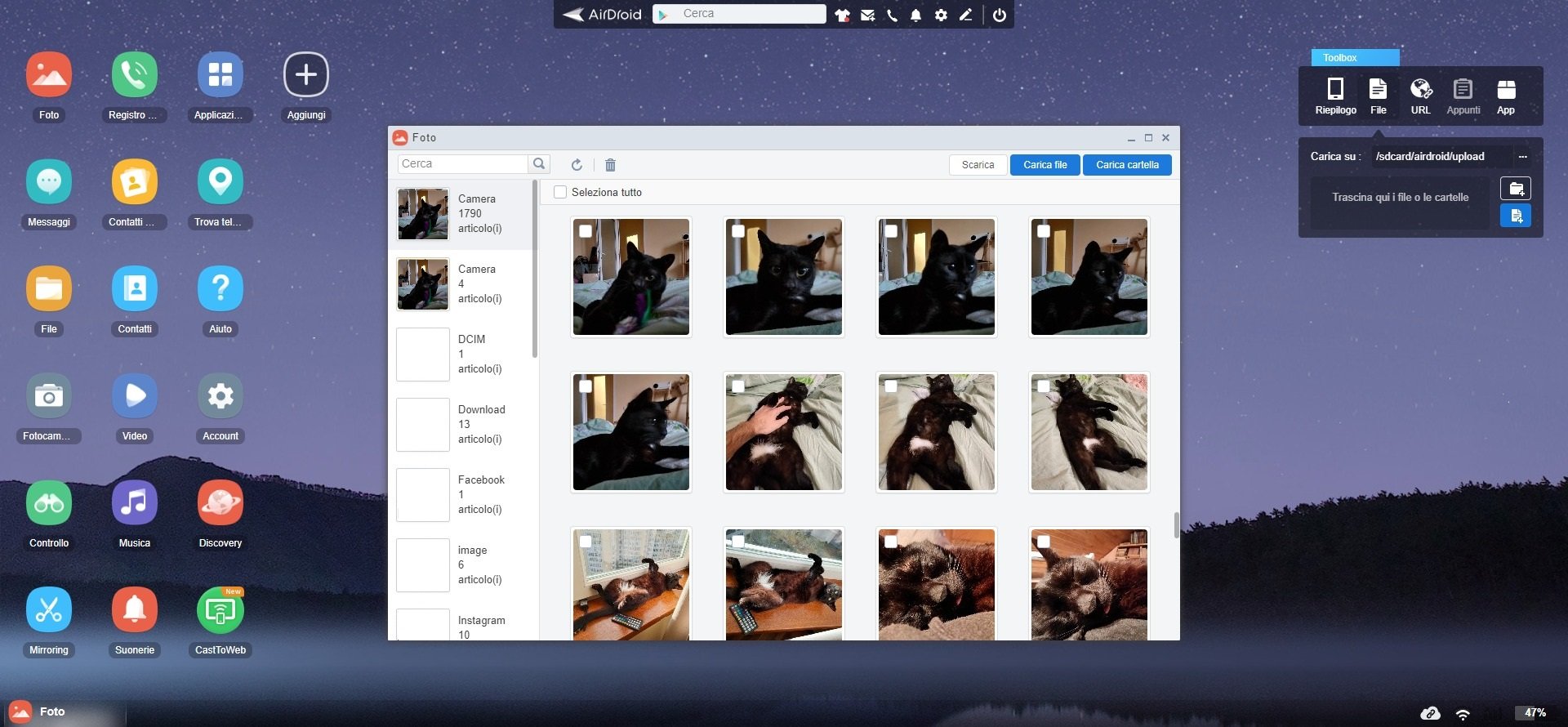 In my experience of use this functionality runs very well, although obviously we do not expect the same responsiveness as when we use the touchscreen of the device.
The functionality "Remote Control"Not to be confused with that"Screen Mirroring"Which instead projects the smartphone screen inside a window on the PC. From this window it is not possible to control the app, but only to observe what is being done on the smartphone.
This feature is only compatible on Android smartphones, if instead we have an iPhone or iPad, AirDroid has the Screen Casting feature which allows us to transmit the smartphone screen to that of the PC. Again a very useful feature since almost no app allows casting your screen to a PC monitor. For this feature you need to download the AirDroid Cast-screen Mirroring add-on.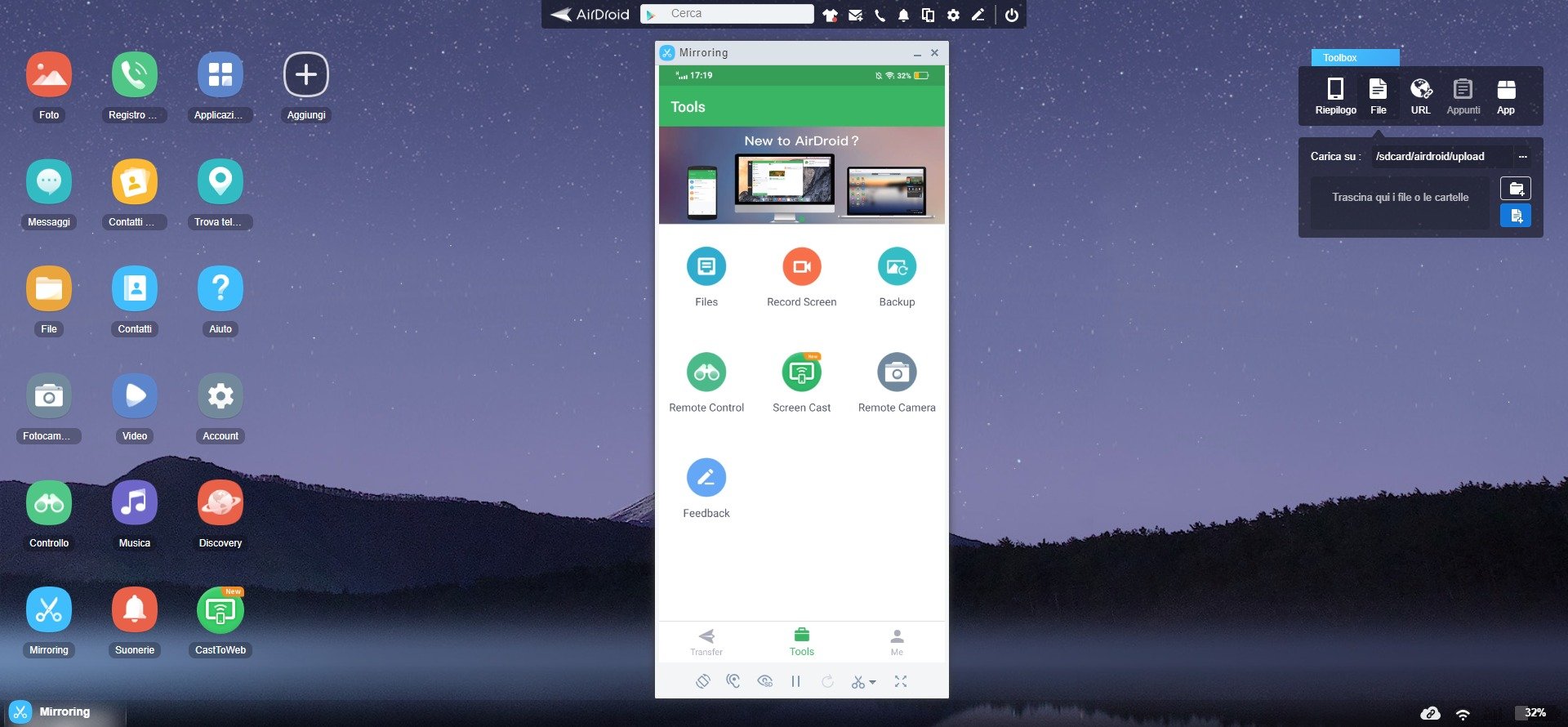 In any case, being a lot in front of the PC, the function that allows you to view notifications from the smartphone on the PC came in handy. This means that we can scroll and read the notifications from the PC without having to pick up the smartphone, therefore a good time saving and increased productivity. Furthermore, in case of receiving SMS, it is possible to read them and then always reply from the PC with ease.
How to create our video surveillance system with AirDroid Personal
But it doesn't stop there, because AirDroid has another really killer feature in the Premium version: remote camera use. In other words, AirDroid allows us to connect to the smartphone camera directly from the PC, wherever it is. So we can use old smartphones that are now slow or with button / screen problems, like real surveillance cameras.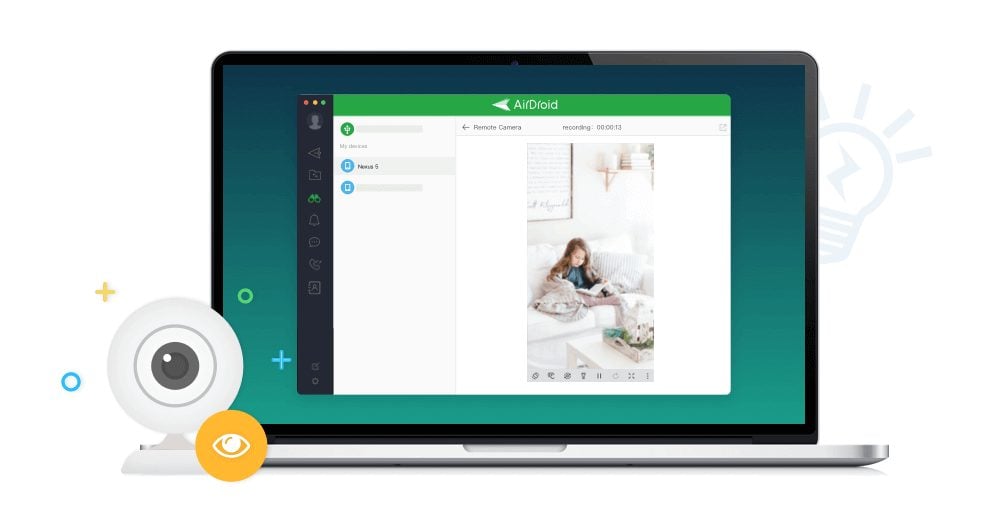 We will be able to view these smartphones and their cameras without problems and without limits by paying only $ 2,5 per month. Those of you who have used remote control services for surveillance cameras know that these services often cost a fee. So with AirDroid Personal Premium we kill two birds with one stone, enjoy all the features remotely without data limit and at the same time we can create a wireless camera system.
Furthermore, if we have special needs, such as controlling a remote area where there is no WiFi connection, AirDroid allows us to place a smartphone with data SIM and view its camera without problems at any time. Also useful is the possibility to turn on the smartphone flash with a click and take screenshots or record what is shown by the camera.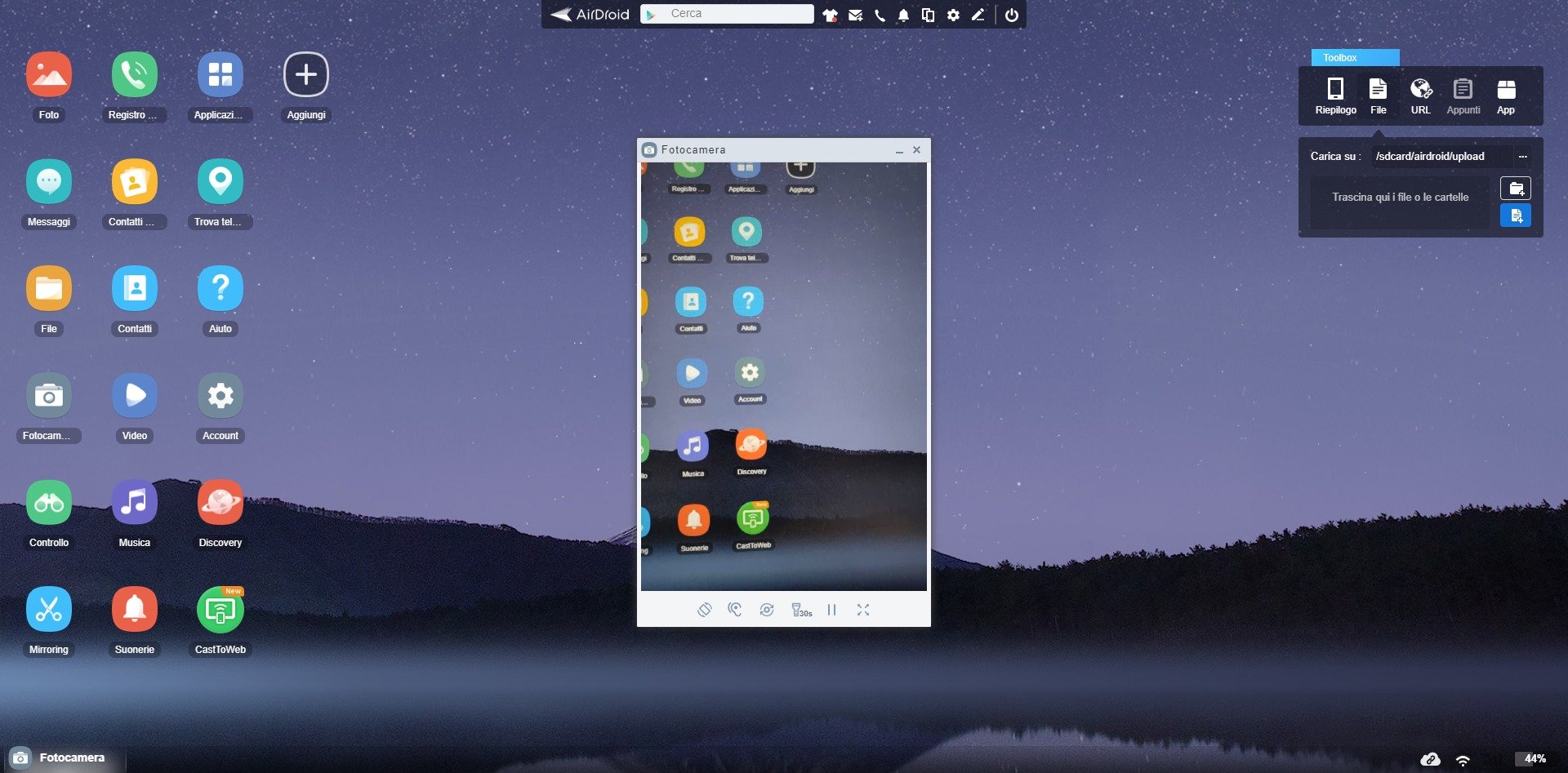 In general, the app performed very well in all the features promised, with no connection problems or slowdowns due to the server. During my experience of use every connection was instantaneous and no bugs were found, which is quite rare. Although this does not surprise us since AirDroid is an app that has been around for more than 10 years, therefore already perfected over time.
If you are interested in the app AirDroid Personalin This Page find all the links where to download it depending on the operating system on your devices. At this link find instead the various tariff plans that as mentioned above start at only $ 2,5 per month.