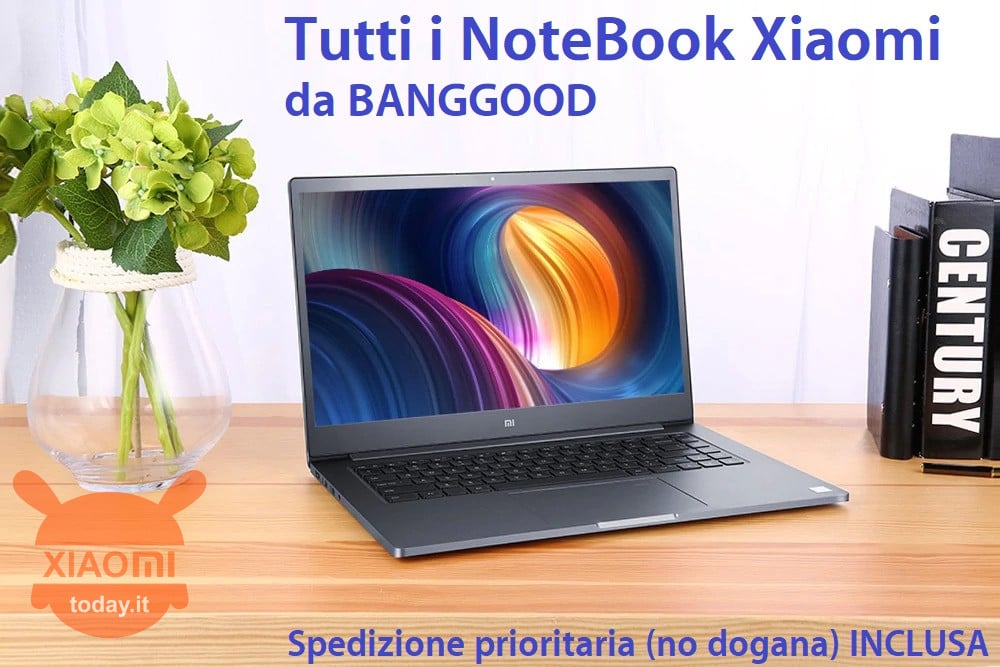 If you need to replace your notebook by the retirement age, or only if you want to upgrade, we can only recommend Xiaomi products!
Top quality construction, exceptional performances, attention to aesthetics at the highest levels. You will find all this in the beautiful Xiaomi laptops.
Today we offer a series of Coupons not to be missed, to have them at home at really ultra discounted prices. The site that offers all this jewelry signed Xiaomi is BANGGOOD.COM from where you can buy safely through Paypal and have priority shipping (for laptops the "EU priority line") which will guarantee delivery in 10 / 15 days without the risk of customs taxes.
⚠ For each model there are few pieces available, be quick if interested.
So do not hesitate to chat and here are the offers:
Updated today 15 November
💻 Xiaomi Mi Air Laptop 2019 13.3 inch i5-8250U 8GB 512GB MX250 to 726 €
On Coupon: BGMIAIR5
Compra➡https://xiaomi.today/2MYvyXk
N 2019 XIAOMI Laptop Pro i5-8250U MX250 15.6 Inch 8G RAM 256G SSD at 744 €
💰 Coupon: BGXMD8
Compra➡https://xiaomi.today/34OEWCC
Updated today 14 November
💻 Xiaomi Gaming Laptop 15.6 inch Intel Core i5-9300H GeForce GTX1660Ti 144Hz 8GB GDDR4 RAM 512GB Pa 1180 €
On Coupon: BGXMG7P
Compra➡https://xiaomi.today/32ytMkz
💻 Xiaomi Air 13.3 inch i7-8550U MX150 2GB 8GB / 256GB a 744€
On Coupon: BGXMTS4
Compra➡https://xiaomi.today/2MHVA09
💻 RedmiBook Laptop 14.0 inch Intel Core i3-8145U Intel UHD Graphics 620 8G DDR4 256Gb a 463€
On Coupon: BGXMI3M
Compra➡https://xiaomi.today/2pzTPcC
💻 Xiaomi RedmiBook Laptop 14.0 inch AMD R5-3500U Radeon Vega 8 Graphics 8G DDR4 256G SSD Notebook - Silver a 545€
💰 Coupon: BGXMAY2
Compra➡https://xiaomi.today/2CKz15g
Updated today 13 November
💻 Xiaomi Mi Air Laptop 2019 13.3 inch Intel Core i7-8550U 8GB RAM 256GB PCle SSD NVIDIA GeForce MX250 to 908 €
On Coupon: BGXMAR5
💰 Coupon to 908 €: BGLAPXM1106
Compra➡https://xiaomi.today/31oLHJ8
💻 Xiaomi Mi Air Laptop 2019 13.3 inch i7-8550U 8GB RAM 512GB PCle SSD NVIDIA GeForce MX250 to 844 €
💰 Coupon: BGGRT8
Compra➡https://xiaomi.today/2ZGccwD
💻 RedmiBook Pro 14 Laptop i5-10210U NVIDIA GeForce MX250 8GB RAM 512GB SSD Notebook at 590 €
💰 Coupon to 590 €: BGLAPXM1104
On Coupon: BGXMLD5
Compra➡https://xiaomi.today/30VK06l
💻 Xiaomi Mi Ruby 2019 Laptop Intel Core i5 - 8250U 8GB RAM 512GB SSD to 567 €
On Coupon: BGMIRB3
Compra➡https://xiaomi.today/2I08ch7
Updated today 11 November
💻 Xiaomi Mi Notebook Pro 15.6 inch i7-8550U 16GB DDR4 256GB SSD to 953 €
💰 Coupon: BGLAPXM1101
Compra➡https://xiaomi.today/2JSK0N7
💻 14 inch redmiBook Laptop i5-8265 MX250 8GB RAM 512GB SSD to 581 €
On Coupon: BGLAPXM1102
Compra➡https://xiaomi.today/2Rtn4rq
💻 RedmiBook Laptop 14.0 Intel Core I7-8565U NVIDIA GeForce MX250 8G RAM 512GB SSD to 644 €
On Coupon: BGLAPXM1105
Compra➡https://xiaomi.today/2Q5dxK8
💻 Original Xiaomi 15.6 inch i5-8250U MX110 8GB 128GB 1TB to 517 €
On Coupon: BGLAPXM1108
Compra➡https://xiaomi.today/2Ub2pJw
Updated today 08 November
💻 XiaoMi Gaming 15.6 inch I7-8750H GTX 1060 6GB 16 / 512GB a 999€
On Coupon: BGXMGS3
Compra➡https://xiaomi.today/36NHn9Y
💻 Xiaomi Mi Air Laptop 2019 13.3 inch i5-8250U 8GB 256GB MX250 to 684 €
On Coupon: BGXMXP3
Compra➡https://xiaomi.today/2N7bkL9
💻 Xiaomi Mi Ruby 2019 Laptop Intel Core i5-8250U 8GB RAM 256GB SSD a 531€
On Coupon: BGXMMB5
Compra➡https://xiaomi.today/2ISQiMu
Updated today 07 November
Updated today 06 November
💻 Xiaomi Mi Notebook Pro 15.6 inch i7-8550U 16GB DDR4 256GB SSD GTX1050Max-Q 4GB GDDR5 Laptop a 999€
On Coupon: BGXMPX4
Buy➡https://xiaomi.today/2JSK0N7
Updated today 05 November
💻 Xiaomi Gaming Laptop 15.6 inch Intel Core i7-9750H GeForce GTX1660Ti 144Hz 16GB GDDR4 RAM 512GB at 1328 €
💰 Coupon: BGXMGM8
💰 Coupon: BGXMGM9
Compra➡https://xiaomi.today/2pyGxwR
💻 Xiaomi Gaming Laptop 15.6 Intel Core i7-9750H NVIDIA GeForce RTX2060 144Hz 16GB GDDR4 RAM 512GB PCle SSD to 1351 €
On Coupon: BGXMGX1
On Coupon: BGXMGX2
Compra➡https://xiaomi.today/32Ovy0Q
💻 Xiaomi Mi Ruby 2019 Laptop Intel Core i7 - 8550U 8GB RAM 512GB SSD to 650 €
On Coupon: BGXMRC1
On Coupon: BGXMRC2
Compra➡https://xiaomi.today/2I08DYN
Updated today 04 November
💻 RedmiBook Pro 14.0 Laptop i7-10510U NVIDIA GeForce MX250 8GB DDR4 RAM 512GB SSD Notebook to 718 €
On Coupon: BGXMI7X
Compra➡https://xiaomi.today/2OsesSq
Updated today 01 November
💻 Xiaomi Mi Pro 15.6 inch i5-8250U 8GB 256GB GTX1050Max-Q to 880 €
On Coupon: BGXMMZ3
Compra➡https://xiaomi.today/2LGSStu
Updated today 30 October
💻 Xiaomi Mi Notebook Air 12.5 inch Laptop Intel Core M3 - 8100Y 4GB RAM 128GB SSD Intel HD Graphics 615 to 506 €
On Coupon: BGXMMG2
On Coupon: BGXMMG3
Compra➡https://xiaomi.today/2LRNjrn
ADAYS today 18 October
💻 XiaoMi Gaming 15.6 inch I7-8750H GTX 1060 6GB 16 / 512GB at 1028 €
On Coupon: BGXMGA9
Compra➡https://xiaomi.today/2RxPAYR
Updated today 15 October
💻 Xiaomi Notebook Pro 15.6 inch i7-8550U 16 / 256GB MX150 to 882 €
On Coupon: BGXMPK7
On Coupon: BGXMPK8
Compra➡https://xiaomi.today/2KOXprS
Updated today 11 October
💻 Xiaomi Air 13.3 Inch i5-7200U 8G / 256GB NVIDIA MX150 622 €
On Coupon: BGXMA9
On Coupon: BGXMZ1
Compra➡https://xiaomi.today/2U0kkS7
Updated today 09 October
💻 RedmiBook Laptop 14 inch Intel Core i5-8265U 1.6GHz Win10 NVIDIA GeForce MX250 8GB RAM 256GB SSD a 540€
On Coupon: BGXMRM9
Compra➡https://xiaomi.today/2Ov3ixF
Updated today 07 October
💻 RedmiBook Laptop 14.0 inch Intel Core i3-8145U Intel UHD Graphics 620 8G DDR4 256G SSD Notebook a 457€
💰 Coupon: BGXM3S
Compra➡https://xiaomi.today/2Iu8Yme
Updated today 27 September
💻 Xiaomi Air 13.3 "i5-8250U Intel UHD Graphics 620 8GB / 256GB at 617 €
On Coupon: BGXM90
Compra➡https://xiaomi.today/2ATrY9k
Updated today 11 September
💻 RedmiBook Pro 14 Laptop i5-10210U NVIDIA GeForce MX250 8GB RAM 512GB SSD a 646€
💰 Coupon: BGXMLP2
Compra➡https://xiaomi.today/30VK06l
Updated today 29 August
💻Xiaomi Air Laptop 13.3 Inch i5-8250U MX150 2GB 8GB DDR4 256GB a 569€
On Coupon: BGXMA3
Buy➡https://xiaomi.today/2KWcbOX
Updated today 30 July
💻 Xiaomi Notebook Pro i7-8550U 16 / 256 / 4Gb a 935€
On Coupon: BGXMP911
Buy➡https://xiaomi.today/2EvOhn3
💻 Xiaomi Notebook Pro i5-8250U Quad Core 8Gb / 256GB a 666€
💰 Coupon: BGXM3D09
Buy➡https://xiaomi.today/2JbVG0q
💻 Xiaomi Mi Notebook Pro i5-8250U 8GB / 256GB / 4GB a 800 €
💰 Coupon: BGXM418
Compra➡https://xiaomi.today/2LGSStu
N 2019 XIAOMI Laptop Pro Intel Core i7-8550U GeForce MX250 Quad Core 16G RAM 256G SSD Gaming Notebook Fingerprint at 870 €
On Coupon: BGXM5721
Compra➡https://xiaomi.today/2HXFsFv
💻 Xiaomi Mi Air Intel Core m3-7Y30 4GB 128GB 479 €
On Coupon: BGXM02
Compra➡https://xiaomi.today/2TXvxTx
🇨🇳 EU Priority Line Shipping (10 / 15gg, No Customs) ✈