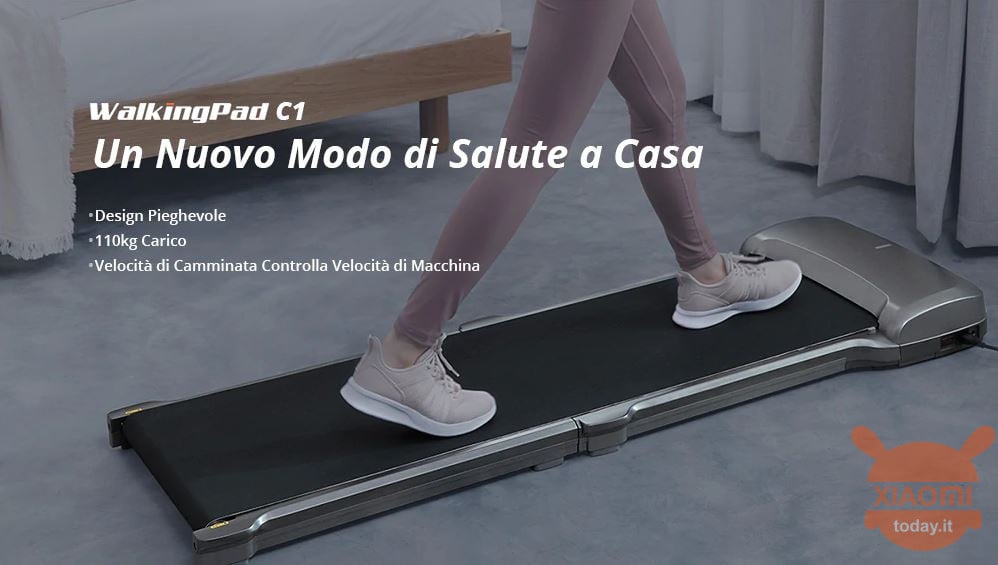 If it's cold outside why give up physical activity? Xiaomi comes to meet us with her "Walking Machine".
🇪🇺 FREE Fast Shipping 3 / 7gg (NO customs)
Ata Registered Air Shipping (30 days) 🚂
A simple but cutting-edge tool, a treadmill in a foldable version and with a light structure that will allow you to stay in shape without having to go out to catch cold unnecessarily!
The small dimensions make it an accessory suitable for every home. It is in fact possible to fold it completely on itself, bringing the overall dimensions from 142x54cm (from open) to 82x54cm with a thickness of 13cm that allows you to store the carpet under a table or a sofa. The aluminum alloy structure holds its weight only 28kg and the comfortable wheels allow it to be transported without particular effort. It is not designed to be stored vertically in an autonomous way but it is still possible to place it (eg on a wall, behind a door).
La declared maximum flow is 90kg and the express speed goes from 0,5km / ha 6km / h. For safety reasons, the maximum speed can only be reached after completing the introductory tutorial which also describes all the features.
The walking pad, as well as the app, it can be controlled remotely via a convenient and small remote control which is also equipped with a silicone strap for attaching to the wrist. Through the remote control it is possible to control all the functions: ignition, mode change, speed variation.
The LED display, beautiful readable and positioned in the front, shows in English (also in the Chinese version of the product !!) all information from the session run. Alternatively, you can read the speed, duration, steps, calories consumed and distance traveled.
Immediately below the display there are 3 lights that notify the various statuses of the device: StandBy / Auto Mode / Manual Mode). There is also a light that notifies the remote connection with the app.
Here is our in-depth review: REVIEW YOUPIN WALKING PAD
From today also available the new renewed versions, the WalkingPad A1 and C1
🇪🇺 FREE Fast Shipping 3 / 7gg (NO customs)
Ata Registered Air Shipping (30 days) 🚂
Are you interested in OFFERS? Follow our TELEGRAM Channel! Many discount codes, offers, some exclusive of the group, on phones, tablet gadgets and technology.