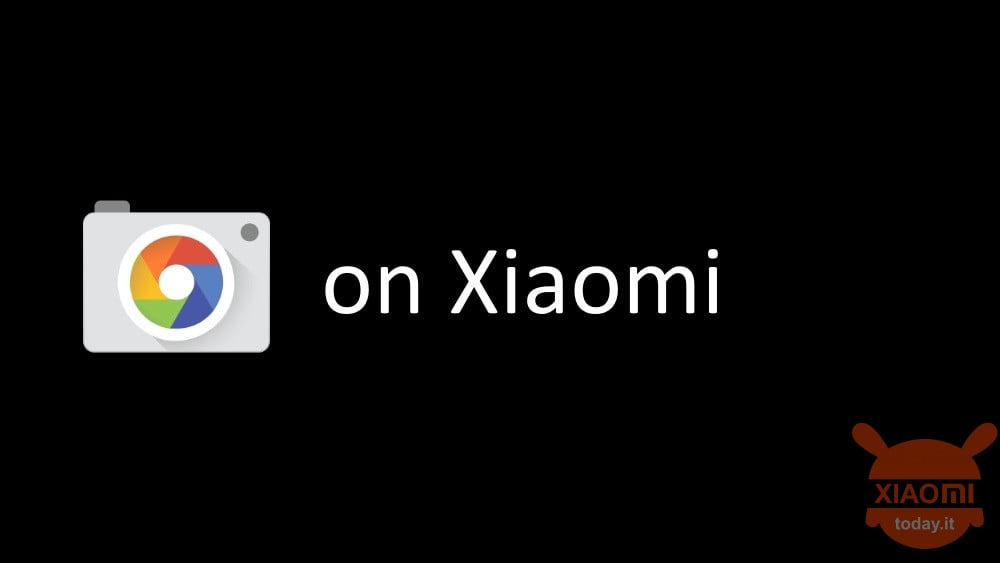 Google has been able to demonstrate that it does not matter the number of megapixels nor the number of optics available to a smartphone to make good, excellent photos, but what matters is the support on a super reliable processing software. And so the Google Camera, better known as GCam, began its route towards modding giving life to a series of ports available also for our beloved Xiaomi, so much so that often before buying one, one wonders if this supports it or not. GCam, as the only fundamental requirement is support for Cam2Api.
How to activate Cam2Api:
It will not list all the functions and options that the Google license plate camera offers and therefore I will start immediately by telling you that if you do not have the Cam2Api supported natively, you will have to rely on the ROOT of the smartphone. Assuring that you know how to do it (in case I invite you to view the guides on our blog), we have 2 methods, both reliable.
Method 1: You will have to go through a file manager, inside the file system to modify the build.prop file. From here you will need to add a command line.
persist.camera.HAL3.enabled = 1
Method 2: The first method is perhaps more geeky and here I am not even going into it as the second method is really within everyone's reach as you just need to download and install the module for Magisk, Camera2 API Enabler.
ATTENTION:
GCam may not work on all devices, even with Cam2Api support enabled. In addition, the performance of all functions is not guaranteed. Therefore, it is worth trying different versions of the application.
If in the list below you do not find a verified GCam on your device, try the version of a smartphone with the same hardware.
DOWNLOAD 🏆
GCam_7.2.014_HdrQuality_Parrot043_V6.apk (tested on Mi9, Mi9T Pro, Redmi K20 Pro)

ANNOUNCEMENTS'

GCam_7.2.018_the_dise_mi9t_v3.9.apk (tested on Mi9T)

ANNOUNCEMENTS'

GCam_7.0.009_FinalBuildGoodbye_V1.apk (tested on Mi8)

ANNOUNCEMENTS'

GCam_7.0.009_V13_AUX_BURIAL_AWB_MI9.apk (tested on Mi9)

ANNOUNCEMENTS'

GCam_7.0.009_V13_AUX_BURIAL_AWB_MI9T.apk (tested on Mi9T)

ANNOUNCEMENTS'

GCam_7.0.009_HDR_Version_V13.apk (tested on Redmi Note 7 Pro)

ANNOUNCEMENTS'

GCam_7.0.009_Astrophotography_MIX2_V7.apk (tested on Mi MIX 2)

ANNOUNCEMENTS'

GCam_7.0.009_DevMod_Arnova8G2_beta_4.0.apk

(tested on Mi9, Mi9T Pro, Redmi K20 Pro)

GCam_7.0.009_Parrot043_V13.apk

(tested on Mi9, Mi9T Pro, Redmi K20 Pro)

GCam_7.0.009_MiIXSE.RPII.MiVIII_V1.apk

(tested on Mi8)

GCam_6.1.021_RedmiNote8Pro_1.0_Wyroczen.apk (tested on Redmi Note 8 Pro)
GCam_6.1.021_MI6_Daredevil.apk (tested on Mi6)

ANNOUNCEMENTS'

GCam_6.2.030_trCamera_REBORN_V5_DEEP_END_final.apk (for Snadpragon 6xx-7xx)

ANNOUNCEMENTS'

GCam_6.2.030_trCamera_REBORN_V5_DEEP_END_845_final.apk (for Snadpragon 845)

ANNOUNCEMENTS'

GCam_6.1.021_xcam6_beta11_Android_Q.apk

(tested on Mi9, Mi9T Pro, Redmi K20 Pro)

GCam_6.2.030_MI9SE_V0a.apk (tested on Mi9 SE)
GCam_6.2.030_Arnova8G2_Urnyx05-v1.1.apk

(tested on Mi9)

GCam_6.1.021_Mi9_beta3_xtrme.apk

(tested on Mi9)

GCam_6.1.021_MI8_V2e_BSG.apk

(tested on Mi8, Mi8 EE, Mi8 Pro, Mi MIX 2S, Mi6)

GCam_6.1.021_MI8_V2c_BSG.apk

(tested on Mi8, Mi8 EE, Mi8 Pro, Mi MIX 2S, Mi6)

GCam_6.1.021_MI8_V2b++_BSG.apk (tested on Mi8, Mi8 EE, Mi8 Pro, Mi MIX 2S, Mi6)
GCam_6.1.021_MI8_V2a + _BSG.apk

(tested on Mi8, Mi8 EE, Mi8 Pro, Mi MIX 2S, Mi6)

GCam_6.1.021_MI8_V1g_BSG.apk (tested on Mi8, Mi8 EE, Mi8 Pro, Mi MIX 2S, Mi6)

GCam_6.1.021_MI8_V1f_BSG.apk

(tested on Mi8 with Android 9)

GCam_6.1.021_MI8_V1a_BSG.apk (tested on Mi8 with Android 9)
GCam_6.1.009_MI8_V1a_BSG.apk

(tested on Mi8, Mi8 SE, Mi MIX 2S, Redmi 6 Pro)

GCam_5.3.015_MI8_V1a_BSG.apk

(tested on Mi8, Mi8 SE, Mi MIX 2S)

GCam_5.3.015_MI8_V1_BSG.apk

(tested on Mi8, Mi8 SE, Mi MIX 2S)

GCam_5.3.015_MI8_V8.2_Arnova8G2.apk

(tested on Mi8, Mi8 SE, Mi MIX 2S)

GCam_5.2.022_Mi6_BSG.apk (tested on Mi6, Mi MIX 2)
GCam_5.1.018_Mi6_vXXII_Urikill.apk (tested on Mi6, Mi MIX 2, Redmi Note 5A)
GCam_5.3.015_MiMax2.apk (tested on Mi Max 2)
GCam_5.3.015_MI5S_V1.0.1_BSG.apk

(tested on Mi5s, Mi5)

GCam_5.1.235_Redmi5Plus.apk

(tested on Redmi 5 Plus, Redmi Note 5)

GCam_5.1.235_Redmi5Plus_V8.2_Arnova8G2.apk (tested on Redmi 5 Plus, Redmi Note 5, Redmi 6 Pro)
GCam_5.1.018_Redmi4X.apk

(tested on Redmi 4X)