Continue to whet the Meizu appetite with the teasers regarding the new Meizu 17, the device that will arrive in exactly six days. After knowing almost all the features that we will find on board the flagship (although the real flagshio will be the older brother Pro) we continue to see other news. This is hardware this time and in particular of the engine of vibration and RAM. Many companies are aiming for a linear motor for vibration: this guarantees unprecedented feedback especially during game sessions. Meizu is no different either and introduces us to the engine today mEngine 3.0.
With 8 GB of RAM and the engine mEngine 3.0 Meizu 17 is preparing to surpass also Xiaomi Mi 10. Will it succeed?
This morning, like every day between here and a week, the Chinese company leaves us a teaser on Weibo. You can find it below depicting the linear motor for vibration.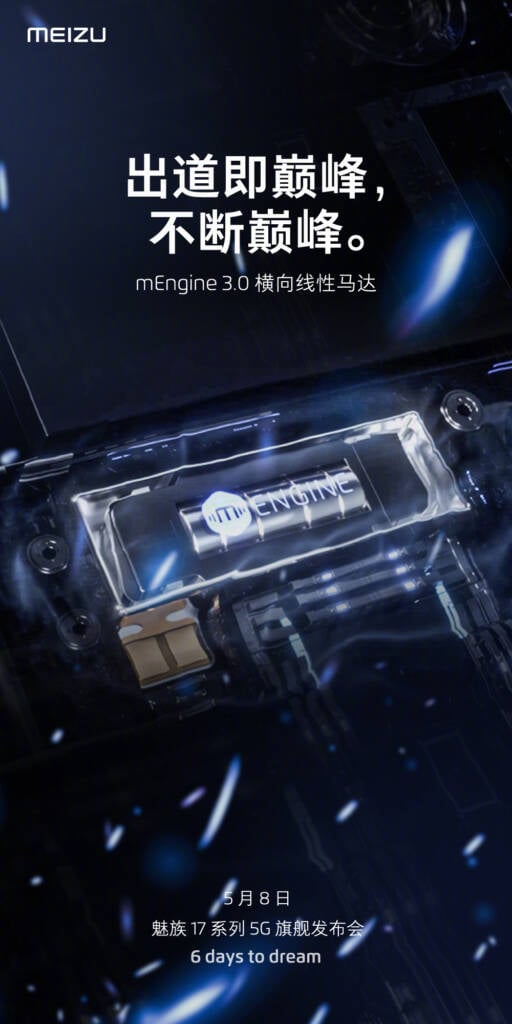 In a nutshell what is a linear motor? As you can see in the photo, that little tool is used to make the smartphone vibrate. Driven by the resonance of the spring, the coil inside vibrates the entire actuator, which in turn generates a vibration of the entire smartphone. Unlike at first then it's all the smartphone to take advantage of this vibration and not only the part where the motor is housed (first rotor motor instead of linear motor).
In short, even from the point of view of the experience of vibration Meizu 17 will get busy. But that's not all: in fact, the official website has started spamming the device and guess what? He explained that the basic configuration (and perhaps the only one) is 8 GB of RAM. Internal memory will be from 128 and 256 GB. We can therefore presume that the Meizu 17 Pro will have a minimum of 8 up to a maximum of 12 GB.
Through | Meizu Fans Global