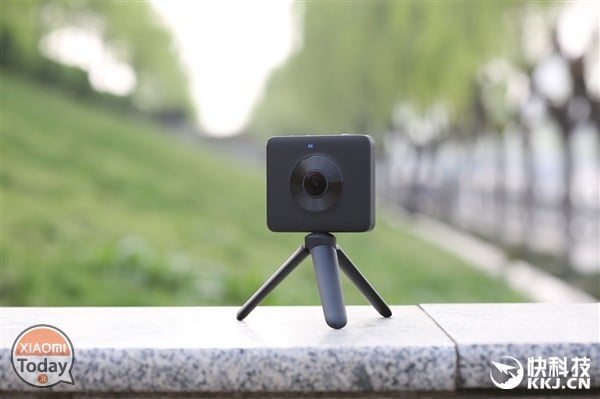 It's only been three days since we talked about it first room at 360 ° produced by Xiaomi and here is the first real images to appear on the net with its unboxing Mijia 360 ° Panoramic Camera.
Xiaomi was expecting to launch this type of room right for her studying competition and offer a full and richer product than competing products. Mijia 360 ° is much thinner of what has already been seen on the panorama chamber market, but despite the small size Xiaomi has been able to integrate two fisheye lenses with sensor 16 megapixel Sony IMX206 from 1 / 2.3 inches, which can be interpolated up to 23.88 megapixels.
In photography mode, the Mijia 360 ° is able to return images with 6912 × 3456 resolution which is the equivalent of the 7K, While video can be registered with resolution equal to 3.5K. Xiaomi for his Mijia 360 ° thought to have one small tripod with standard attachment, which can be closed to itself forming a sort of handle for moving on motion. Shots That Can Enjoy The optical image stabilization at 6 axes and therefore free of various tremors. The viewing angle is a 190 gradients with opening f/ 2.0 while 3 are the shooting modes: flat, sphere, planet with support for time lapse and loop recording.
Also Mijia 360 ° enjoys the IP67 certification, so it is resistant to dust and temporary immersions in water, a really comfortable quality for those who intend to use the camera of Xiaomi as an action camera or even for those who will use it more by vlog. The camera works with a built-in and non-removable battery 1600 mAh enough to guarantee around 200 photo or 75 minutes recording in HD format with active WiFi, or 90 minutes with Wi-Fi off, but anyway the quick charging,up to 500 charge cycles, which takes approximately 2 hours.
Compared to what was previously communicated, there does not seem to be an HDMI input for connection to external monitors, while it will be possible to insert one micro SD card up to 128 GB for their own recordings. Finally, the processor of the Mijia 360 ° is a Ambarella A12 and a proprietary application will be provided to edit the videos, add background music and be able to share everything via social media or third-party applications. The Mijia 360 ° chamber is able to operate with temperatures ranging from -10 ° C to + 45 ° C. If you are not yet convinced of the beauty of this room I leave you with the presentation video that I assure you will arouse the desire to own one.