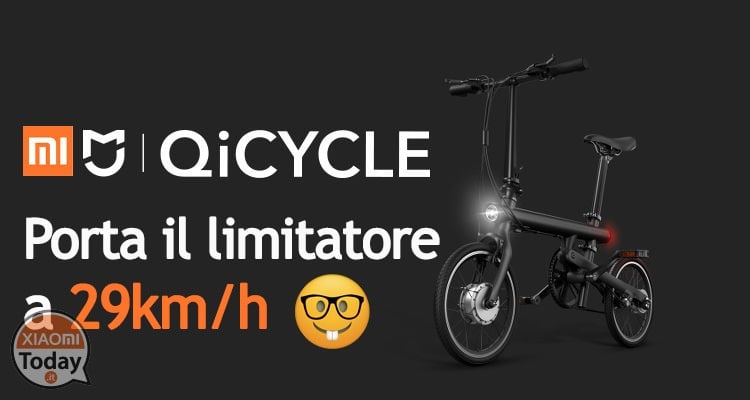 If you are a lucky owner of the Mijia QiCycle EF1, Xiaomi's pedal assisted bicycle, you will have surely noticed that with the stock firmware the electrical assistance stops intervening at 20km / h (limit imposed in China). With the app International QiCycle, depending on the model, it is possible to bring this limit to 25km / h via a software update.
XIAOMI Mi 9T 128GB BLACK - BLUE Global 6 / 128gb
ATGRATIS Shipping from Italy 24 / 48h

Unfortunately, not all models (including mine) have received this update, but it is now possible to force the installation or even use a custom firmware to bring the speed limit to 29km / h through the application created by Christopher
The procedure we are going to use, although personally tested, uses unofficial tools and a custom firmware. XiaomiToday.it is not responsible for any damages arising.
As with any update operation, we recommend that you have the devices (telephone and bicycle) fully loaded. Furthermore before performing the procedure we advise you to read the whole guide.
1
Installation and configuration of the QiCycle application
Download from the Playstore and install theQiCycle application of Christopher.
Associate your Google account from the menu at the top left and click on "Click to access"
Associate your QiCycle with the + button and frame the QrCode of your bike
In the field Motor, the central value of the string shows the version number. The firmware limited to 20km / h is the 015. It is possible to install the Custom MC 019 to bring the limit to 29km / h or alternatively use the official 017 firmware to bring the limit to 25km / h.
Go to the "Other" screen
Click on the blue button with the arrows at the bottom right
Select the category on the left Custom MC
Select the file on the right side MC_005019000_CF.bin
Confirm the installation by clicking on "Accept"
Click on the circular button at the bottom right (arrow up)
Confirm the update again
It will now start sending the file to the bicycle. Keep the phone near this.
A message will confirm the successful transmission of the file
Confirm the update by clicking on the UP arrow
During the update there is no progress indicator but only a warning screen. Wait for (about 5 minutes) to disappear and the software will reboot.
5
Go out and go and humiliate the Scooters at the lights
The 019 version reaches the 29km / h only with the battery charged. As the charge decreases, the limit is lowered as well. The 017 version (limit to 25km / h) suffers from the same problem but less.
SOURCE: Telegram Group QiCycle Spain - Muchas Gracias !!!