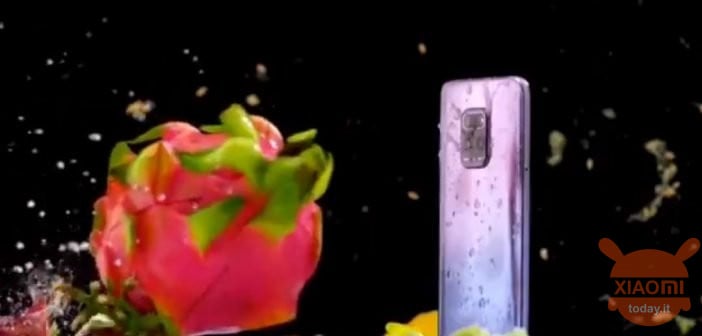 Lately, smartphones all look alike both in terms of design and in terms of technical specifications, therefore the only attractive variable is the sale price. And so Redmi 10X surprised everyone by virtue of a price list of about 205 euros at the current exchange rate but the surprises of this new device do not end here, as in its way the company wanted to demonstrate the high strength of the last born in Redmi house and did it with a very special test.
In the past, the Chinese brand had already submitted its Redmi K20 to the #BottleCapChallenge to test its waterproofness and now in an equally curious way it does it with its Redmi 10X, throwing fruit and vegetables against him ... you got it right, just like it happened in theaters of the late '800, the device underwent this endurance test, thus highlighting not only its price and its characteristics but also its "character" almost like a rugged phone.
Rain of peppers and tomatoes for Redmi 10X. The reason why? A curious endurance test
As we can see in the video that appeared on Twitter on Sudhanshu's profile, the new Redmi 10X is subjected to a shower of peppers, tomatoes and even an apple, a test that might seem bizarre but surprising if the speed of the launch of the vegetables against it is considered the smartphone.
You might also like: Redmi 10X- first hands on of the cheapest 5G smartphone in the world
In fact, the fruit and vegetables used for the resistance test are launched at a speed of not less than 50 km / h, "disintegrating" against the surface of the poor Redmi 10X, subject to "vegetarian" harassment. The purpose of the test was to demonstrate how the terminal of the Redmi brand resists impacts and resistance to liquids, thanks to the shell coating with P2i technology. However, utility or not of the test, we do not recommend doing it again with your terminal.
Xiaomi Redmi Note 9 Pro Global 6 / 128Gb from EU warehouse
🇪🇺FREE Fast Shipping from Spain (NO customs) ✈
Are you interested in OFFERS? Follow our TELEGRAM Channel! Many discount codes, offers, some exclusive of the group, on phones, tablet gadgets and technology.