We haven't talked about headphones for a while and especially about headphones Realme Buds Air. The new, so to speak, headphones of the eponymous brand that are making themselves loved for quality but above all for the super competitive price. Since when Apple Lossless Audio CODEC (ALAC), he pulled his headphones of the same kind out of the hat, many brands have tried to chase it not only in terms of design but also of features. And in fact, after some time from their release, the Buds Air receive an update that brings a chicchetta proper of the bitten apple, or the pop-up window.
The new update of Realme Buds Air allows you to take advantage of the so-called Apple-style "bubble" that we like so much
Poco long ago, Xu Qi, vice president of Realme and president of global marketing, announced that the pop-up feature of Realme Buds Air has been officially launched. Soon all loyal users will be able to take advantage of this nice (but not innovative) feature.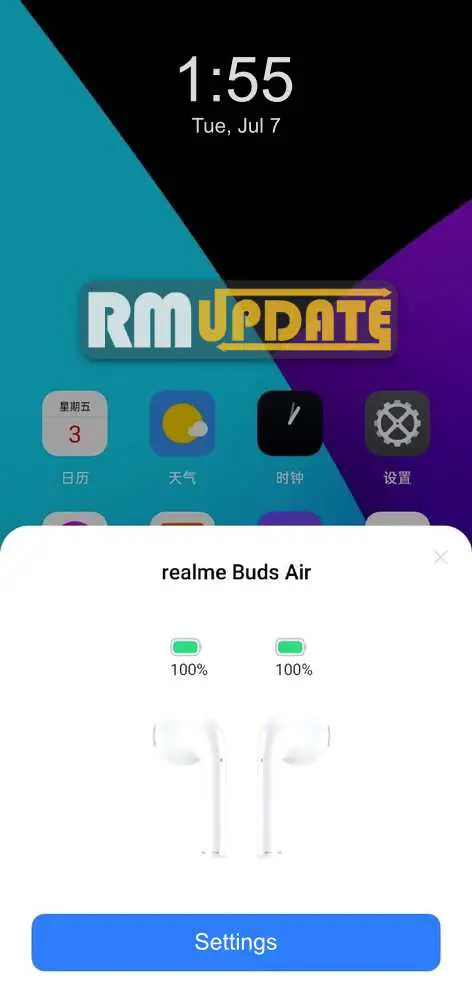 What are the "improvements" that this update brings? Without a doubt since graphically we take a step forward whereas previously there was only the floating notification at the top of the display. Secondly, through the pop-up window, or bubble, if you like, it will be possible see the charging status of the headphones. In fact, as we can see in the photo above, there is the residual charge indicator for each earphone.
In addition to this it will be possible to access via the "options"Below directly to all that series of settings useful for connecting bluetooth headphones to the device. There is however to be clarified that these feature is exclusive to Realme devices: this means that if you have another smartphone (Xiaomi, Oppo, Redmi or any brand) you cannot count on the bubble.
Through | RMUpdate