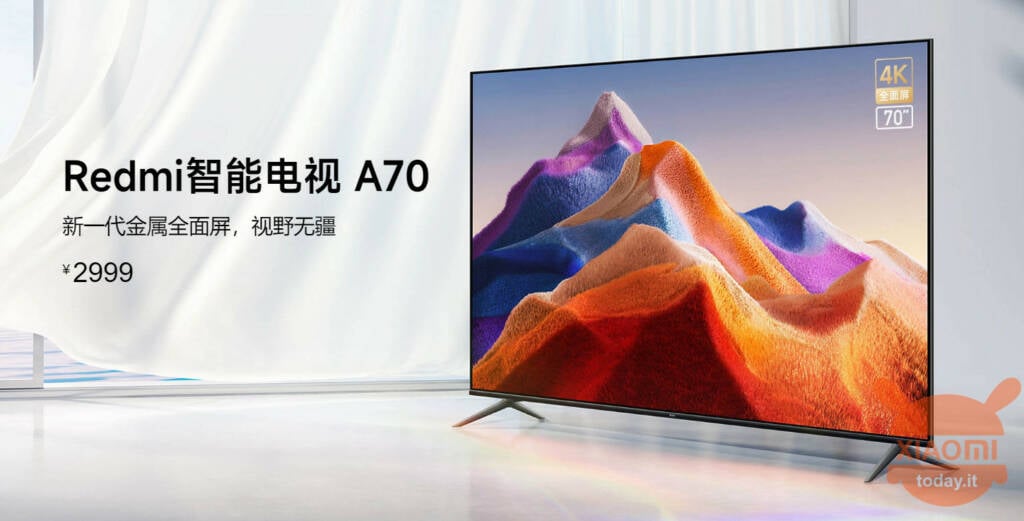 This morning Xiaomi's sub brand, Redmi, has expanded its range of TVs in the Chinese market by presenting the new Redmi Smart TV A70. The TV will be sold in the Asian country with a presale price of 2999 yuan (427 euros), a price that can drop to 2199 yuan (313 euros) if you leave a deposit of 20 yuan (3 euros); therefore a bargain.
The new Redmi Smart TV A70 is a super deal in China: 70 inches at 2199 yuan (313 euros)
As the name suggests, the Redmi Smart TV A70 uses a full 70-inch screen with a 96% screen-to-body ratio and a resolution of 3840 * 2160. The display supports 1 billion primary colors, 78% DCI-P3 color gamut, direct backlight, and supports a 60Hz refresh rate.
In terms of internal specifications, the Redmi Smart TV A70 is equipped with an A35 quad-core processor, along with 1,5GB of RAM and 8GB of internal storage, supports 2,4G Wi-Fi, infrared, has two 2 * 10W high-power speakers, dual air duct design for richer bass, clearer and more powerful highs.
As for the ports, the TV has two USB ports, two HDMI, an antenna port, an S / PDIF port, an AV input and a network port.
Like many other Redmi TVs, the Smart TV A70 can control smart devices around the house, can display surveillance camera images, and has streaming app resources including Kiwi TV, Aurora TV, Mango TV and TV from the cloud, but clearly registration must be paid.
In addition, the TV covers traditional screen projection protocols and supports screen projection from both Android and iOS smartphones as well as Windows PCs and Mac notebooks.
Finally, according to official data, the TV has passed over 300 endurance tests, including vertical drop, over 12.000 interface plug-in / out tests, and simulated indoor and outdoor temperature difference tests from -25 ° C to 60 ° C.
Xiaomi F2 43"
2 used by 307,10 €
6 December 2022 9: 44

Amazon.it
Price updated on: 6 December 2022 9:44