The use of the smartphone is now more and more prevalent during our day and often it would be useful to make partial recharges even when we are in the car, essential for those who work there with the machine! Today we propose the Xiaomi 20W wireless car charger, which in addition to being aesthetically beautiful and functional will give us the possibility to recharge and support our mobile phone in an easy way whenever we need it.
Xiaomi 20W wireless car charger from EU warehouse
🇪🇺FREE Fast Shipping from Czech Rep (No Customs) ✈
This fantastic product is truly innovative, in fact among the various goodies that it offers us we find one that is really very comfortable and interesting. Thanks to a hidden infrared sensor and a socket with automatic system, it opens automatically and locks the phone when you bring it close to the charging surface (therefore a one-handed operation). Equipped with position sensors, it keeps the phone in perfect position even on the most difficult roads, bumpy roads, bumps or in the event of sudden braking.
The maximum charging power is 20W, compared to the latest generation wire chargers certainly less performing but still of a good level. It allows to obtain a total recharge of a 3500mAh battery in about 90 minutes. Of course, the use of these chargers is, in my opinion, very useful for partial refills. Difficult to use them for full refills, also because the timing would require a really long car journey. In any case, they remain excellent so as not to remain dry in the classic moment when we do not have an electrical outlet at hand.
The cooling system has a built-in fan that is able to intelligently regulate and activate cooling based on temperature. Passive heat dissipation is equally excellent, thanks to a metal bracket capable of conducting heat quickly. During high-power charging, the double heat dissipation can contain the loss of the phone's charging efficiency caused by the overheating protection, greatly reducing the charging time. It also provides protection against faults such as short circuit, overvoltage, etc., for safe charging.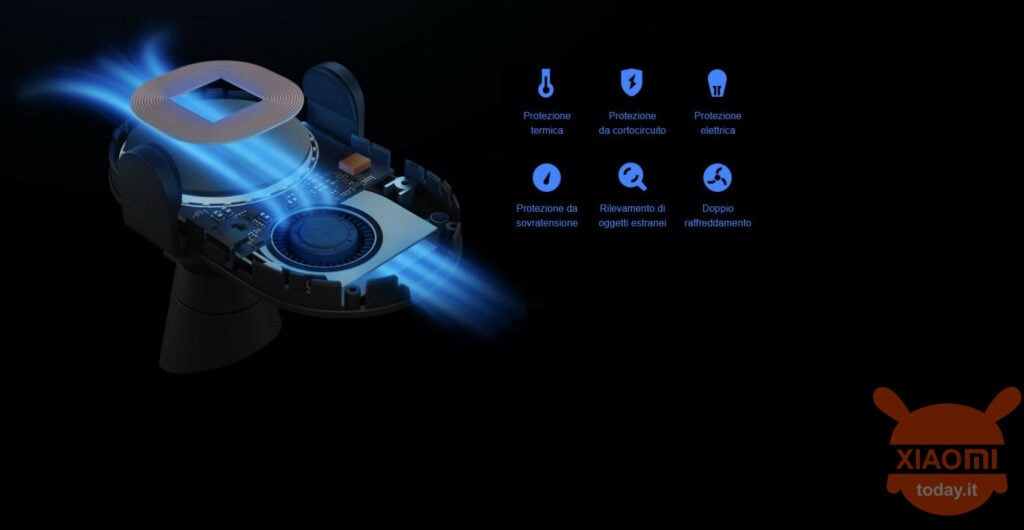 On the Xiaomi wireless 20w charger there is an elegant BLUE light indicator on the charging panel which is built in 2.5D glass which improves the efficiency of heat dissipation and speeds up charging. The circular blue indicator lights up when powered up and facilitates visibility when driving at night.
So if you are looking for a similar product, our advice is to choose the Xiaomi product warranty and go straight to this one. Also because we have found a truly unmissable offer! In fact, you can buy it for only € 25 (instead of the € 40 price list) with shipping FREE and fast from warehouse located in the Czech Rep. You just have to go to THIS ADDRESS and enter (in the cart) the discount code MEN59JY570. No problem for the payment you can make through PayPal.
Xiaomi 20W wireless car charger from EU warehouse
🇪🇺FREE Fast Shipping from Czech Rep (No Customs) ✈
Are you interested in OFFERS? Follow our TELEGRAM Channel! Many discount codes, offers, some exclusive of the group, on phones, tablet gadgets and technology.