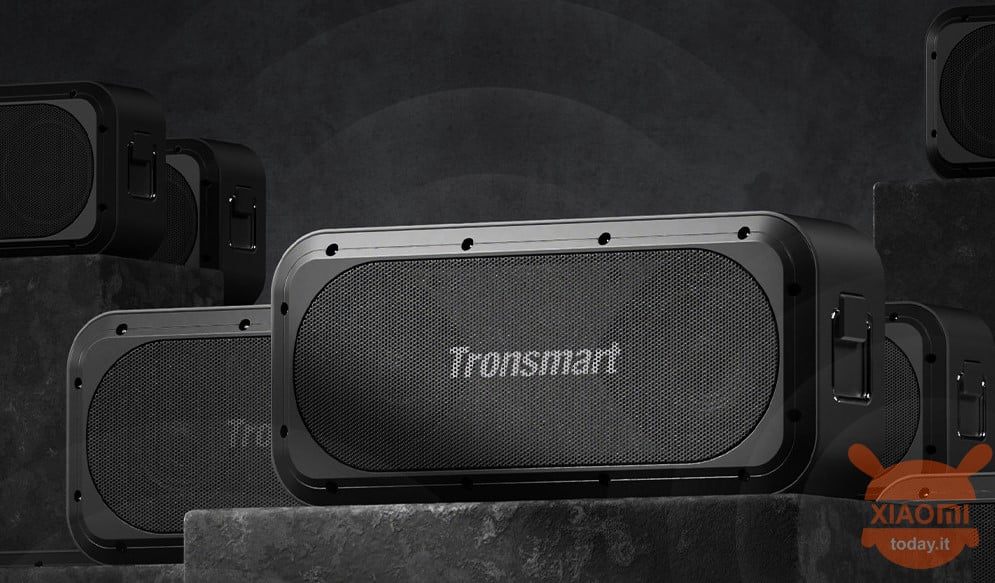 If you are a music lover and are looking for a great speaker that can give you emotions, today you have probably come to the right place. In fact, I will tell you about a good product, if compared to the price it becomes excellent, which you could certainly evaluate as your next purchase. Here is the Tronsmart Force SE.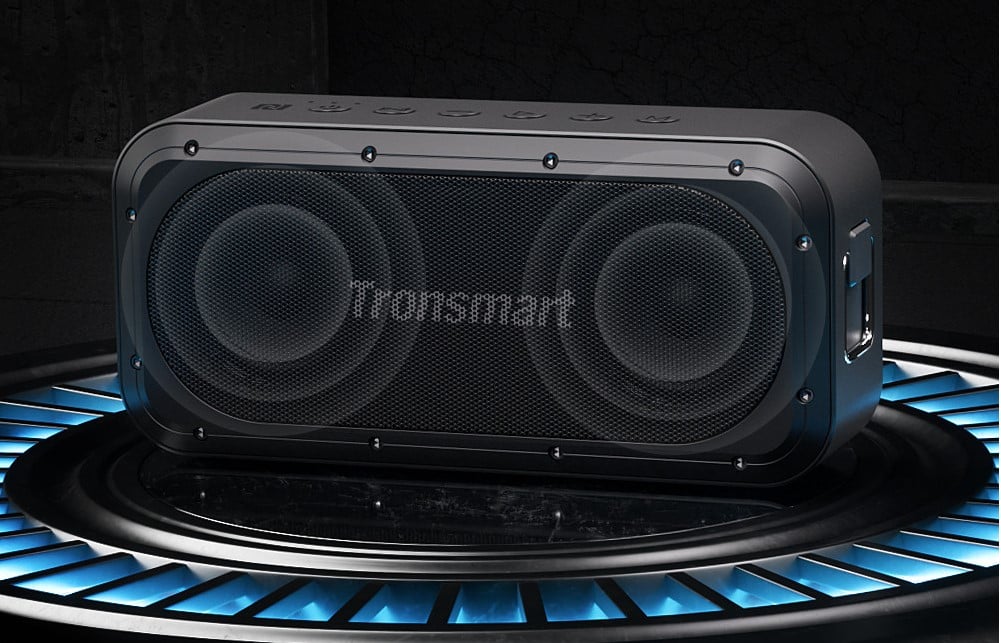 For those unfamiliar with the brand, we are talking about a Chinese company that in poco time immediately made its way especially in the audio sector where for some years it has been producing very interesting devices with a value for money that is really difficult to match.
€44 €79
GEEKBUYING
🇪🇺Fast Shipping from Europe INCLUDED (No Customs)
CONFEZIONE
The product will arrive in beautiful packaging, well packed inside, with a convenient carrying handle. The outside of the box you will find product photos, technical characteristics and 2 handy QR Codes to quickly reach the Tronsmart site and the Force SE.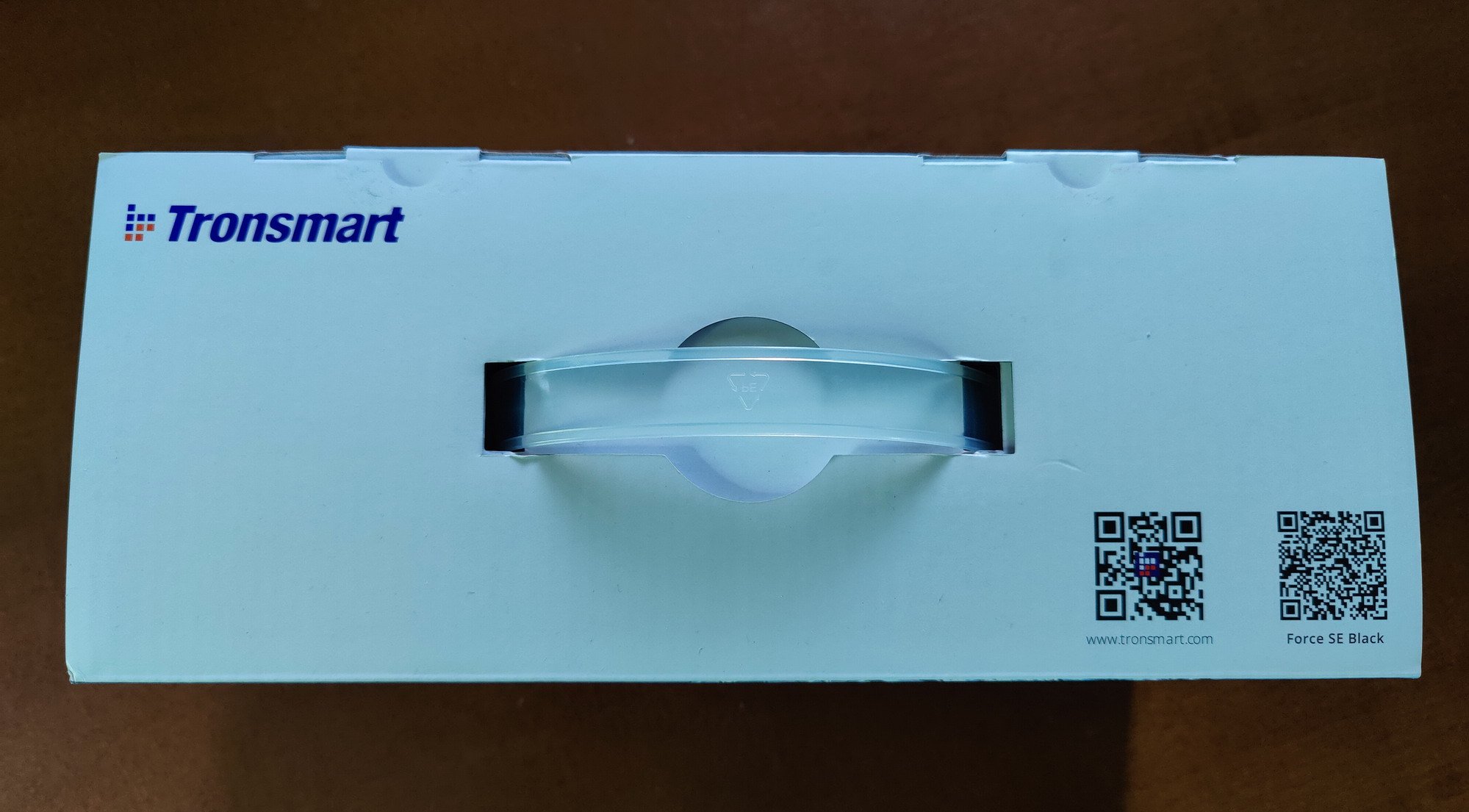 The contents of the package are absolutely satisfactory, in fact we find:
Tronsmart Force SE speaker
USB charging cable - USB Type C
Jack 3.5mm male-male audio cable
Strap to tie the speaker while we move (thanks to the special hook on the left side)
Instruction manual (includes the Italian language)
SoundPulse Card (explanation of this proprietary Tronsmart technology)
Warranty tag (12 months)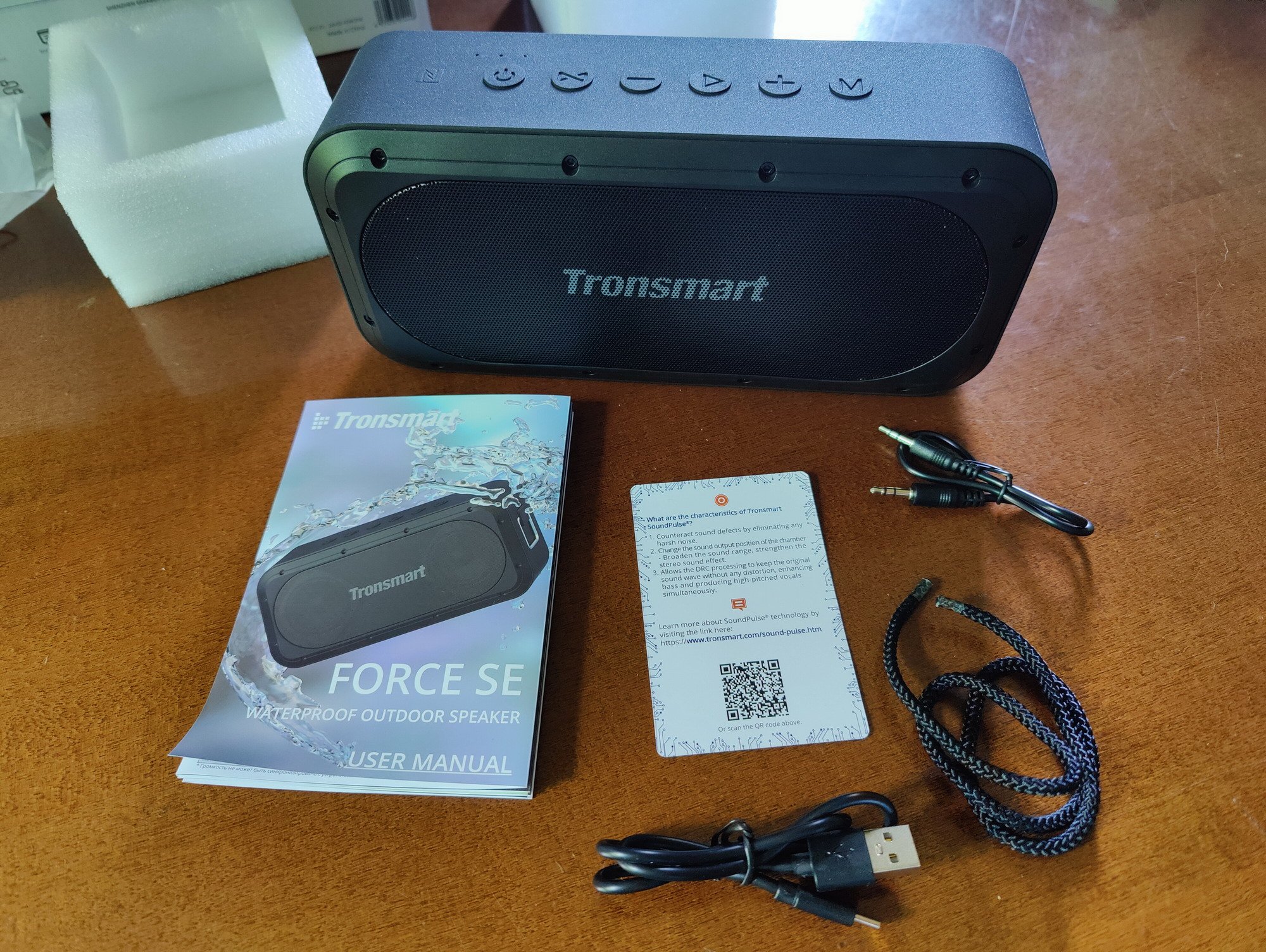 DIMENSIONS AND WEIGHT
Our Speaker measures 257 x 79 x 81mm and a weight of 1100gr. Size and weight are quite important, but they don't prevent good portability. Of course, quality and sound power require a minimum of sacrifice. Present a hook that will allow us to transport it by hanging it wherever we want. The shell is in satin polycarbonate, of excellent quality, very pleasant to the touch. The well-made grids and the function keys well separated and easy to locate / press. The feeling of robustness is really TOP.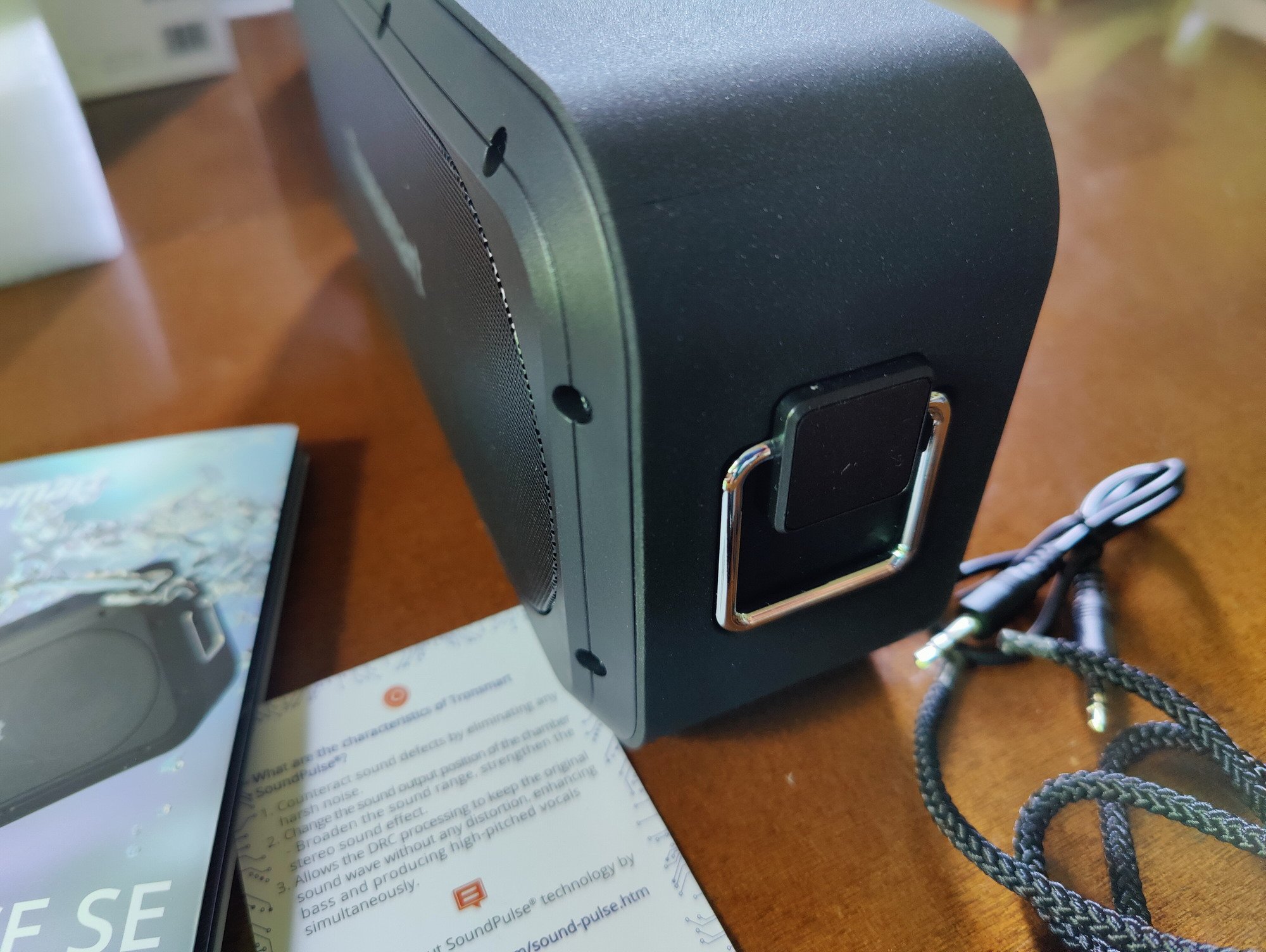 CONNECTIONS
The connection possibilities with our Tronsmart Force SE are really very complete and are:
BlueTooth 5.3 - At the top of speed, stability and range of action (up to 18m!). Lightning-fast connection to your devices, in less than a second you will be connected!
NFC - At the top, to the left of the power button, we find the NFC chip that will allow us a very fast connection with our smartphone. Just enable NFC on your phone and place it in this area (you will also see the screen printing of the NFC symbol). Immediately you will be prompted to give the ok to the connection
SD Card - You can listen to music saved on SD / TF card (up to 64Gb)
USB - You can listen to music saved on your USB pendrive (up to 64Gb)
USB Type C - For charging (input with 5V x 3A charger)
All physical connections are located in the back protected by a rubber "plug", which allows the Tronsmart to have another degree of waterproofing IPX7. This means that it can also withstand accidental falls into water but of course we do not recommend carrying out this test. We remind you that no brand goes under warranty, despite the certification, any damage caused by water infiltrations.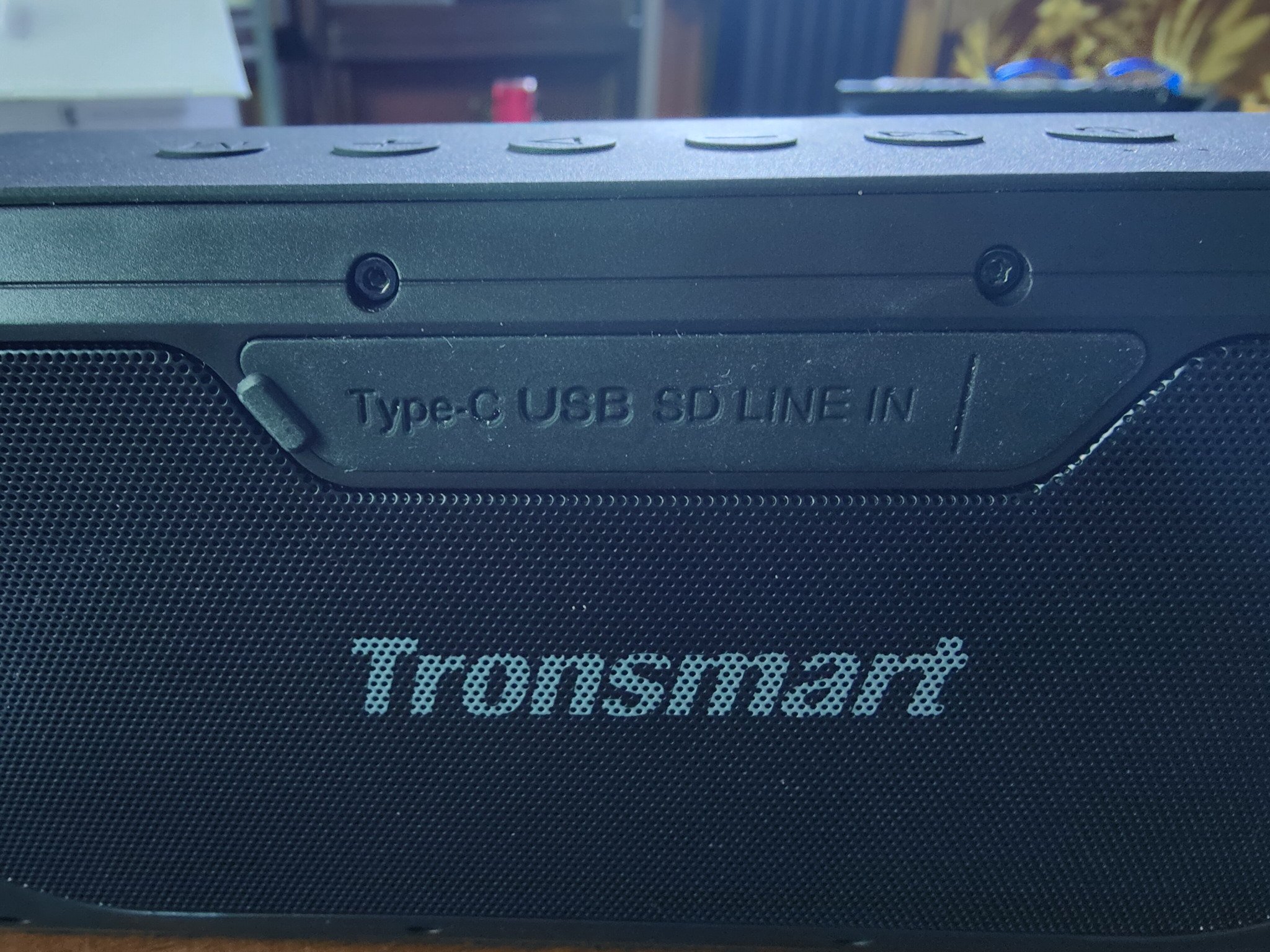 FUNCTIONALITY'
In the upper part we find 6 keys with which we can fully exploit all the potential of our device:
On-Off: Pressing it for 3 seconds will turn the speaker on and off, by pressing it we will activate the voice assistant on the connected smartphone (Google, Siri, Cortana)
TuneConn Technology: To access the functionality that allows us to connect up to 100 loudspeakers together (we will talk more about it later)
First name: Here we can lower the volume and go back to the previous track (by pressing it for 2 seconds)
Play: With a single press we will switch from play to pause and vice versa. If we are receiving a call with a single press we will answer, with a long press of 3 seconds we will reject the call. With a double click we will redial (we will call back the last number contacted)
More: To turn up the volume and to go to the next track (by pressing it for 2 seconds)
M: Press and hold it for 3 seconds to disconnect from the connected BT, a total reset of the speaker will be done for 8 seconds
Our Tronsmart, thanks to TuneConn Technology, can be connected to many other speakers that share this technology, up to 100, to achieve an unparalleled sound experience. The connection is very simple, you will have to proceed as follows: connect the first speaker (host) to our music source (eg our smartphone) and at this point press the TuneConn key. An orange led will light up indicating that TunnConn mode is enabled. Now just turn on the second speaker and enable the TunnConn also on the second speaker with the same key. If the pairing is successful, both speakers will play in unison! This fantastic technology combined with the power of the BT 5.3 will allow us to create a fantastic music diffusion system in any room. Also perfect for managing any parties without the use of large and heavy disco speakers. To exit TunnConn mode, just press the dedicated button for 2 seconds on both speakers.
Another noteworthy gem is the possibility of using it also as a Power Bank! If necessary, we can in fact take advantage of its 7200mAh battery to recharge our phone (5W output)!
HW FEATURES
| | |
| --- | --- |
| Model | Force SE |
| Bluetooth version | 5.3 |
| audiocodec | SBC |
| Compatibility Bluetooth | A2DP V1.3, AVRCP V1.4, HFP V1.6 |
| Transmission Distance | 18m |
| Frequency range | 20Hz-16KHz |
| impermeability | IPX7 |
| Potenza | 50W |
| Battery capacity | 7200mAh |
| Charging time | 3 - 4 Hours |
| Input | 5V / 3A via Type-C port |
| Autonomy | 12 Ore |
AUDIO QUALITY
After all these numbers that I have pitted you may be wondering the most important thing .. but how does our Tronsmart Force SE sound? Well, there is no shadow of a doubt. The power is not lacking, the quality and clarity of the high frequencies not even. Compared to the small size for this power, we remember well 50W, you will be pleasantly surprised by the musical intensity that you can get. In the front we find the speakers that play the mid-highs while in the back the bass. But what makes the sound so full-bodied, crystal clear and powerful? Surely the SoundPulse Technolgy, a proprietary Tronsmart technology that intervenes in the coding and reproduction of sound. If you want to learn more, I post the direct link where it is explained in detail: Tronsmart SoundPulse Technology. The autonomy is also good, which is around 10 hours of music at a fairly sustained volume.
But you will say: is everything perfect? It would be too good and it would be poco professional not to expose any doubts or critical issues that I have detected. The first, and perhaps most important, is the impossibility of equalizing the sound and the absence of preset equalization modes (on other similar devices I had found at least 3). If you use it via smartphone you can bypass this problem with any dedicated app, but if the audio source is SD / TF / USB this aspect cannot be managed. Another thing that left me some doubts is the reproduction of low sounds: it is my feeling, but as a DJ I can be quite sure that it is real .. at low and medium volumes it seems that they are not reproduced with the right intensity. In fact, they seem a bit subdued, which then disappears when the volume is turned up. With fairly high volumes, let's say above 60% they come out in an important and enjoyable way. So, get on with it!
FINAL CONSIDERATIONS
As always, for the final considerations, we must analyze the cost of the product to evaluate the value for money and understand if it makes sense to buy. There are many speakers in this segment and almost all of the best are around € 80/90. Our Force SE also costs around € 80 in the price list. So why take this instead of another competitor? Well, one of the first reasons is because thanks to our coupon you can take it home in promotion for only € 54, and at this price I think it is truly unmissable. As for the other reasons I have pitted them above and they seem equally valid to me. So my advice is to go straight to this speaker because you can hardly be disappointed with your purchase.
€44 €79
GEEKBUYING
🇪🇺Fast Shipping from Europe INCLUDED (No Customs)
Really Great
A great speaker with FULL connectivity
PROS
Powerful and clear sound
Complete connectivity
Aesthetics and sturdiness
Power Bank function
TunnConn function
IPX7 waterproofing
SoundPulse Technology
CONS
No equalizer / preset equalization modes
Slight lack of bass at volumes below 50%
Add your review
|
Read reviews and comments