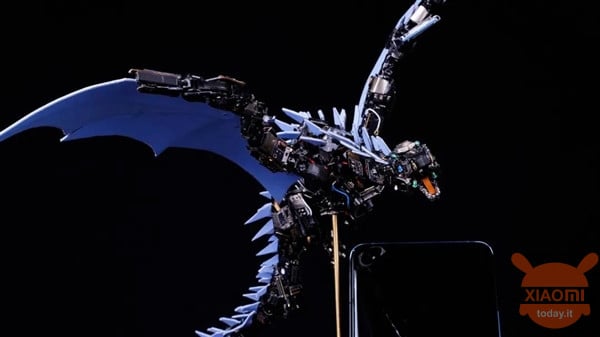 In the last period we have seen what it is capable of Xiaomi Mi 11: among the many things that the smartphone is capable of we have seen the ability to detect heart rate, of connect to multiple Bluetooth devices at the same time e also how fast its Wi-Fi 6 is. But there is also more we can do with this device, indeed with two. It is not about particular features or functionality of MIUI, but a purely manual work. An experiment if we want it that saw the participation of several engineers for a month. What have they done? A mechanical dragon!
In the Xiaomi headquarters they always have to do: with Xiaomi Mi 11 they managed to build a hi tech mechanical dragon!
By disassembling two Xiaomi Mi 11s and bringing together a total of 500 pieces (between body and internal components), inside one of the Beijing laboratories a team of engineers gave birth to one gorgeous mechanical dragon, albeit not flying. Really all the pieces of the smartphones were used: from the body to the camera, from battery to RAM. Let's see how they did it and what the outcome.
La queue it was built using the processor Qualcomm Snapdragon 888, the memory RAM of type LPDDR5, modem for Wi-Fi 6 and dual Harman Kardon stereo speakers that allow a sound close to perfection. The result is what you see above. Each module was obviously glued with some paste (the cobalt-colored one you see in each cube).
Il heart del drago instead was built starting from cameras of the two smartphones. The largest optics have been assembled, clearly those from 108 megapixel, to form the chest and heart of the mythological animal. Clearly each central part has been connected to the other through the plates that hold the cameras in place inside the device.
Let's move on to forehead. For this component the smaller cameras, Or the wide-angle from 13 megapixel and 5 megapixel macro. These have literally been transformed into the eyes of the mechanical dragon, so that he can see (so to speak) what is around him. There mouth and ears, as before, they are built using camera mounts.
The best part, the ali. The skeletal part was formed from the remaining metal parts and the wings, on the other hand, have been cut using the vegan leather shell. This is very thin a few millimeters and has lent itself particularly well to use. The scales on the back of the dragon, as we can see in the cover image, were also inserted by cutting the back of Xiaomi Mi 11 into triangles.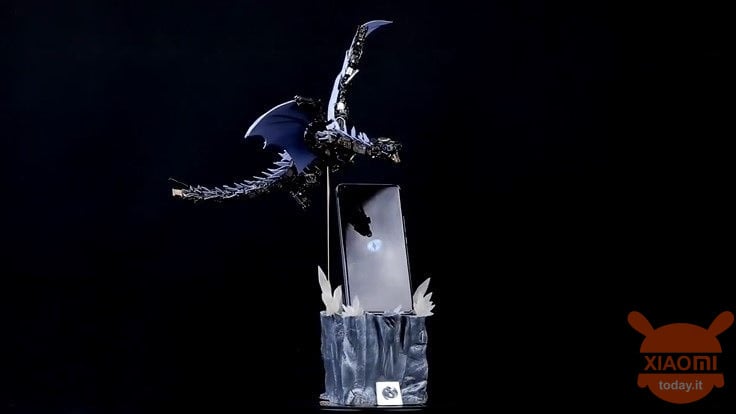 Finally the pedestal was built using all battery related components, such as stands and power cables.
Buy on Amazon
31,90 €
34,99 €
available
4 new from 27,00 €
Are you interested in OFFERS? Follow our TELEGRAM Channel! Many discount codes, offers, some exclusive of the group, on phones, tablet gadgets and technology.