Xiaomi Mi Electric Scooter 3, the electric scooter of the new generation brand, was caught for the first time on February 1st. The Indian leaker Mukul sharma has in fact put his hand on the code name of the device: DDHBC16NEB. Today, after a few months, the electric scooter appears in a real photo. This is found on an official Italian certification that bears the same code number and of course, the unequivocal name. Let's see it together.
Xiaomi Mi Electric Scooter 3 is coming to Italy: here is the first real photo of the next generation Xiaomi electric scooter
As revealed by the certification, the models of Xiaomi Mi Electric Scooter 3 there will be two even if the specifications will be the same for both. The only difference will be in the colors: the model with ID 30807 will be black while the one with ID 30806 will be gray. Compared to the Pro 2 model there are substantial differences both in terms of aesthetics and equipment. Let's see them all.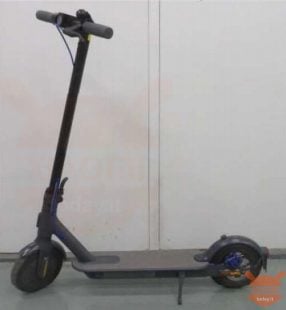 First it seems that there will be only one brake: on the handlebar we see a single caliper (on the left) but not on the right. Also, the headlight appears to be rounded inside one round body
: the previous model had a headlight set in a sort of crescent. Colors change too: i
brakes and brake lines are blue
while previously they were in the same color as Xiaomi's electric scooter.
Read also: Mi Electric Scooter of the third generation: Xiaomi would have revealed the characteristics in advance
Xiaomi Mi Electric Scooter 3 will have a much larger rear caliper compared to that of the previous model. For the moment these are the only data in our possession. We do not know if in terms of power it will be equipped with a oversized engine. Without a doubt, an improvement that Xiaomi Mi Electric Scooter 3 will bring will be in theautonomy. We are confident that the company will have equipped this Xiaomi electric scooter with a larger battery than before.
Needless to talk about price e exit date, but expect that this third model will cost more than the previous ones.
Are you interested in OFFERS? Follow our TELEGRAM Channel! Many discount codes, offers, some exclusive of the group, on phones, tablet gadgets and technology.