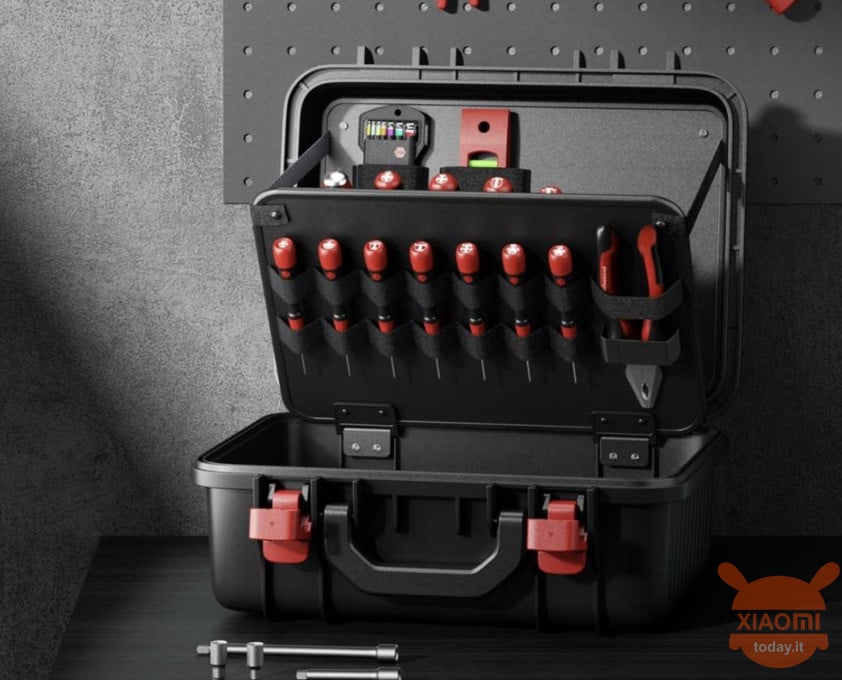 Chinese technology giant Xiaomi has just announced the Mijia Wiha Household Toolbox. The new toolbox will go crowdfunding in China starting today at the special price of 1699 yuan (235 euros), while the list price will be 1999 yuan (277 euros).
Mijia Wiha Household Toolbox is the new toolbox for chores around the house
According to the brand, this toolbox includes 60 professional home improvement tools, so a complete maintenance set. Includes: screwdriver, precision screwdriver, short handle screwdriver, ratchet wrench, hex socket, wire cutters, needle nose pliers, wrench, hammer, plus demagnetizer, tape measure, spirit level.
There are also various screwdriver handles: PicoFinish precision screwdriver handle, a thin handle that can be rotated quickly, suitable for precision work, effectively reducing fatigue; SoftFinish's original octagonal handle fits in the palm of the hand efficiently and saving energy; finally a short handle that easily adapts to confined work environments.
Then we have the jaws of the wire cutters which adopt a three point locking design, which makes the locking more stable. The hardness of the jaws can reach about 64 HRC and it can cut 1,8mm steel. It is also equipped with the patented DynamicJoint technology, which saves 20% of effort when cutting.
While the jaws of the needle nose pliers are designed with a twill indentation to ensure greater flexibility and stability when clamping and bending objects. The jaws are made of C70 high carbon steel with a hardness of about 64 HRC, which can easily cut various types of steel wire.
Finally, the cassette itself adopts a high quality injection molding process and the L-shaped box is designed with reinforcing ribs, which greatly improve the strength of the cassette. The custom-made spaces effectively eliminate impacts between tools and makes it great to carry around.
XIAOMI MIX WIHA 8-IN-1 PRECISION SCREWDRIVER MJJLLSD001QW
7 December 2022 9: 30

Amazon.it
Price updated on: 7 December 2022 9:30