Black Friday is upon us and the irresistible discounts of GOOD BANG they are waiting for you! Get ready for a unique shopping experience, where you can find high quality products at incredible prices. If you are looking for gifts for the holidays or want to treat yourself to a special treat, don't miss the opportunity to explore the unmissable offers available only during the Black Friday.
1. Cutting-edge technology at rock-bottom prices
Banggood is famous for its wide range of high-quality technology products, and during the Black Friday, the discounts are even more attractive. From drones to smartphones, through smart accessories and innovative gadgets, you will surely find what you are looking for at a price you never imagined.
Already active promo is that of payment via PayPal which will save you:
$6 for purchases over $120
$10 for purchases over $250
$20 for purchases over $600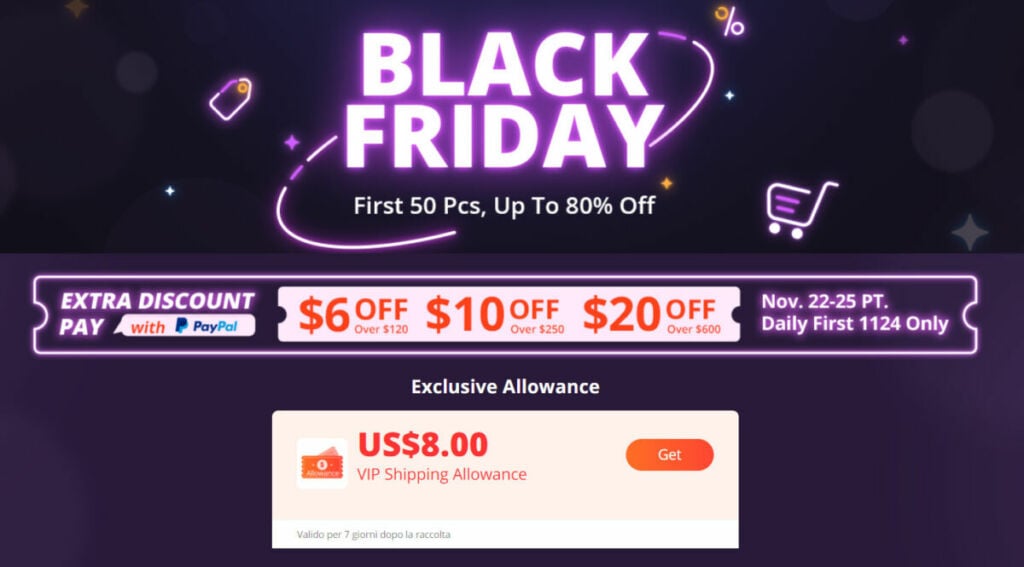 2. Home and Garden: Transform your Space with Style
Revamp your home and garden with exclusive Black Friday offers on home and garden items. From smart lights to modern furnishings, get ready to give your living space a makeover without breaking the bank.
3. Fashion and Accessories: Uncompromising style
Update your wardrobe with the latest fashion trends at incredible prices. Designer shoes, trendy clothing, elegant bags: everything you need to express your unique style is available at discounted rates that will make your Black Friday unforgettable.
4. Consumer Electronics: Face the Future with the Best Technologies
If you are a consumer electronics enthusiast, Black Friday on Banggood is the perfect time to upgrade your devices. Cameras, headphones, smartwatches and much more - all at incredibly affordable prices. Don't miss the opportunity to keep up with the latest technologies without emptying your wallet.
5. Fast and Reliable Shipping
Banggood is committed to providing a stress-free online shopping experience. Take advantage of fast and reliable shipping to ensure your purchases arrive at their destination quickly, allowing you to enjoy your new products without having to wait long.
6. Promotions and Extra Coupons: Save Even More
In addition to Black Friday discounts, Banggood offers special promotions and extra coupons to allow you to save even more on your purchases. Check the site regularly to discover the latest offers and maximize your savings.
Black Friday on Banggood is the perfect opportunity to buy your favorite products at incredible prices. Get ready for an extraordinary shopping experience and discover unmissable offers that will make your holidays even more special. Don't waste time, offers are limited, so hurry and take advantage of the best deals on Banggood.com!