Are you interested in OFFERS? Be smart and subscribe to our Telegram channel! Lots of discount codes, offers, pricing errors on technology from Amazon and the best online stores.
I admit, this BlackShark 4 Pro is the first gaming phone I've tried in my whole life (except for the glorious Nokia N-Gage) and it's partly a good thing because I was able to appreciate not only the performance of it in the recreational field but even those relating to daily and semi-professional use. In short, the technological "beast" derived from the most popular Xiaomi branded terminals, is undoubtedly a smartphone with a double soul, a Dr. Jekyll and Mr. Hyde, but without dark sides. I'll tell you about it in this full review.
Black Shark 4 Pro
ℹ️20 € deposit, the balance between 25/27 February ✈️Shipping on 7 March
€589,00

Let's start with a quick unboxing, even if the most interesting part is all in the phone, but already from the sales package we realize that we are dealing with a unique smartphone of its kind and not the usual copy and paste of other devices. Sales box neat and tamarro at the same time with a nice contrast between the black color, the acid green typical of gamers and the shiny and metallic brand logo that responds to light in the form of games. Inside the box we find the following equipment:
BlackShark 4 Pro;
SIM tray removal tool;
Fast guide;
Soft silicone protective cover, BlackShark screen-printed;
Charging and data transfer cable USB / USB Type-C;
Battery charger with European socket, USB input and max 20V / 6A - 120W output.
BlackShark 4 Pro is certainly not the first gaming phone to appear on the scene of the reference market but the refinement of its design is definitely unique. Characterized by a glass body and aluminum frame, on the back we find a fantastic oleographic screen printing with the brand logo in the center and an X that stretches according to the angle and the light it encounters. It is no coincidence that the letter X is the distinctive element of the design, this is because it recalls the position of the antennas that the company has positioned in such a way as to allow 360-degree reception.
Another distinctive element is the photographic sector, a module that recalls the shape of a "bullet" in which 3 optics and an LED flash are inserted, almost flush with the body, but above all to stand out on the back is a beautiful customizable RGB LED. It can be activated for certain scenarios, such as receiving notifications, with the screen on / off, for calls and much more, as well as personalizing it in the color and refresh it turns on. A gem that will appeal not only to gamers but also to all those who love extreme customization.
We therefore do not find other disturbing elements on the beautiful rear of the phone while the equipment of the metal frame is particularly rich, where the secondary microphone used to reduce the hiss in call is located on the upper profile and the first of the two speakers independent from the ear capsule. , which allows the BlackShark 4 Pro to play multimedia content with stereo sound. Moreover, the position of the two speakers is perfectly symmetrical and this allows you to hold the smartphone in landscape mode without covering the grid, enjoying an audio that is always crystal clear and never suffocated. Audio that by DxOMark has been decreed as the best on a smartphone, and they are absolutely right considering that we can benefit from the whole sound spectrum with good bass body, as well as reproducing stereo sound even in hands-free mode. Then there is the headphone jack, in the lower profile, which is accompanied precisely by the second speaker, main microphone and USB input for charging and data transfer with OTG support but also video output, so much so that you can connect the BlackShark 4 Pro with a special cable. to a TV or monitor.
The volume rocker and the SIM tray are positioned on the left profile, capable of hosting 2 SIMs in nano format with the possibility of 5G connection on both slots, but memory expansion via micro SD is absent. On the opposite side we have instead the power button which also incorporates a quick and reliable fingerprint sensor, designed to unlock the device, an action that can also be performed via Unlock Face by means of the selfie camera. Perhaps "retro" technology but which I also prefer due to the fact that in this way the display will be cleaner and its beauty can be appreciated without seeing that small "patina" that hides an under display sensor. But the peculiarity of BlackShark 4 Pro is that two buttons are also available that once pressed release two triggers, with which to perform actions, recall applications but above all in the gaming field, these can be customized with some commands and even create a series of macros to be applied to various games, such as shooters, platformers, etc.
The highlight, one of the many actually, of BlackShark 4 Pro is undoubtedly the display it is equipped with. A large 6,67-inch Full HD + Super AMOLED display with 144Hz refresh rate and 720Hz touch sampling rate. We have full support for Widevine L1 DRM content for streaming in high quality as well as HDR10 + content. Abbreviations and numbers aside, all this results in extraordinary vision, with bright colors and deep blacks, perfect viewing angles and no smudging in terms of color calibration. The fluidity of the panel and the high refresh rate have an extraordinary impact on gaming, obtaining not only performance in terms of carrying out the task but also in graphic details where no smartphone had gone until now. The basic 5G connectivity also helps a lot, reaching extraordinary speeds so much so that in my case, not being able to take advantage of 5G, I have always benefited from a 4G + signal and speed like a home ADSL.
The frames are well optimized and the punch hole (2,76 mm) in which the selfie camera is inserted turns out to be among the most content in circulation on a smartphone. But these are perhaps nonsense in comparison to the hardware and the power that flows under the body of BlackShark 4 Pro, a smartphone that can count on the Qualcomm Snapdragon 888 processor with a 5nm production process, capable of obtaining over 817000 points on the well-known benchmark test. AnTuTu. The combination with the Adreno 660 GPU allows 25% more performance and 35% speed at the graphic level compared to previous generations, without counting on the very fast LPDDR5 RAM memory and UFS 3.1 internal storage, available in 8/12 GB and 128/512 GB relatively.
It goes without saying that in everyday life the BlackShark 4 Pro is a firecracker, an elegant purebred horse that turns into a fury when the driver gives a good whip. A smartphone that won my heart in terms of performance and beauty in expressing so much technological power. The software is certainly designed specifically to perform even the most extreme tasks in an excellent way, although this is still based on Android 11 with November 2021 patch with JOY UI 12 customization based on MIUI 12.5. However, some might think that all this power can affect the overheating of the device and instead not, because the company has inserted an amazing liquid cooling that keeps temperatures at bay.
At the software level, there are also goodies related to gaming, such as the BlackShark Space, where you can configure the smallest details of every single game in every detail, choosing refresh rate, performance, touch, audio and much more. But the experience starts right from the home, where we can set up a nice interactive "anime" that reacts to our touches and that will keep us company, for example, even when charging the smartphone.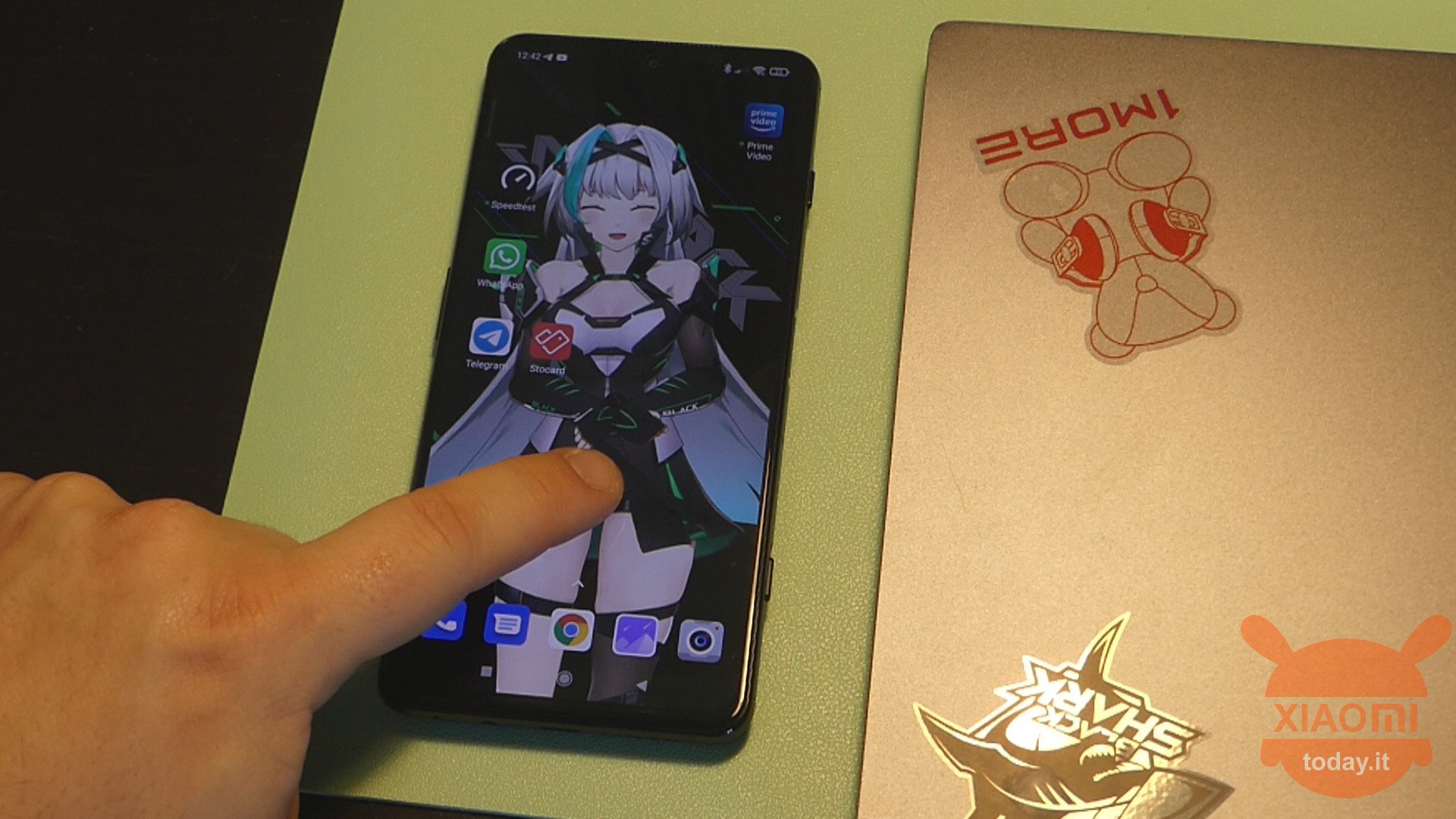 So you think that a lot of power will be a blow to the battery life of the phone? Well, first of all, BlackShark 4 Pro has a 4500 mAh battery, which can be recharged in super fast charge mode with a power of 120W, which means only 15 minutes will be enough to get full of energy. There is no wireless charging, but it doesn't matter, considering that we would also like to take a quarter of an hour break from time to time, right? Just for the record, even the proximity and brightness sensors work well, in short, nothing to do with how much the Redmi devices have unfortunately accustomed us badly.
If I really want to find a defect in this terminal, I turn it to ergonomics although it should be emphasized that the device is aimed mainly at gaming use, therefore designed to be held horizontally, but BlackShark 4 Pro is still a smartphone and therefore the dimensions (163,83 x 76,35 x 9,9 mm) and the weight (220 grams) do not make it really appropriate for use with a single hand. For the rest there is also a good equipment in terms of connectivity, being able to take advantage of WiFi 6, Bluetooth 5.2, GPS and NFC to transform the smartphone into a digital wallet.
Everything perfect so far, then surely the smartphone will sin in the photographic field? Let alone if a gaming phone can also be defined as a camera phone? Well friends, even in this area, BlackShark 4 Pro does not disappoint, indeed in my opinion it has given video and photographic performance even higher than many so-called Top of the Range devices. He can count on a 64 MP primary sensor, f / 1,79 which is accompanied by an ultrawide 8 MP, f / 2,2 FOV 119 ° and a 5 MP f / 2.4 macro, while for ours selfie uses a 20 MP camera, f / 2,45.
It is possible to record videos up to 4K 60 fps all seasoned with excellent stabilization. You see the results with your own eyes, apart from the framed subject, each shot is pleasant and full of details. No chromatic aberration but above all sharpness and brightness of the colors faithful to reality. The macros are also not bad and the portrait mode is not as artificial as seen on other devices. In short, BlackShark 4 Pro is a surprise also in this area.
Black Shark 4 Pro
ℹ️20 € deposit, the balance between 25/27 February ✈️Shipping on 7 March
€589,00

CONCLUSIONS
Definitely BlackShark 4 Pro is a device that I really recommend to everyone, especially to all those looking for performance, reliability and unique functions, the ones you don't see on every smartphone. Then the price is really advantageous, if we think that we bring home a top of the range, dedicated to gaming but also to productivity. Do not miss the opportunity to have it at an advantageous price, you will not regret it.
🌐 For sale on Goboo
🛒️ Xiaomi Black Shark 4 Pro 8 / 128GB
💰 Drops to € 499,00 from € 589,00 (-15%)
📌 Buy https://bit.ly/3p8mD7Z
(I.e.Xiaomi Black Shark 4 Pro 12 / 256GB
💰Downs to € 599,00 from € 679,00 (-12%)
📌 Buy https://bit.ly/3p8mD7Z
🎁The first 100 orders will receive the Black Shark Lucifer T1 earphones worth € 49 as a gift
ℹ️20 € down payment, the balance between 25/27 February
✈️ Shipping on 7 March
BLACKSHARK 4 PRO
BlackShark 4 Pro is a practical and versatile smartphone, sweet in carrying out daily tasks and an arrogant beast in the performance that requires muscles. Excellent from every point analyzed, a breathtaking display, a super fast charge and does not disappoint even in the photographic field. It is not just a gaming phone, it is not just a portable "console" but a real companion who has your back. Ideal for everyone, whether you are a player or not.
PROS
UNIQUE DESIGN
LARGE AMOLED DISPLAY WITH HDR10 + SUPPORT
REAL STEREO SOUND
COMPLETE CONNECTIVITY
CUSTOMIZABLE TRIGGER BUTTONS
FLUID PERFORMANCE
CONS
SOFTWARE "POCO"SUPPORTED
NO IPXX CERTIFICATION
NO MEMORY EXPANSION
Add your review