Cecotec 9090 AI it is the first product we try from this company and on paper it promises to be the best robot never tested, thanks to impressive specs and some truly unique features.
From an aesthetic point of view, it has a pleasant appearance, black with a glossy finish that reveals a "carbon"-like texture. It has a diameter of 37,8, a height of 12 cm and a weight of 4,4 kg.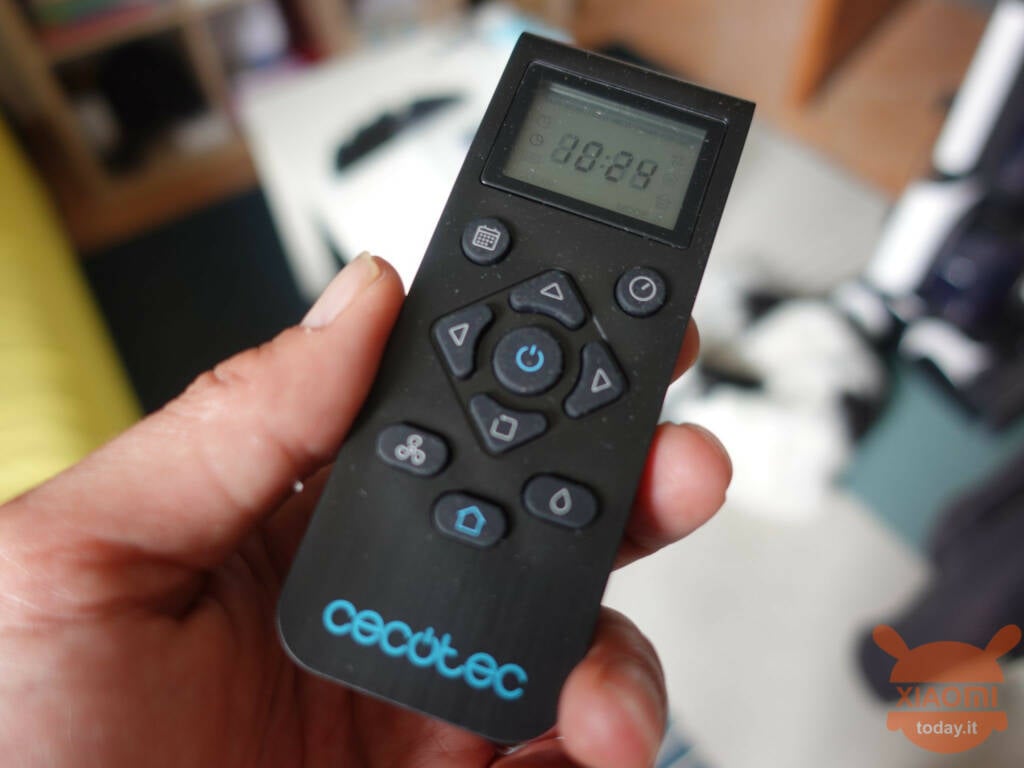 Immediately impresses the equipment in the package which is very rich. In addition to the robot and the charging base we find:
Water tank with vibrating cloth
Water tank with removable static cloth
Soft roller to alternate with the silicone one already mounted
2 spare side brushes
4 washing cloths
Remote control for remote control
Manual in Italian
As an optional purchase is available the Conga Home 10.000 self-draining base which costs € 249
I really appreciate that a remote control is also included also equipped with many functions, since these robots are now also used by housewives who are not necessarily comfortable with smartphones and applications. We are not all Geeks!
Cecotec 9090 AI technical specifications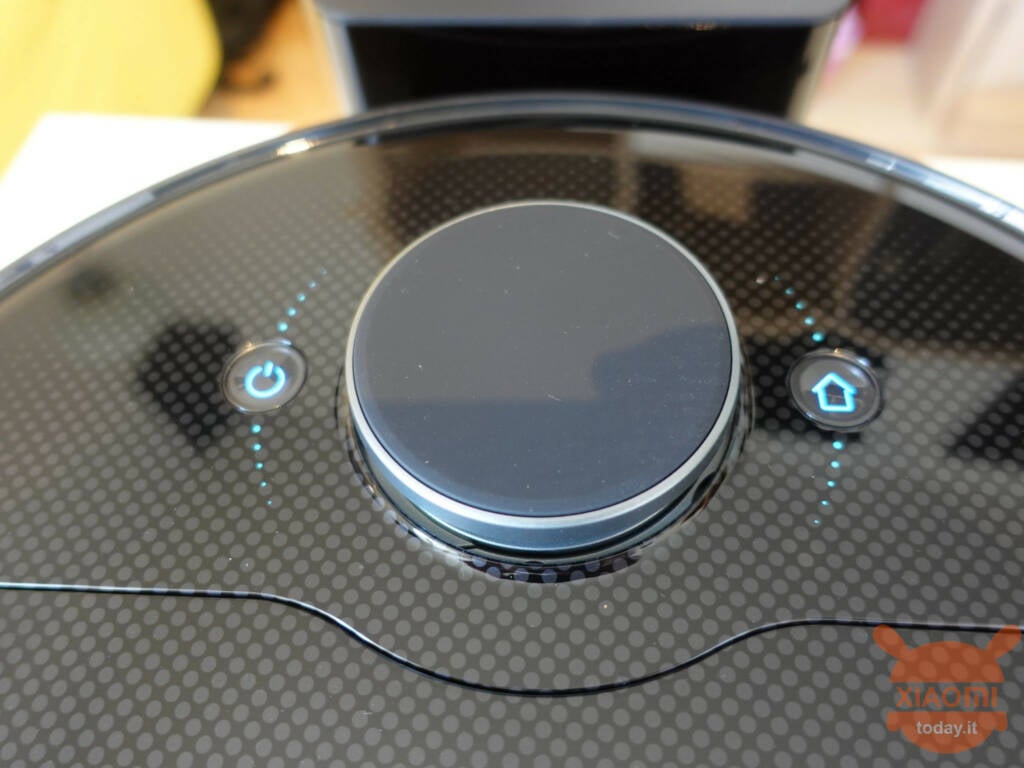 The technical characteristics of the Cecotec 9090 AI which mounts an engine capable of generating a suction power of 10.000Pa. A value never seen on other products that hardly reach 5000.
In practice it has been revealed a real marvel in cleaning even at medium power (of the 3 selectable) in all conditions and the usual tests carried out with breadcrumbs, coffee and cereals. But what convinced me most is the passage on the carpets at maximum power which managed to take away a significant amount of dirt and all in all it didn't surprise me why on these surfaces, power is the most important factor.
We have available two brushes with different characteristics. The one in silicone it is well suited to carpets and contexts where we can exploit the ability to avoid entanglement of hair and hair (eg in the case of animals in the house). The soft roller (Jalisco brush) is perfect for smooth floors and regular surfaces where it can further improve cleaning and leave a "polishing" effect.
Autonomy is also impressive. Thanks to the battery from ben 6.400mAh which recharges in about 4 hours, we can completely forget about the download problems even if it is still equipped with the ability to return to charge itself and then resume from where abandoned. The Cecotec who has equipped this robot with an adequate battery that allows you to vacuum and wash in simultaneously even with the vibrating cloth
3DIANA is a high level artificial intelligence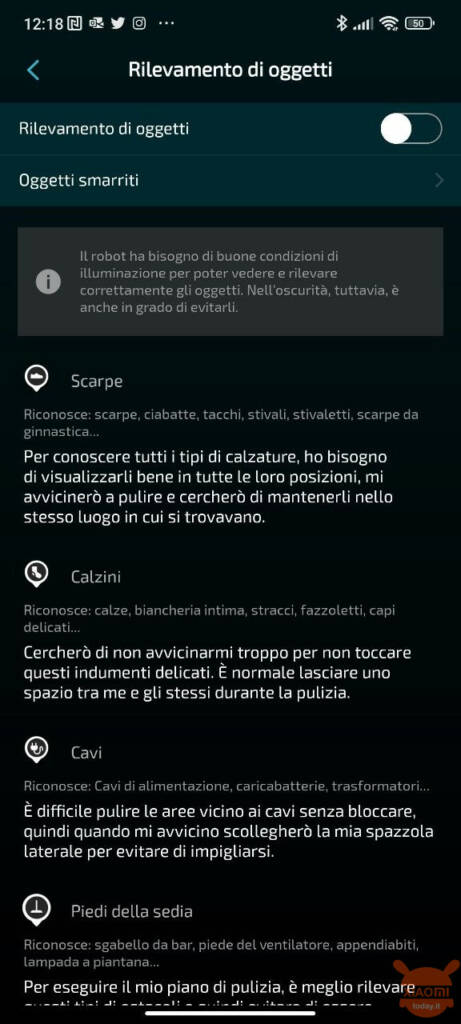 The AI ​​(artificial intelligence) of the Cecotec 9090 AI deserves a dedicated chapter because it allows unique functions and a great interaction with the environment.
Il optical sensor placed in the front with the addition of the TOF sensor which measures the depth, allow to recreate a three-dimensional environment and are able to recognize a large number of objects and scenarios as long as the lighting is adequate. It is in fact also equipped with a small LED able to illuminate the rooms when the situation requires it.
When the robot recognizes a cable in the ground, not only will it avoid passing over it with consequent rolling up, but it also interrupts the operation of the rotating side brush.
In addition to the cables, it is then able to recognize also shoes, slippers, socks, toys, scales, chair legs or wallets and they are thus avoided and not dragged around the room.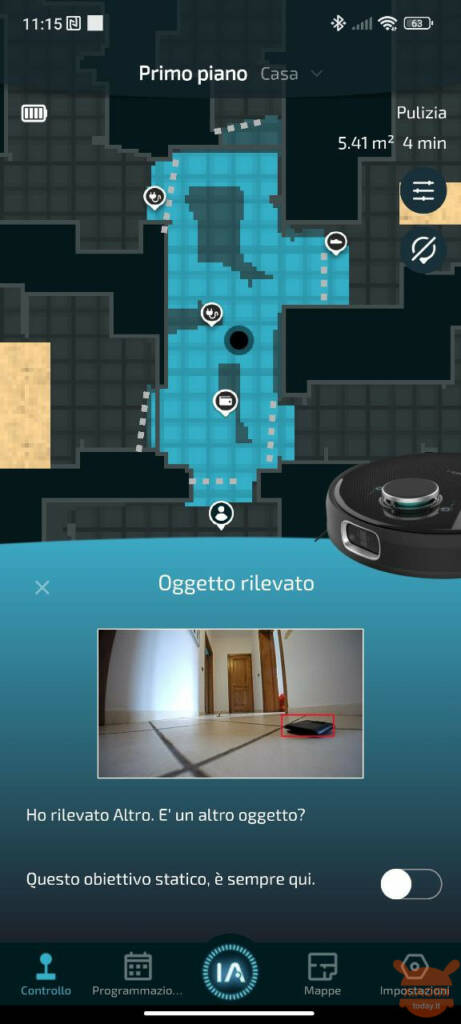 Il Cecotec 9090 AI even recognizes some scenery with good accuracy. If the room is too messy, is avoided and then returns later. Similarly, if a room is too crowded with people, the robot avoids disturbing and goes back to it later. The waiting time before returning can be customized with hourly intervals from 1 to 10 hours.
Even the animals are recognized (but not notified), allowing the robot to remain at a distance and lower the power so as not to scare them. Any excrement is also recognized, but I haven't tested this 🙂
For each survey it is possible to request notification on smartphone and even view a photo of the item. It is then possible to report each object as static (always present) to avoid it being notified continuously.
It has me instead poco convinced the carpet detection which is delegated to the optical sensor rather than to an infrared placed at the bottom as in most robots. The carpets are measured in an approximate way both in size and position, one was even seen as 3 separate small carpets. During washing, carpets can be excluded from cleaning so as not to wet them or damage them, but if the detection is not accurate, it can become a problem.
Power is also expected to automatically increase on carpets, but it never worked.
During mapping, Il Cecotec 9090 AI it also recognizes the different types of floors (tiles, wood, carpets and rugs) allowing it to optimize some parameters and show a more realistic map. Furthermore, based on the furniture, it will try to set the correct name of the room (kitchen, living room, etc.)
Despite some shadowing of this technology not being 100% accurate, I was really impressed with these interactions they take the concept of home robot to another level.
Active washing thanks to the vibrating cloth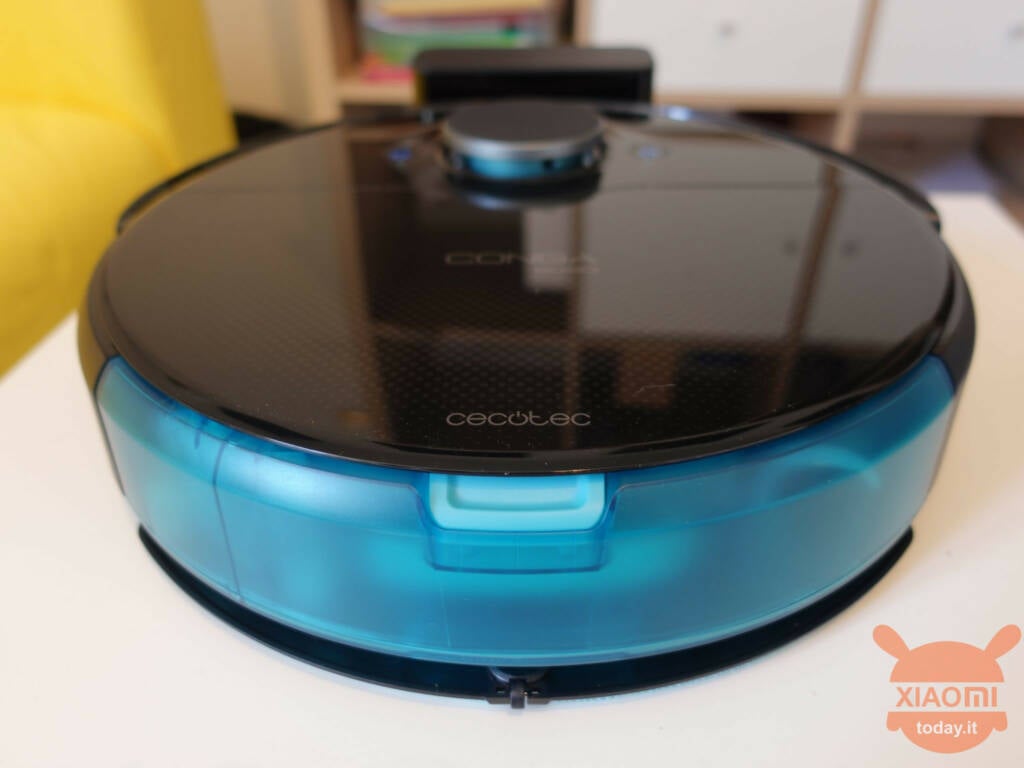 Il Cecotec 9090 AI in addition to vacuuming, it is able to wash at the same time.
In addition to the classic cloth that is dragged, it is equipped with a special cloth that rocks (twerking tank) and which generates a friction on the floor while moistening it.
The cleaning is therefore of the "active" type thanks to the rubbing of the cloth that simulates the action manual with very good results and which can be set in 3 speed levels. Even dry stains are easily removed leaving the floor clean and streak-free.
Il tank from 300 ml it is one of the largest ever tested and guarantees a good autonomy. To moisten the cloth there is no need for large flows, but also in this case we can choose between 3 levels.
I also tested the "Washing" mode in which the robot performs oscillating movements simulating those of the mop and the result was even better. The distance between manual performance and that of robots is getting smaller and smaller.
Advanced application full of customizations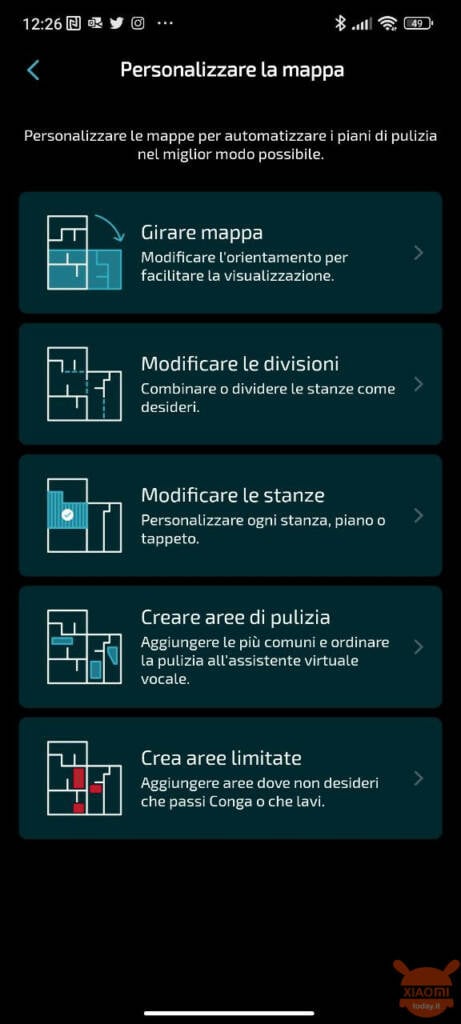 Il Cecotec 9090 AI you control it with an app available for both Android and Apple iOS. The company has chosen to create a separate app for each of its chosen products poco practice for whoever has to manage more than one product.
The application is well made and so full of features and customizations that it would need a dedicated review.
The classic map is shown immediately showing the rooms detected and divided. Up to 5 different maps can be created. Any objects detected during cleaning are shown with a small icon, as are the carpets and flooring material detected.
The map can be customized in any way:
Merge or divide rooms
Create prohibited areas or areas with a ban on washing only
Create cleaning areas to be called up with the assistant with a possible double pass.
Edit or delete the detected carpets
Turn the map.
Cleaning starts with a dedicated button that allows us to select manual control, recall of a program that has already been set, or quick cleaning.
From this screen we can this screen we can which rooms and in what order to clean them. Activate the double passage and the automatic turbo on the carpets. Choose the quantity of water or the power which, however, can also be changed during use.
We have some programs already set up:
Car - Edge cleaning and then the rest
Complete - Cleaning the edges, then twice, then the corners again
Washing - Oscillating movements to simulate the mop
Bordi - Cleaning of edges and corners
Spiral - Spiral cleaning starting from one point
Square spiral - Square spiral cleaning starting from one point
Sweaters, Jerseys and Cardigans - Cleaning of 2sqm in the points chosen on the map
Agents - Selection of one or more specific areas to clean and wash
There is no lack of integration with voice assistants Google Home ed Alexa although I only managed to correctly configure the latter. We can give it basic commands, but also specify a specific room or area.
Finally, what does it not give poco, pairing and connecting it also works on 5Ghz wifi networks, which is truly unique and guarantees better performance and compatibility.
Cecotec 9090 AI price offers and conclusions
With the Cecotec 9090 AI we are faced with a 2in1 robot top of the range with excellent performance both in suction and washing. Artificial intelligence, although not infallible, is exploited very well with useful functions in everyday use.
The price is also top of the range, on the official website it takes 650 € to which to add also the possible outlay for a self-emptying base which is really useful. For those looking for a high-level product it is a suitable choice and the price is justified.