Are you interested in OFFERS? Be smart and subscribe to our Telegram channel! Lots of discount codes, offers, pricing errors on technology from Amazon and the best online stores.
In the current speaker panorama we have a great choice for BlueTooth products and it is increasingly difficult to find something wired, stereo, perhaps to be used with our audio console, audio peripherals, television, PC, etc. Today I tell you about the pair of stereo speakers Edifier R1000T4.
CONFEZIONE
The box, discreetly packed, contains:
Pair of Edifier R1000T4 Stereo Speakers
3.5mm Stereo Jack – RCA cable
RCA-RCA cable
Speaker connection cable
Instruction manual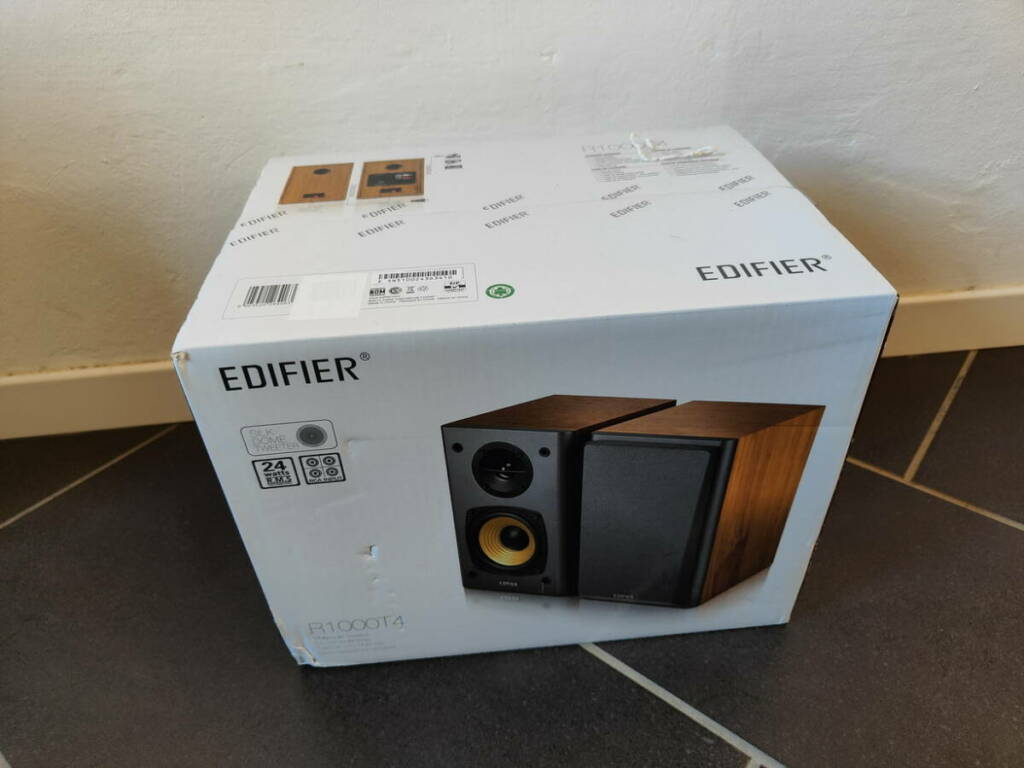 TECHNICAL SPECIFICATIONS Edifier R1000T4
Output power: RMS 12W x 2 (DRC ON)
S/N Ratio: >85dBA
Distortion: <0,5%
Frequency Response: 75Hz – 18Khz (+/- 9Db)
HF Driver: 0.75″ (19mm) with silk diaphragm
LF Drivers: 4″ (101mm)
Cabinet controls: Volume, Bass
Inputs: 2x Stereo RCA
Dimensions: 148 x 233 x 198mm
Weight: 5,1kg
CONNECTIONS
As a first step you will have to connect the 2 speakers with the dedicated cable, the white and red electric cable stripped at the ends. It will be inserted into the appropriate entrance using the small key present to "open" the entrance door. Thread red on red and black on black. Once this operation is done, the loudspeakers will be ready for use, just press the ON key on the power button.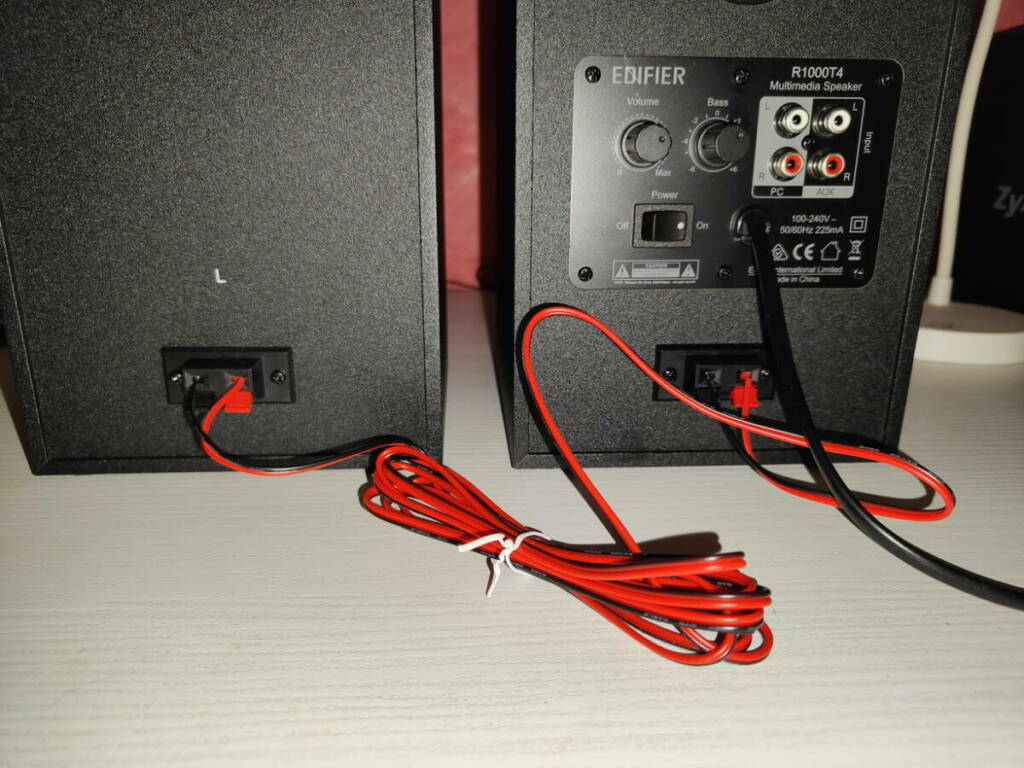 This pair of speakers can be connected to an audio source whose output is the classic RCA (as it could be a DJ console, an audio mixer, etc.) or the 2 white/red cables or a device with the classic Jack audio output 3.5mm (Smartphone, television, etc). We have the necessary cables supplied, in fact we will find the one that from 3.5mm stereo audio jack - RCA and the classic RCA-RCA male, in both cases they will go from our audio source to the speakers. On our case we will find 2 pairs of PC and AUX inputs. I thought they were equivalent, but from the tests carried out it seems to me that the PC input sounds with less pronounced bass and the maximum line with a lower volume. This is evidently a desired setting, as if connected to the PC we will have them much closer. The AUX output is therefore dedicated to any stereo system, CD player, television, etc. and the manufacturer's advice, to obtain optimal sound results, is to keep the speakers at a minimum distance of 1.5m.
HOW THEY SOUND Edifier R1000T4
I can tell they sound pretty good. Let's remember that they are 2-way speakers, so no dedicated sub and 4-inch woofer. Therefore don't think you have bass that will make the sofa vibrate, also the frequency response (low) is not great (75Hz). On the other hand, the others are effective, well balanced, so listening to music will be a good experience. You will say, in what sense to listen to music? what should you listen to? well you could buy them to give "thickness" to the audio of your TV or connect them to the PC because you are gamers. Here, perhaps in this case the yield will not be optimal precisely because it is a little lacking in the low frequencies. Attention, all this must obviously be related to the price of the product. Let's not forget that if we want to obtain certain results it will be essential to go to minimum 2.1 systems with an obvious exponential increase in the expense to be faced. Overall I am satisfied with the product, in my case connected to Amazon Echo it gives me that upgrade I was looking for. A good product with a definitely winning value for money. It should be added that my opinions from an audio point of view are from a DJ, therefore very attentive precisely and above all to the low frequencies. I do not exclude that the majority of users will absolutely not notice what for me is a bit of a deficiency.
FINAL CONSIDERATIONS
As mentioned poco above, the final assessment must be made on the basis of the price. In the list they come to around 160€, which in my opinion can fit for the product we take home. But the beauty comes right now, because thanks to the sensational offer of GOOD BANG (which we thank for sending the sample) you can take them home for less than a third, only €47! All with fast shipping, from a warehouse located in Europe (therefore without annoying customs duties) and even at the symbolic price of €3.77.
Well, at this price, if you're looking for speakers that don't cost you a fortune, I'd say it would be crazy not to buy them because under these conditions, the value for money becomes exceptional!
I remind you that this sensational offer will only last for 3 days and while stocks last, therefore, if interested, my advice is to proceed immediately with the purchase.
I also remind you that on Banggood, to protect your purchases, you can easily pay with PayPal.