Are you interested in OFFERS? Be smart and subscribe to our Telegram channel! Lots of discount codes, offers, pricing errors on technology from Amazon and the best online stores.
POCO is now a company in its own right (but who believes in it!) and as such must count on its strength. In words, yes, it is, but we have recently seen how the next flagship will be a rebrand of Redmi K40. In short, if on the one hand we can say that the name is different, on the other we cannot say that the products are. The company historian has in fact suggested that its policy is to launch existing smartphones but with a different branding. Whether this choice is right or wrong, today we are witnessing the birth of his official online store.
POCO Store is the company's first application that allows you to have the community, all products, services and the possibility of purchasing in one place!
At the moment there is no official announcement regarding the POCO Store but we have received news of the launch of the application. We leave it to you at the end of the article with a direct download link
. But what is it ultimately about? Of a real
online store
(like the Mi Store to understand) within which we can do several things. Among these, see which products are available and can be purchased or even conveniently access the
community POCOPHONE
. But not only.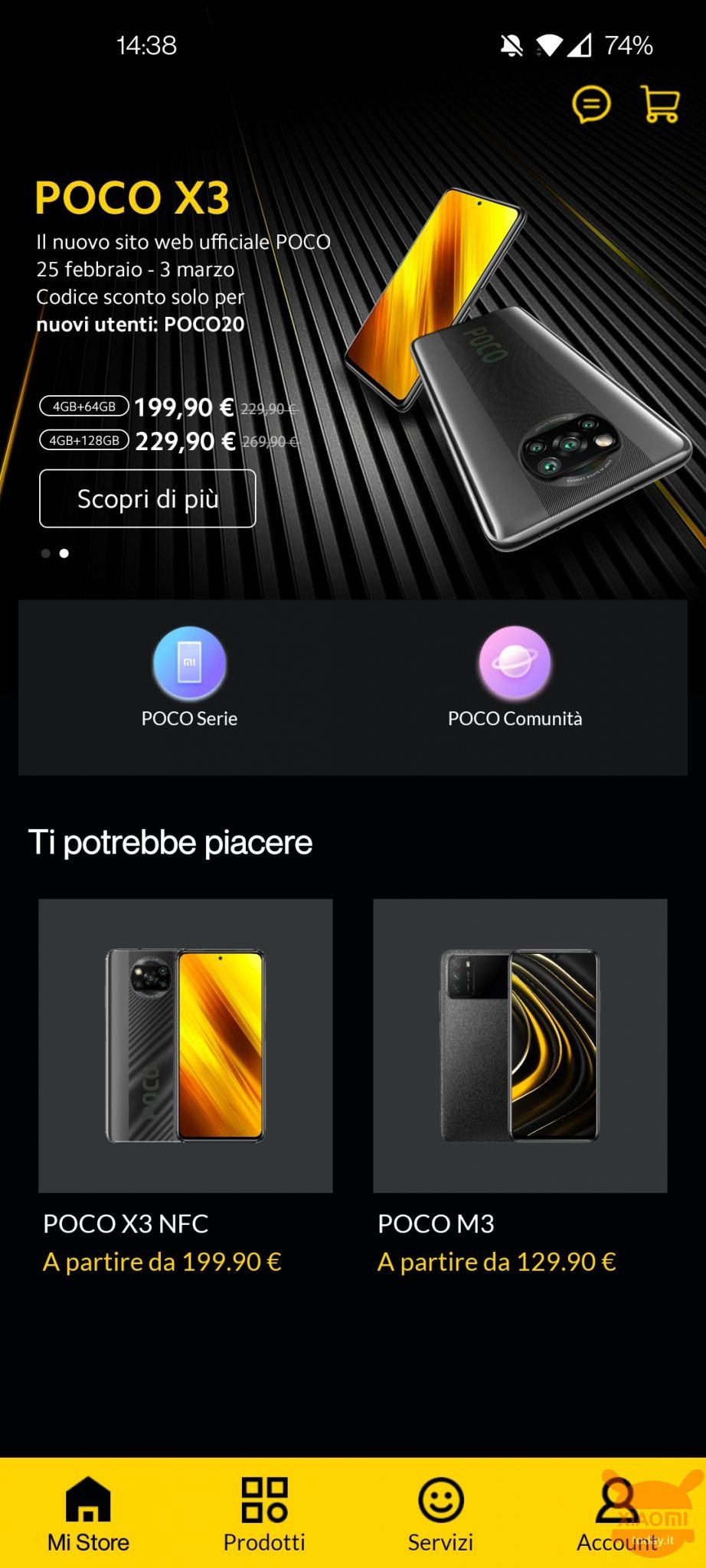 The application is divided into four sections: We Store, Products, Services e Account. Based on our needs, if we want to buy a product or simply consult a thread on the community, we will choose the most suitable option. But the really useful thing about this app lies in the section Services. From here you can contact the center of official assistance (in Italian!) via email, phone or chat. A really good service that saves us from a lot of trouble.
Unfortunately as for the products, at the moment only listed only on POCO X3 NFC e the M3. Currently they are the low and medium-low-end products but undoubtedly between poco the company will enter the most powerful F2 Pro.