The 19 July Xiaomi has officially released the new generation of large-sized smartphones, the Mi Max. The device is equipped with a large screen from 6,9 inches, a big battery from 5500mAh and a double rear camera from 12MP and 5MP, a processor Snapdragon 636 and more. The Mi Max 3 has three colors: ocher black, fantasy gold and deep blue. The price of the 4 + 64GB variant is 1699 yuan (216 €), while the 6 + 128GB model costs 1999 yuan (256 €).
Xiaomi Redmi Notes 5 Global 4gb RAM 64gb ROM
MIUI in Italian - LTE 20 Band - INCLUDED Shipping from Italy in 24h - Italy Warranty 🇮🇹
249,90€
Even the eye wants its part
On the front, the phone has a full screen 18: 9 from 6,9 in with a resolution of × 2160 1080 and an 85,19% screen report. Although it has almost the same body size it offers a wider screen. On the back, it uses an entire metal body with a hidden nano-injection antenna that makes the phone more robust and reliable. Also on this model the thin-waisted design line is carried forward, making one-handed operations uncomfortable for most users.
An infinite battery!
The second biggest point in favor of the Xiaomi Mi Max 3 is the integrated battery from 5500mAh, which makes it the biggest battery ever produced by the Chinese smartphone company. A larger screen requires a larger battery, so definitely the device it will not suffer from battery life problems but, a battery like that, it will also take a longer time to load. To solve this problem, the 9V2A QC 3.0 is a dual integrated parallel charging technology to improve charging efficiency and heat dissipation is more uniform.
In addition, the charge reversal function has been updated to 5 V / 1,2 A, thus having twice the performance of the inverse load of the previous generation and can also be used for other electronic devices to provide fast recharge. According to official information, the Max3 can load me up to 71% within 1 now. Furthermore, it can last 17 hours of local video playback, 10 hours of continuous games or can be used even for two days in standby mode.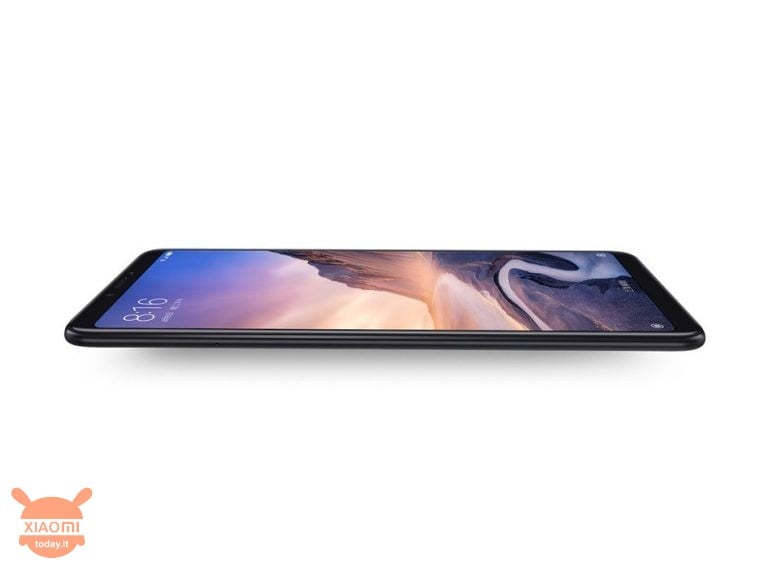 At the system level MIUI, the Xiaomi Mi Max 3 he also added the intelligent sleep optimization function. The phone will establish a user model based on the habit of use through AI. Then, it predicts the user's sleep state, cleans up the background process in the background, limits unnecessary network connection, etc. This will maximize energy savings during user sleep.
Performance as a true leader!
The Xiaomi Mi Max 3 is equipped with Snapdragon 636, which uses an 14nm process node and an octa-core design with four cores Kryo 260. At the same time, Xiaomi offers a special optimization for many popular mobile games. It will intelligently identify the battle scene of the game team, programming system resources to maximize hardware performance, allowing the Xiaomi Mi Max to perform high-load games without difficulty.
Also, specially for this device, the customized version of Android has received a series of updates: automatically opens the game tools when you access it, prevents accidental touches of the keys, avoids improper use, automatic hands-free calling during the game, push-button push notification, etc.
Lo Xiaomi Mi Max 3 It features a dual rear AI camera with a main camera from 12 MP. The single pixel size is up to 1,4 micron, while it also provides a wider unit of sensitivity to light, brighter night shots, less noise and more details. In addition, the phone is equipped with a closed-loop motor and dual-core focusing technology, which can reach maximum speed in a dark environment.
The smartphone is also equipped with the well-known AI camera views seen on Xiaomi Mi 8, which can intelligently identify 206 types of photographic scenes and 25 types of labels and optimize the adjustment in real time without retouching the back.
La front camera from 8 MP supports single-camera background blur and soft light can be turned on in a dark environment. The self-timer effect is clear and bright even when exposed to strong light rays. In addition, the Xiaomi Mi Max 3 supports the facial release AI and will be equipped with the 20 band. The smartphone will be officially launched at 10: 00 of the 20 July.
Are you interested in bidding? Follow our Telegram Channel!
A lot of discount codes, some exclusive offers from the group, phones, gadgets and gadgets.